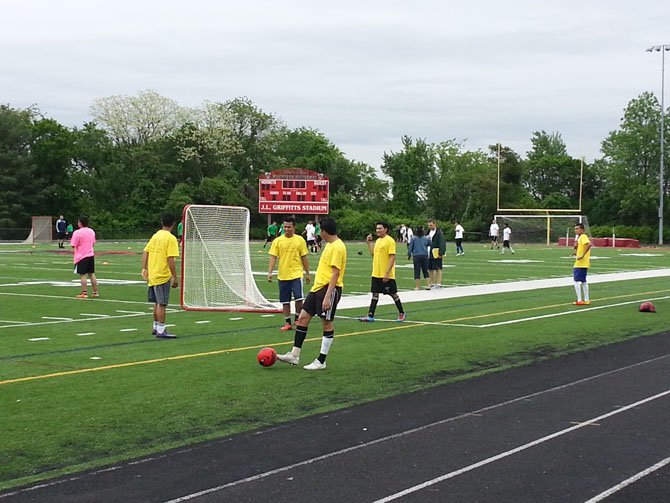 The second annual Paige R. Saucedo Memorial ESOL Scholarship Fund Event was held on Saturday, May 18, at Herndon High School. The occasion marked the second anniversary of the sudden passing of Herndon High's English for Speakers of Other Languages (ESOL) department chair, Paige Saucedo.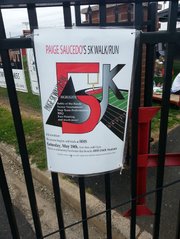 The overcast weather did nothing to dampen the spirits of the family members, students, faculty and members of the community who showed up in remembrance of Saucedo. Live music, courtesy of several Herndon High musicians, played as students participated in an eight-team round robin soccer tournament. Tables with face painting, games, clothes and BBQ food were set up for attendees, with proceeds going to the scholarship fund.
New to the event this year was a 5K Walk/Run, due in large part to the success of last year's fundraiser. Three one-year scholarships were given out as a result of that event, with organizers hoping to be able to award more this year. "These are kids that wouldn't be going to college otherwise," said Vania Beight, a fellow HHS teacher, explaining that the recipients were picked "based on spirit, grades, work ethic and need."
Saucedo, a beloved member of the HHS community, was known for her outreach and dedication to her students, many of whom come from underprivileged backgrounds. She emphasized education as a way to a better life, and dreamed of winning the lottery to set up a scholarship fund. "She really believed in education and reinventing yourself through education. That these kids could be more if given the chance," explained Saucedo's mother, Mek Wagner.
Searching for a way to commemorate Saucedo following her passing, ESOL students came up with the idea for a soccer tournament. While many are avid soccer players, most are unable to participate on school sanctioned athletic teams because of prior familial commitments such as jobs or sibling care. Saucedo would regularly appear at her students' weekend soccer games, so both faculty and students saw a tournament to raise scholarship money in her memory as a fitting tribute.