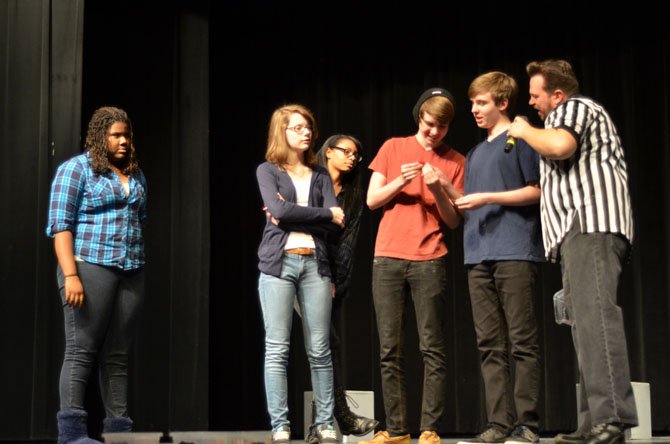 Photo Gallery
Herndon High Improv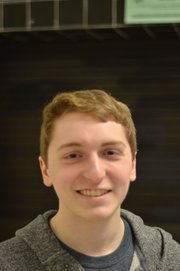 Click Photo for Flash
"I got a whistle, and we have some penalties," said Scott D. Pafumi. Pafumi, was laying out rules for the Improvathon event at Herndon High auditorium. The Theatre Director at Herndon Middle School, Pafumi had been asked to referee this year's Improvathon.
Ten teams made of students from across Fairfax County went to Herndon High on Saturday, Feb. 8 for six games related to improvisational or improv theatre. Judging the events were Town of Herndon Mayor Lisa Merkel, Town councilmember Melissa Jonas, and Herndon High Assistant Principal Maria Sneed. Evan Hoffman, director of the NextStop Theatre Company was the master of ceremonies. Participating with the Herndon High team was Herndon senior Hunter Robinson.
"This is our second year hosting this event," said Robinson. "We began it to raise funds for the Chuck Stanley Memorial Scholarship Fund." A 1982 graduate of Herndon with a passion for theatre, Chuck Stanley passed away in January 2006. It was Robinson who helped lead and orchestrate this year's Improvathon. Robinson was able to witness the benefits of the Chuck Stanley Memorial Scholarship Fund as his sister was a former recipient of the scholarship. Both Mr. and Mrs. Stanley attended the Improvathon event.
THE IMPROVATHON lasted from 4 to 8 p.m., with a 20 minute dinner break. Although the event was competitive, it was also a learning experience as Pafumi explained different aspects of improvisational acting and gave short critiques at the end of scenes. After each game, judges announced their scores, which were later tailed up. "We want to avoid saying 'no' in improv," said Pafumi after one improv scene. "If you only say 'no' you are telling you teammates their idea is not good enough… Instead say 'yes' and see where that leads you."
"Hunter Robinson is the captain of the Herndon improv team, and president of the Herndon's International Thespian Society Troupe," said faculty sponsor Zoe Dillard. "He has worked with the Drama Boosters to set this up and I help out where they need me… Herndon High School has been associated with the Stanley family since they approached us, and we are privileged to work them."
When the Stanley family was looking for a way to commemorate Chuck, then-Herndon Mayor Steve DeBenedittis recommended a scholarship fund for local theatre students. The first fund-raiser was held at the Lazy Susan Dinner Theatre in Woodbridge in 2009. Chuck had appeared at the Lazy Susan for over 18 years, and the theatre has co-sponsored the scholarship fund since its inception. "He [Chuck] was so dedicated to dancing and singing," said Mr. Stanley. "He just loved Herndon."
"It took us an hour to arrive here, but it has been fun," said Jordyn Stewart, a student at Mt. Vernon High School. Many of the improv games had a comedic slant to them. At one point, the team of Mt. Vernon High School students gave a sketch scene on how George Washington got a Lego stuck up his nose. "It was fun to interact with your friends," said John Strangfield, a Herndon High senior. At the end of the event, judges awarded first place to Herndon High, second place to Herndon Middle School eighth grade team, and third place to the team from Oakton High.
AT DIFFERENT POINTS members of The Comic Improvabilities, the official improv troupe for the NVCC Loudoun campus, came up on the auditorium stage to demonstrate how a game would function. "I think it is amazing how the community is coming together to support this artistic event," said troupe member Garrett Hill, a resident of Reston. "It is great to see the improv community growing as well."
"I was indeed fortunate to be a part of such a positive community building event," said Scott Pafumi. "I hope I am back next year," said Mayor Merkel. "This event is lots of fun." If you wish to donate to the scholarship, checks can be made out to "John Chuck Stanley-Gonzales Scholarship" to Mr. and Mrs. Stanley, 320 Missouri Ave., Herndon, VA 20170.
To learn more about the Herndon High theatre, visit www.herndondrama.org.