1st Lt. Robert J. Hess, 26, of the Kings Park West neighborhood of Fairfax, was killed by enemy fire on April 23, 2013 in Pul-E-Alam, Afghanistan. Hess was known as "RJ" and graduated from Robinson Secondary School in 2005, where he played football, lacrosse and was the captain of the swim team. He was a U.S. Army Blackhawk helicopter pilot who deployed to Afghanistan on April 11, 2013. His family remembers his sense of humor and his natural leadership ability.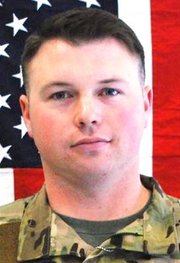 Lance Cpl. Niall W. Coti-Sears, 23, of Arlington, died June 23, 2012, while conducting combat operations in Helmand province, Afghanistan. Coti-Sears loved music, played the guitar, composed songs and entertained family and friends at holiday gatherings. Niall was very close to his grandfather, William Coti, who was a Marine. "He was always my protege," William Coti told the Arlington Connection. "He always wanted to be a Marine and he followed my example. It weighs heavily on me that this had to happen."
Chief Warrant Officer Five John C. Pratt, 51, of Springfield, died May 28, 2012 in Kabul, Afghanistan, of wounds sustained when his helicopter crashed. Staff Sgt. Jessica M. Wing, 42, of Alexandria, died Aug. 27, 2012 in Kuwait City, Kuwait.
In February, 2012, Brig. Gen. Terence J. Hildner, 49, of Fairfax, was the highest ranking military officer to die in the war on terror. Hildner died Feb. 3, 2012 in Kabul province, Afghanistan.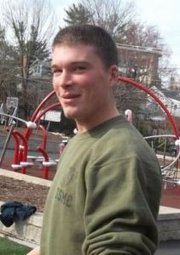 ON MEMORIAL DAY, we remember all of those who have died in military service, more than 400,000 in World War II, more than 30,000 in Korea, more than 50,000 in Vietnam.
Since Sept. 11, 2001, more than 6,400 U.S. military service men and women have died in support of the wars in Iraq and Afghanistan.
Nearly 50,000 U.S. Military service members have been wounded, although that number is likely to be revised upward. Last year, the military confirmed traumatic brain injury in more than 220,000 of the more than 2.3 million troops who have served in Iraq and Afghanistan. The long-term consequences of many of these injuries are unknown, but they will require a national commitment to excellence in health care and services for both active duty military personnel and veterans.
Virginia's U.S. Senators Mark Warner and Tim Kaine recently signed a letter along with other senators detailing the delays veterans face: "After a decade of war, and despite the VA's efforts to modernize, more than 600,000 veterans are still stuck in the VA's disability claims backlog. While the average wait time for first time disability claims currently ranges between 316 and 327 days, veterans in certain parts of the country are waiting even longer. Solving this problem is critical for veterans of all generations."
OTHER VIRGINIA DEATHS in Afghanistan since last Memorial Day: Sgt. Aaron X. Wittman, 28, of Chester, died Jan. 10, 2013 from small arms fire. Sgt. David J. Chambers, 25, of Hampton, died Jan. 16, 2013 from a roadside bomb. Sgt. Robert J. Billings, 30, of Clarksville, died Oct. 13, 2012 when enemy forces attacked with an improvised explosive device. Staff Sgt. Jonathan P. Schmidt, 28, of Petersburg, died Sept. 1, 2012 from enemy small arms fire. 1st Lt. Stephen C. Prasnicki, 24, of Lexington, died June 27, 2012, from a roadside bomb.
Aaron Carson Vaughn, 30, was one of 30 American service members and 22 Navy SEALs killed Aug. 6, 2011 when their Chinook helicopter was shot down in Afghanistan. Vaughn's family has ties to McLean and Burke. He is survived by his wife, Kimberly, and their two children.
Spc. Douglas Jay Green, 23 of Sterling, died Aug. 28, 2011. when insurgents attacked his unit using a roadside bomb in Afghanistan. Green enlisted in 2007, after attending Potomac Falls High School.
Capt. Jesse A. Ozbat, 28 of Prince George, died on May 20, 2012 in Afghanistan from a roadside bomb. Constructionman Trevor J. Stanley, 22, of Virginia Beach, died April 7, 2012 while deployed to Camp Lemonnier, Djibouti. Pfc. Michael W. Pyron, 30, of Hopewell, died Jan. 10, 2012 in Afghanistan. Maj. Samuel M. Griffith, 36, of Virginia Beach, died Dec. 14, 2011 in Afghanistan. Staff Sgt. James Ronald Leep Jr., 44 of Richmond, died Oct. 17, 2011 at Forward Operating Base Kalsu in Iraq. Spc. Levi Efrain Nuncio, 24 of Harrisonburg, died June 22, 2011 in Afghanistan. Capt. Michael Wray Newton, 30 of Newport News, died June 11, 2011 in Afghanistan. Capt. Charles A. Ransom, 31, of Midlothian was one of eight airmen who died April 27, 2011, at the Kabul International Airport, Afghanistan, from gunfire. Sgt. Sean T. Callahan, 23, of Warrenton died April 23, 2011 in combat in Afghanistan.
Sgt. 1st Class Anthony Venetz Jr., 30, of Prince William died Jan. 28, 2011 in Afghanistan, after being been seriously wounded months before.
Spc. Sean R. Cutsforth, 22, of Radford, died Dec. 15, 2010 in Afghanistan. Spc. William K. Middleton, 26, of Norfolk died Nov. 22, 2010 in Afghanistan. Staff Sgt. Christopher F. Cabacoy, 30, of Virginia Beach died July 5, 2010, in Kandahar, Afghanistan.
Pfc. Benjamin J. Park, 25, of Fairfax Station, died June 18, 2010 at Zhari district, Kandahar, Afghanistan, of injuries sustained when insurgents attacked his unit with an improvised explosive device.
May 12, 2010, Donald J. Lamar II, 23 of Fredericksburg, was killed in Afghanistan. Christopher D. Worrell, 35 of Virginia Beach, was killed in Iraq on April 22, 2010. Steven J. Bishop, 29 of Christianburg, was killed March 13, 2010 in Iraq. Kielin T. Dunn, 19 of Chesapeake, was killed Feb. 18, 2010 in Afghanistan. Brandon T. Islip, 23 of Richmond, was killed Nov. 29, 2009, in Afghanistan.
Stephan L. Mace, 21 of Lovettsville, died Oct. 3, 2009 in Afghanistan.
Bill Cahir, 40 of Alexandria, died Aug. 13, 2009 of a gunshot wound while conducting combat operations in the Helmand Province of Afghanistan. After 9/11, Cahir decided to leave his career as a journalist and join the Marine Corps. His application to become a Marine was denied because of his age, but he lobbied members of Congress to get a special exemption.
Lance Cpl. Daniel Ryan Bennett, 23 of Clifton died Jan. 11, 2009, in Helmand province, Afghanistan. "He loved his country, and we're so proud of him," said his mother.
2nd Lt. Sean P. O'Connor of Burke died Oct. 19, 2008 while stationed at Hunter Army Air Field, Savannah, Ga. O'Connor was an athlete in soccer, baseball and football who attended Fairfax County Public Schools and was a 1999 graduate of Bishop Denis J. O'Connell High School in Arlington.
Pfc. David Sharrett II, 27 of Oakton, died Jan, 16, 2008 in Iraq. On Oct. 24, 2008, his father, David H. Sharrett, was on hand as the Oakton Post Office on White Granite Drive was renamed to honor his son. But the senior Sharrett has battled to learn the truth about his son's death, that he was killed by his lieutenant in the confusion of a firefight. In, April, 2012, Sharrett Sr. obtained documents confirming some of the details of his son's death and a subsequent cover-up, according to Tom Jackman of the Washington Post.
Army 1st Lt. Thomas J. Brown, a George Mason University graduate and Burke resident, died on Sept. 23, 2008, while serving in Iraq. His unit came under small arms fire, and Brown, 26, died from his wounds.
Sgt. Scott Kirkpatrick, 26, died on Aug. 11, 2007, in Arab Jabour, Iraq. Kirkpatrick, who graduated from Park View High School in Sterling, and also considered Herndon and Reston as his hometowns, was a champion slam poet. His father, Ed Kirkpatrick, calls him the "warrior poet," and he and his wife help injured vets at Walter Reed through the Yellow Ribbon fund (www.yellowribbonfund.org).
Ami Neiberger-Miller of Sterling lost her brother, U.S. Army Spc. Christopher Neiberger, in August 2007 when he was killed by a roadside bomb in Iraq. He was 22. Since her brother's death, Neiberger-Miller has devoted herself to the Tragedy Assistance Program for Survivors (www.taps.org), an organization which provides emotional support and other services for families of the fallen. This Memorial Day weekend, TAPS will bring together survivors in Arlington for the 18th National Military Survivor seminar, along with a "good grief" camp for children who have lost a parent.
Staff Sgt. Jesse G. Clowers Jr., 27, of Herndon, died when an improvised bomb exploded near his vehicle in Afghanistan on Aug. 12, 2007. Jonathan D. Winterbottom, 21, of Falls Church, died in Iraq on May 23, 2007, when an IED exploded near his vehicle.
Nicholas Rapavi, 22, of Springfield, died Nov. 24, 2006, during combat in Anbar province in Iraq. Army Cpl. Andy D. Anderson, 24, was killed by enemy fire in Ar Ramadi, Iraq on Tuesday, June 6, 2006.
Spc. Robert Drawl Jr., 21, a 2003 graduate of T.C. Williams High School, was killed by a bomb in Kunar, Afghanistan, on Aug. 19, 2006.
U.S. Army Specialist Felipe J. Garcia Villareal, 26 of Burke, was injured in Iraq and flown to Washington Hospital Center, where he died Feb. 12, 2006. He was a graduate of Herndon High School.
Capt. Shane R. M. Mahaffee, 36, a 1987 graduate of Mount Vernon High School, died May 15, 2006. He was a lawyer, married, with two children. His parents live in Alexandria.
U.S. Marine Lance Cpl. Nicholas Kirven, 21, was killed in Afghanistan in 2005 during a firefight in a cave with insurgents. He enlisted while still in high school after 9/11.
Fairfax Station resident Pfc. Dillon Jutras, 20, was killed in combat operations in Al Anbar Province of Iraq on Oct. 29, 2005.
Maj. William F. Hecker III, a 1987 graduate of McLean High School, was killed in action in An Najaf, Iraq, Jan. 5, 2005. Staff Sgt. Ayman Taha, 31, of Vienna, was killed Dec. 30, 2005, when an enemy munitions cache he was prepping for demolition exploded. Army Capt. Chris Petty of Vienna was killed Jan. 5, 2006.
Staff Sgt. George T. Alexander Jr., the 2,000th soldier to be killed in Iraq, was literally born into the Army here in Northern Virginia, at DeWitt Army Hospital at Fort Belvoir. Alexander died at Brooke Army Medical Center in San Antonio, Texas, Oct. 22, 2005, of injuries sustained in Iraq, Oct. 17, 2005.
Fairfax Station resident Pfc. Dillon Jutras, 20, was killed in combat operations in Al Anbar Province of Iraq on Oct. 29, 2005.
Lt. Col. Thomas A. Wren, 44, of Lorton, died in Tallil, Iraq on Nov. 5, 2005. Marine Capt. Michael Martino, 32 of the City of Fairfax, died Nov. 2, 2005, when his helicopter was brought down in Iraq.
1st Lt. Laura M. Walker of Oakton was killed on Aug. 18, 2005, in Kandahar, Afghanistan. CW4 Matthew S. Lourey of Lorton died from injuries sustained on May 26, 2005 in Buhriz, Iraq.
Operations Officer Helge Boes of Fairfax was killed on Feb. 5, 2003, while participating in counterterrorism efforts in eastern Afghanistan.
Among other local lives lost: Lance Cpl. Tavon Lee Hubbard, 24, of Reston; 1st Lt. Alexander Wetherbee, 27, of McLean; 1st Lt. Jeff Kaylor, 25, of Clifton; Coast Guard Petty Officer Nathan B. Bruckenthal, 24, of Herndon; Army Chief Warrant Officer Sharon T. Swartworth, 43, of Mount Vernon; Command Sgt. Maj. James D. Blankenbecler, 40, of Mount Vernon; Capt. James F. Adamouski, 29, of Springfield; Sgt. DeForest L. Talbert, 22, of Alexandria; Marine Cpl. Binh N. Le, 20, of Alexandria; Staff Sgt. Russell Verdugo, 34, of Alexandria. Army Capt. Mark N. Stubenhofer, 30, from Springfield; Marine Gunnery Sgt. Javier Obleas-Prado Pena, 36, from Falls Church; Marine Sgt. Krisna Nachampassak, 27, from Burke; Army Staff Sgt. Nathaniel J. Nyren, 31, from Reston; Marine Lance Cpl. Tenzin Dengkhim, 19, from Falls Church, Navy Chief Joel Egan Baldwin, 37, from Arlington; Maj. Joseph McCloud, of Alexandria, and Major Gloria D. Davis, 47 of Lorton.
If you know of someone who should be included in this list, or if you would like to share how you are honoring the memory of a family member or friend lost, or about the progress of someone injured, please let us know.