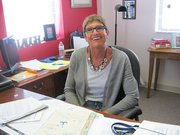 On average, 2,100 adult offenders are on supervised probation in Fairfax County at any given time. The office that manages these offenders is headed up by Tracy Lavely, a veteran of the Department of Corrections who has worked in the field of adult probation and parole since 1989. She leads a staff of three deputy chiefs, nine senior probation officers, 29 probation officers, four surveillance officers and nine administrative support personnel. Her staff also works closely with a pre-sentence investigative unit, a sex offender unit, and a gang unit.
According to the state Department of Corrections, Virginia is better than most states in successfully reintegrating offenders into the community. The rate of recidivism (re-incarceration) is 23.4 percent, second lowest rate in the nation. Oklahoma has the lowest rate.
Lavely earned a bachelor's degree in forensic studies from Indiana University. Her training includes specialized study of the management of women offenders at the National Institute for Corrections. She also developed and implemented risk needs assessment and treatment plans, and several times led an accreditation audit for the American Correctional Association.
Asked to cite a recent case study of a probation case that highlights the good that can come from the probation program, Lavely shared the following message from a former supervised offender to his former probation officer thanking him for his efforts and describing his feelings: "Good morning, I don't know if you remember me but you were my probation officer several years ago. I just wanted to say a few things. I now enjoy going to work every day instead of dreading it like before. I have learned more about the world and myself, how to be a man than I ever thought I would. I spend my money on buying presents for my family or anything I want really instead of wasting it on getting high for two hours and wondering how I am going to pay for my next hit. I want you to know that this would never have been possible if you didn't make me feel like you really believed I could get my act together. Throughout the court process back then, you were the only person I genuinely felt you really believed in me. I want you to know how much that meant to me and how all I needed was one person to encourage me. It made all the difference in my recovery. Thanks for being real with me, encouraging me to do the right thing, and believing in me to do it".
Lavely also described a recent successful supervised government sponsored program entitled, Virginia Serious and Violent Reentry (VASAVOR) program. As she describes it: "The program identifies and addresses critical services that an offender needs to enhance their chances to be successful once released from jail or prison." She said the program is very successful and cites one offender who was in prison for three counts of robbery. After serving time he was placed on probation in 2010, and placed on the VASAVOR program. He was channeled into a successful technical/business specialty, helped to receive his certifications and licensure and is doing well in the business specialty. His probation will be completed in November of this year.
Lavely sees more and more offenders that are released from jail or prison that have serious mental health issues and require medication and counseling. "These are difficult cases and require more intensive casework from the probation officers, and require more involvement with health care providers," she said.
When asked about why she chose the career of probation and parole, she replied: "All in all I not only love this job but I love probation work; it is important work. The people who work here in the Fairfax office are wonderful people who work hard every single day because they like the work and they know they make a difference. The work we do benefits the community where we live. We help people lead productive lives and that is what this is all about."