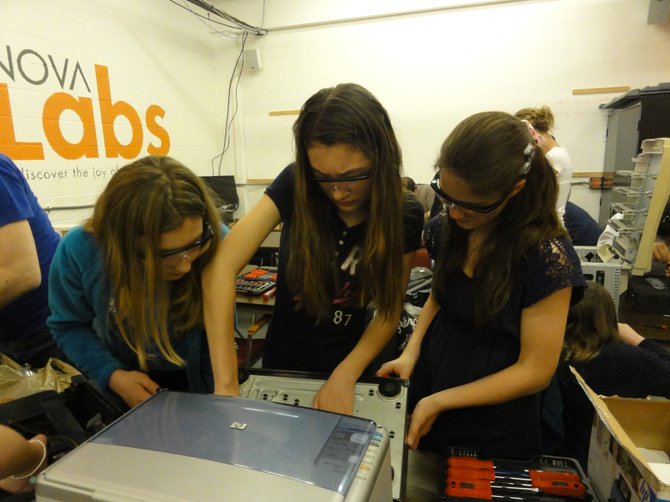 NOVA Labs threw open its doors on Saturday, May 11, to host a "Take-Apart" day, for the Girls Excelling in Math and Science (GEMS) Club from Langston Hughes Middle School in Reston. The 12 Hughes seventh graders could hardly wait for safety instructions and raced to pick out their pieces of equipment from bins of recycled phones, computers, answering machines and electronic games.
NOVA Labs provided the items and tools, while the students supplied the enthusiasm and creativity. The goal, Brian Jacoby, NOVA Lab president says, is to inspire tinkering and to feed students' natural curiosity, encouraging them to touch, try and explore. Club member Zahraa Mohammed, a seventh grader, focused intently as she pried, unscrewed and unraveled her item. The room was a cacophony of pounding, scraping and excited sharing. "Look, rainbow wires!" exclaimed Elizabeth Shaw.

NOVA Labs is a nonprofit "maker space" in Reston that provides a community workshop where people can learn, teach and collaborate on creative and technical works. They also seek to promote the usefulness of competence in the technical arts. The lab is part of the international grassroots Maker Movement, spreading quickly in neighborhoods across the United States. The GEMS Club at Langston Hughes is funded by a Best Buy grant and is part of a larger effort spearheaded by Fairfax County Public School's Cluster 8 Assistant Superintendent Fabio Zuluaga to expand the successful GEMS Club initiative to more schools. Amy Shaw is the parent volunteer for Hughes' GEMS Club. Elizabeth Vandenburg is the outreach director for GEMS; for more information, go to www.gemsclub.org.