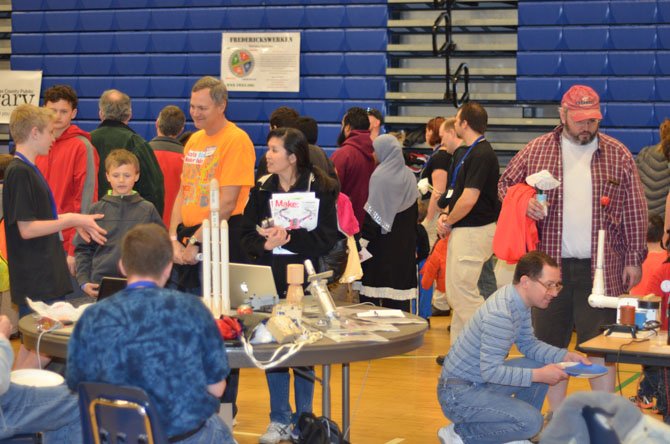 "This last week has been really intense, but we would say it was a success," said Brian Jacoby, a resident of Reston and founding member of NOVA Labs. Jacoby had just finished operations for the inaugural NOVA Makers Faire hosted at two locations, South Lakes Highs School and Langston Hughes Middle School in Reston. The event sold over 3,000 tickets, and more than 300 volunteers helped guide visitors to various displays related to technology and engineering.
"I was surprised by how ecstatic folks were, it was a great feeling, everybody was so upbeat," said Jacoby. Visitors came in from all over D.C. metro area, some as far as Baltimore, Richmond and Boston. Innovators, hackers, artists and do-it-yourselfers of all ages came to view the different displays of gadgetry and hear presentations by guest speakers. A nonprofit group based in Reston, NOVA Labs was founded in 2011.
Steve Bloom, a resident of Ashburn, helped display a 3D printer making bottle openers. "This has been great, I have gotten lots of good questions like what software I used." Bloom also participates in drone activities hosted by NOVA Labs. Displaying drones at the South Lakes gym was Chris Vo. "It is kind of like a hot rod, you buy the pieces and then put it together… I can build one drone powered with a lithium battery in about two hours," said Vo. Vo is Director of Education for the D.C. Area Drone User Group, the mid-Atlantic's largest organization related to small drone and UAV or sUAS technology.
Scott Harris, a resident of South Riding assisted with the display of a 3D printer called the TMAX 2.0 3D printer, which has a fully open sourced design. "We were not sure how many people would show," said Harris. Jacoby and other leaders of NOVA Labs had been preparing the Maker Faire for almost a year. "I was lucky enough to find Jeanne Marshall and Amy Shaw and we went forward, they are the heroes in this because they helped make it so amazing," said Jacoby.
THE FAIR was full of innovation and design. Volunteers gave basic soldering instructing, information on 3D printers, and displayed art made of fiber optic cables. Wind tunnels were set up at the South Lakes cafeteria, and folks demonstrated customized Minecraft programs for kids. At Langston Hughes Middle School robots and ham radios were on display. There were also participants from the Girls Excelling in Math and Sciences Club (GEMS) taking apart old computers and printers and learning how they work. "I couldn't choose one favorite part of the festival," said Jacoby.
"You can really see the excitement in the kids' faces, it really indicates it is getting them interested in science," said NOVA Labs co-founder Justin Leto. "At NOVA Labs we have hosted over 400 events… we hope the exposure from this event will help publicize our group." The event continued lasted from 11 a.m. until 4 p.m. "It is very neat," said Sheri Roman who brought her children to the fair. "They learned more in two hours than the last week."
"It has been fantastic, there was a lot of cool robotic stuff," said Fred Briggs, a resident of Ashburn who brought in his wife and children to the fair. Author Robert Wallace, whose children attended South Lakes, gave a presentation at South Lakes theatre on the history of American innovation and espionage. Nene Spivy, executive director of the Children's Science Center was at the South Lakes cafeteria, explaining the organization's "Museum Without Walls" program. "We love to tell people about our future museum in the Dulles region," said Spivy.
"I think it is awesome, we had a great time sharing about the Spy Museum as well as sharing about our Spy Camp," said Jacqueline V. Eyl, a resident of D.C. and the Youth Education Director of the International Spy Museum. The museum was one of the sponsors for the event, as were WyoLum, Ideaventions, the Community Foundation for Northern Virginia, and Fairfax Connector. Connector buses provided free transportation services for the event, shuttling visitors in from Herndon Monroe Bus Station. Other sponsors included Makezine.com, GEMS, Holland & Knight, Activity Rocket, and Small Batch Assembly.
"It is really about spreading the joy of making things, sharing the creativity," said Leto. "We want to make kids excited about making things, so by having this fair the goal is to put children on the path of life long learning that serves them their entire life. We really saw how much support this event had in the community and we are looking forward to next year."
TO LEARN MORE about NOVA Labs, visit www.nova-labs.org/blog/