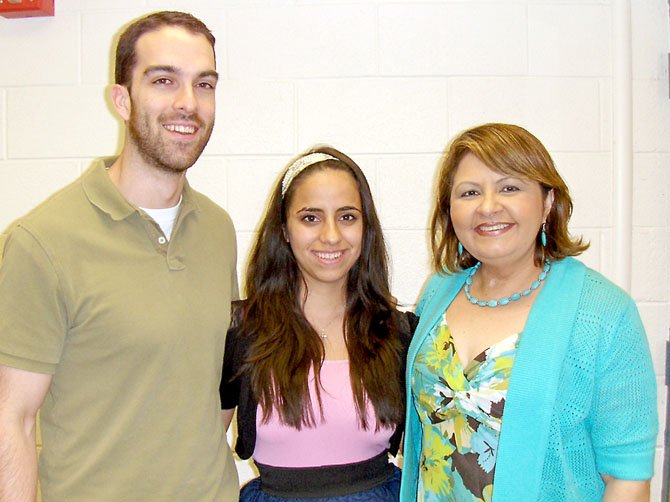 Just 18, Robinson Secondary senior Maritza Villarroel plans to go to college and someday become a nurse. And thanks to a scholarship from the Hispanic Leadership Alliance (HLA), she'll soon start her journey.
To apply for it, she had to write an essay about what career path she wanted to take and why. So she wrote about her grandfather and her interest in the medical field.
"When I was younger, my grandfather had a heart attack," said Villarroel. "He was OK, and my mother showed me around the hospital he was in, and I thought it was really cool."
She later researched nursing as a profession and decided to pursue it. "I'm interested in the different structures in the human body," she explained. "I do a lot of volunteer projects at church and am good at organizing things. And I also like the humility involved in being a nurse and helping others."
Maritza Villarroel honored by Hispanic Leadership Alliance.
"I do a lot of volunteer projects at church and am good at organizing things. And I also like the humility involved in being a nurse and helping others."
—Maritza Villarroel
AT ROBINSON, Villarroel is one of the directors of LASA, the Latin American Students Association, which also helped fund her $1,000 scholarship. "LASA has a partnership with HLA," said Ruth Azimi, co-sponsor of Robinson's LASA group, along with school counselor Enrique Fernandez. "If we raise $500, HLA will match it for a $1,000 scholarship to a LASA member."
Villarroel's father is from Bolivia and her mother's from New Jersey, and she was born in the U.S. She found out she'd won the scholarship, April 29, during LASA's Senior Night, a closing ceremony for the school year.
"I was very happy," she said. "My mom's a single mother who's a fourth- and fifth-grade Spanish immersion teacher at Laurel Ridge Elementary in Fairfax. And my twin sister Jackie is going to college at the same time, so I didn't want my college expenses to hurt her chances of going to college."
Villarroel plans to attend Franciscan University, a small Catholic university in Ohio. But before she departs, she's leaving her mark on the local community.
In LASA, she helped organize a Zumbathon in April to raise money for 26 acts of kindness for New Jersey's Sandy Hook Elementary, and the event yielded $240. While maintaining a 3.2 GPA, she also helped guide an international show this spring at Robinson where many different students highlighted their cultures.
Villarroel is active, as well, in the youth group of St. Mary of Sorrows Catholic Church, where she organizes and participates in service projects to raise money for various causes. In her spare time, she's learned several types of Bolivian dances and is now in her second year of caporales, a fast dance which she and her group perform in parades and shows.
Azimi said Villarroel also has great determination. There was a snowstorm two days before the international show and it caused both a school cancellation and a delay. "The storm was supposed to be really big and there wouldn't be time for final rehearsals," said Fernandez. "But Maritza and the others were adamant that we should still do the show." They did and it was a big success.
REGARDING THE HLA SCHOLARSHIP, Azimi said she's happy Villarroel received it because "she deserves it and she worked so hard."
Fernandez said all the seniors who applied for it were deserving but, "Over the past two years, Maritza was such a go-getter and I could always rely on her to get things done for LASA. She'll be missed next year for her spunk, assertiveness and determination."