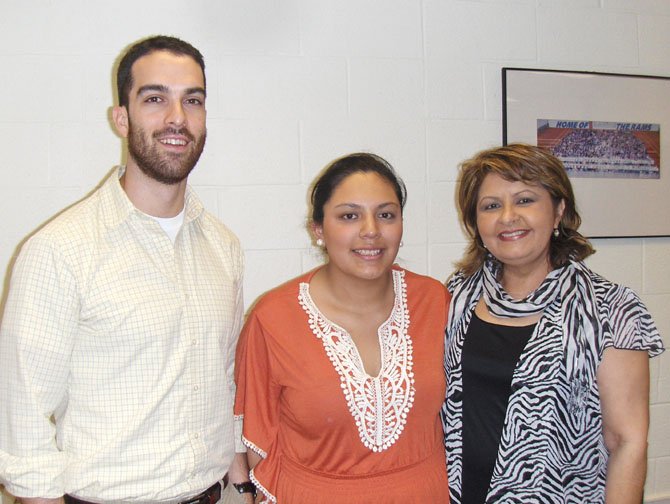 Born in Bolivia, Lucia Maldonado came to the U.S. at age 7 with her mother and younger sister. Now 18, she's about to graduate from Robinson Secondary School and is the recipient of a Hispanic Leadership Alliance (HLA) scholarship.
"I was surprised and happy," she said. "It was a huge blessing. I've had a wonderful experience at Robinson because of all the opportunities and extracurricular activities at this school."
Maldonado's president of the National Art Honor Society and an IB diploma candidate. "IB classes allow you to challenge yourself academically and as a thinker and become more well-rounded," she said.
But her favorite thing at Robinson has been participating this year in the school's reopened Latin American Student Association (LASA). "It encourages leadership in Latino students and giving back to their communities so students coming in won't have to face the same challenges I did," she said. "I was one of the only Hispanic students or Hispanic girls in upper-level classes."


AS A RESULT, Maldonado felt intimidated by her classmates' intelligence. But, she said, "That challenged me even more to prove to myself and others that I could do it." To win the $1,000 HLA scholarship, she had to write about the person who inspired her most.
"I wrote about my mom – she's the best example of strength and humility I know," she said. "She's a single mom and she's worked really hard to come to this country and raise my sister and I. Sometimes, she had to work three jobs to get us through."
Maldonado said her mother taught her how to be strong in tough times and always be thankful for what she has. "But the most important thing I've learned from her is never giving up on my dreams," she said. "Sometimes, the things we want most take longer to attain. But what matters is the destination and not the path you take to get there. My mom's always taught me that, as long as you try your hardest, the right doors will always open."
Maldonado's mother didn't know her daughter was writing about her until she won the scholarship. "She was honored that I think of her that way," said Maldonado. "She was also thankful because it's not easy to have a good relationship with your parents as a teenager."
Ruth Azimi is the co-sponsor of LASA at Robinson and had the honor of presenting Maldonado's scholarship at the recent HLA awards banquet. "I was very proud because I encouraged Lucia to apply for this scholarship," said Azimi. "She needed it and deserved it. I was so excited to learn she'd won, after all her hard work, commitment, dedication and challenges."
Maldonado has had several, serious medical problems the past two years, including a fractured ankle requiring surgery. And after graduation, she'll have surgery on her adenoids to relieve her severe headaches. "The doctors are also concerned about my liver, but I don't want to sulk about it," she said. "Instead, I want to stay positive."
"I won a scholarship, I'm graduating and going to college – something my parents never did," continued Maldonado. "It proves that all my mom's efforts, late nights working and physical and emotional difficulties were worth it. Someday, I hope to provide for my mom the way she provided for me."


THIS FALL, she'll attend NOVA in Alexandria, and she's already started taking online classes. "I want to study film and, hopefully, one day be a director," she said. "I plan to move to Argentina in two years because college is cheaper there and I'll graduate as a creative director – which will allow me to enter any directing field I want."
Maldonado said her biggest reward is making her mother proud of her and seeing her smile. "I feel like whatever I do will only make me stronger," she said. "Whatever I go through will help me learn and God will get me through."