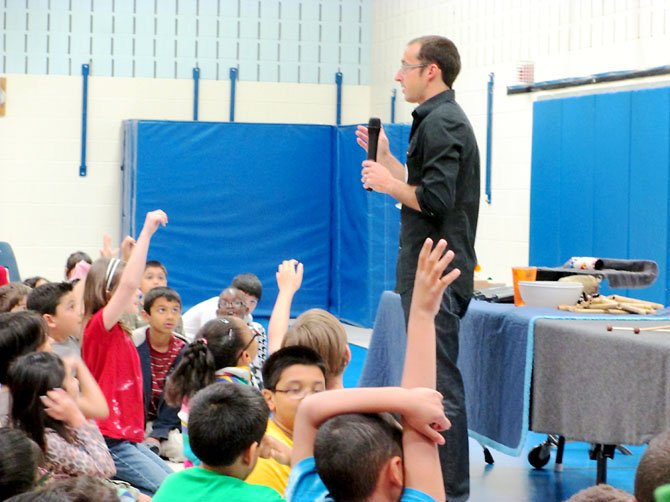 For children raised on the high-voltage soundtracks of "Halo" and other video games, a classical music concert probably sounds boring and stuffy.
But Lake Braddock alum Cory Hills—a Grammy-nominated percussionist, composer and storyteller—wants to change that perception.
With hissing cymbals, tick-tocking footsteps and Liszt-inspired tornadoes, Hills blends classical musical styles with storytelling, creating a colorful palette of sound and fanciful, playful worlds for children and adults.

Last month, Hills returned to his musical roots, Newington Forest Elementary School, where he performed "The Percussive Art of Storytelling," his popular, interactive and high-energy concert, during two performances.
"I love to see kids get involved during a concert. It's absolutely hilarious; they are up and down, whooping and hollering, listening to the music and the story," Hills said.

As an educator, Hills said he thrives on "breaking down musical barriers in innovative and creative ways."
SINCE ITS INCEPTION in 2008, Hills has presented "The Percussive Art of Storytelling" more than 250 times, reaching 16,000 people throughout the United States, Mexico, Australia, and Europe.
For his work, Hills has been the recipient of numerous arts grants, including a Zakoura Family Fund Grant and a Reach Out Kansas Grant. In 2009, he was named the 2009 Emerging Artist for the Kansas Arts Commission.
He has received degrees from Northwestern University, Queensland Conservatorium and the University of Kansas, and was awarded a research fellowship to Institute Fabrica. Now living in Los Angeles with his wife and young daughter, Hills said "The Percussive Art of Storytelling" manifested itself one day while he was improvising.
"I found myself drawn to a circular pattern between two woodblocks, two cowbells and two plastic blocks. The pattern was reminiscent of a bicycle, always pedaling forward into the future," Hills said. "In a flurry of activity, I wrote a story called "The Lost Bicycle," composed the music and percussive storytelling was born."
"The Lost Bicycle" story centers on Mother Earth's only son, who loses the bike he receives for his sixth birthday. The story involves the boy chasing after his lost bicycle through chance encounters with a cheetah, tortoise and hippopotamus before discovering that his best friend, the dog, has found the bicycle and brought it home.
"It's a cool story with characters and events that a young audience can relate to," Hills said.
The CD is organized like a trip to the theatre, consisting of a prelude, three acts, two fun-filled intermezzos and a postlude.
After the success of his percussive concerts, Hills released "The Lost Bicycle," his debut solo CD of percussive stories, in the spring of 2010.
"THE LOST BICYCLE" received rave reviews from critics and concert goers, including a coveted gold medal from the NAPPA Parent's Awards, who said the mix of folktales, and original and personal stories are "snappy and satisfying. Kids and parents will want to tap, bang and strum along!"