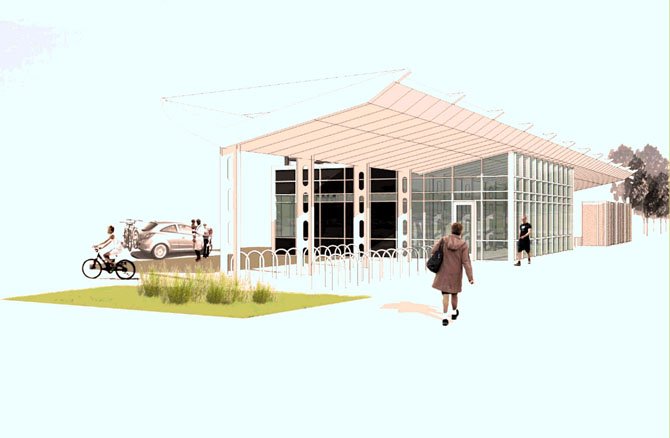 Part of the Stringfellow Road park-and-ride lot expansion will be the construction of a 1,345-square-foot bus-transfer building. Architect John Wirth, of Ritter Architects, talked about it during last week's public meeting.
"It'll be a glass building with a long, butterfly roof with secure bike parking underneath," he said. "There'll be a kiosk where people can get tickets and maps and add money to SmartCards. There'll also be restrooms, three benches and a drinking fountain."
The glass façade will allow staff to see outside during business hours; the building will be locked, otherwise. It's anticipated to be staffed Monday, Tuesday and Thursday, 6:30-10:30 a.m., and 3-7 p.m. Currently, buses using that lot run weekdays from 4:30 a.m.-10 p.m.
"We're pursuing LEED silver certification on this project," said Wirth. He said the building will employ energy efficiency, water-use reduction, renewable materials, natural light and solar panels.
The facility will be centrally located on the site, which will also feature cutoff, shielded lights that won't illuminate across Stringfellow Road. Also planned are two, asphalt, pedestrian/bicycle paths leading to the building. And there'll be a crosswalk at the Fair Lakes Boulevard entrance, with a pedestrian button on the traffic signal there.
The lot's bus loop will be up front, divided from the vehicular and pedestrian traffic. And the state will review all permits before work is begun.
The site's design is slated for completion in August, and the project will open for bids in December. Construction is scheduled to start in January 2014 and be finished in late December 2014, when the expanded lot is set to open.