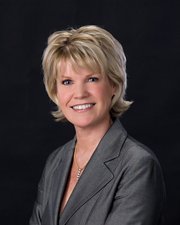 Jane Wallace, a real estate professional with nearly 10 years of residential and commercial real estate experience, has been named manager of the Reston office of Long & Foster Real Estate, the largest independent residential real estate company in the United States and the No. 1 seller of luxury homes in the Mid-Atlantic. In this role, Wallace will lead the office's almost 100 sales professionals, helping them and their clients achieve their real estate goals.
Wallace joined Long & Foster in September, after the firm acquired her brokerage, RE/MAX Bravo of Fredericksburg and Spotsylvania County, Va. She entered the real estate industry after a successful technology career, having built and sold several e-commerce businesses. Wallace started in residential and commercial real estate with another brokerage, helping clients with everything from luxury listings to REO properties. There, she found success as part of a real estate team with Kevin McGrath, and together, the duo reached more than $45 million in production in 2008.
The following year, Wallace and McGrath decided to open their own firm—RE/MAX Bravo Real Estate. They built Bravo into one of the top firms in the Fredericksburg and Spotsylvania areas with a team of about 40 agents. Wallace taught her agents how to develop their networking skills and coached them on building their businesses—both as individual sales associates and as part of a team as she once was. After Bravo joined the Long & Foster family, Wallace supported her agents in transitioning to the new firm, and she'll bring these experiences, as well as the knowledge and skills she's gained over her career, to the new role in Reston.
Wallace is originally from Texas, and she relocated to the Northern Virginia area, where she currently lives with her daughter, in the late 1990s. For more information, visit www.LongandFoster.com.