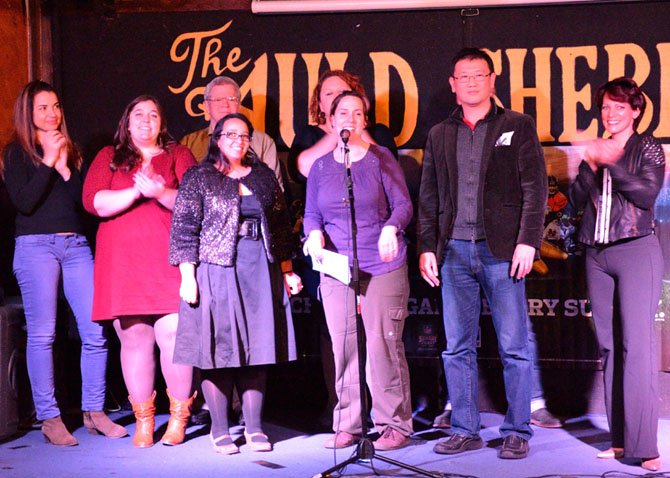 For Thanksgiving weekend, and their last show of 2013, Better Said Than Done storytellers will perform "Legendary: tall tales, bigger than life people and family legends." Thanksgiving weekend is a popular weekend to go shopping. Better Said Than Done is offering a more entertaining alternative. "Legendary" will feature true stories about the people who make life more interesting. Hosted by Jessica Piscitelli. Storytellers include Richard Barr, Barbara Effron, Susan Gordon, Brad Podliska, Soledad Roybal, Ellouise Schoettler, and Anna Marie Trester. A full dinner menu and full bar are available during the show. Seating is on a first-come, first-served basis. The show is intended for an adult audience.
Better Said Than Done defines storytelling as the art of performing a true, personal story in front of a live audience. Stories are personal and true, but they are stories, meaning they have a beginning, middle, and end. Most importantly, storytelling is treated as a performance, an art, a form of entertainment, and a reality the audience will not forget.
Better Said Than Done, Inc., is a community of professional storytellers. They produce themed storytelling shows throughout Northern Virginia and beyond, featuring experienced performers from their team of storytellers. With stories ranging in length from 7-10 minutes, the shows are energetic, engaging, and highly entertaining. They may be funny, poignant, silly, or unbelievable, but they will convince audiences that life is better in the telling.
Due to continuous sold out performances, Better Said Than Done has moved venues. Their growing audience needed a space to expand into, so the last Saturday of the month shows now regularly occur at The Auld Shebeen, 3971 Chain Bridge Rd., Fairfax, Va. The Nov. 30 show, as well as shows beginning again in 2014, starts at 7 p.m. Doors open at 6 p.m., and tickets are $10. For more information, visit www.bettersaidthandone.com.