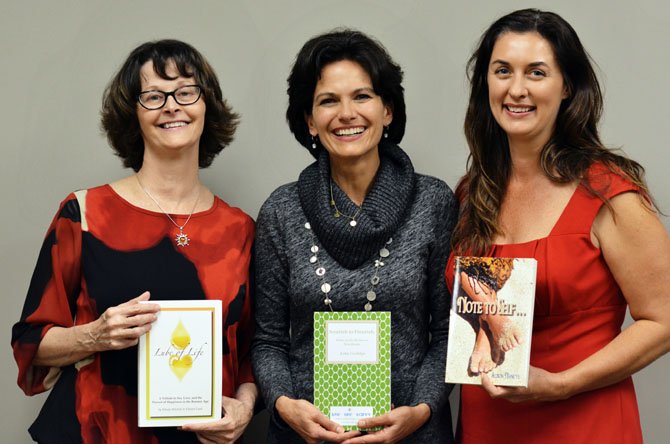 McLean — When it comes to happiness, Joda Coolidge, Mindy Mitchell and Alison Nancye have seen both sides of the coin. Like everyone, their lives have seen ups and downs, but the trio have used their experiences to get to where they want in life.
It was with that in mind that they hosted an event in McLean last month, where they hosted several dozen women at an event designed to help them live the life they want.
"A lot of people feel that there's something not right with their day-to-day existence, they talk about where they should be, and this happens to people of all ages," said Coolidge, a life and wellness coach in Great Falls. "That begs the question: just who are you listening to? Is it someone that really matters to you, or are you just endlessly comparing yourself to others? Because constant comparison is a surefire way to never be happy."
Coolidge recently re-connected with Mitchell, a design consultant with Sun Design in McLean who specializes in future planning. After a few conversations, they found that their respective fields might make for an interesting combination.
"Joda and I re-connected, and we had an idea about doing a talk, and all of a sudden it was spontaneous combustion, we exploded with ideas," Mitchell said.
THE EVENT featured Mitchell, Coolidge and Australian author Alison Nancye. Each of them told their stories and their quest to achieve the life they wanted.
"Our theme was 'create the life you want' and how to live it now," Coolidge said. "Women get a lot of messages about what their life is supposed to be, about how much money to make, about starting a family and having kids, and it's easy to get derailed from your true passion."
Each of the three women told how they found themselves living away from their passions, and how they found their way back.
Nancye's book, "Note To Self" is a fictional story about a woman who hates her present life, and after a breakdown, she decides to chase her dream in Peru.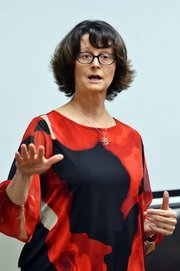 "Alison's story is about the concept of what you focus on, grows," Coolidge said. "If you dwell on the negative parts of your life, that part will grow, and vice versa."
Coolidge's message as a life and wellness coach is the power of positive thinking, and she shared that with the group.
"We're hard-wired to think negatively, it's a protection device the human psyche has developed," Coolidge said. "To change that, you have to re-train your brain to think positive thoughts, and then approach your goals in a manageable process, step by step, from A to B to C to D, which allows you to see your progress."
Coolidge said that message helped at least one attendee repair a relationship in her life.
"I received a few follow up e-mails from a woman who has been estranged from her 21-year-old son," she said. "She told me the event gave her the idea that if she changed the way she reacted to him from a negative, that he only calls when he needs something, to a positive, about how proud she is of him, and how she now makes an effort to start all their phone calls with that thought."
Mitchell said she has been lucky enough to enjoy her job, and after downsizing her residence, she liked her living situation. But there was one thing missing.
"I realized that at age 59, and having been divorced, that I was simply tired of being alone. So, I wrote a description of my perfect partner, and eventually, I was able to find him," she said. "What stops people the most are the 'what ifs,' and I was determined not to let that stop me."
MITCHELL'S BOOK "The Lube of Life" tells the true story of her modern romance, through e-mails and online chat logs, through their conversations and eventually their meeting.
She said from evaluations and further contact with the group, she believes different parts of the presentation resonated with different people.
"People get stuck, it happens to everyone, you just become anesthetized to what's happening," she said. "A woman came up to me after the program and said she was worried about the magnitude of changing, and I told her the first step is to look down at where you are. Find out where you want to go, develop momentum and just keep working toward it. People are often too focused on what's happened to them in the past, or what the future will hold, but the present day is what matters."
"One of the most positive parts about the event was that we all saw that the message we were talking about is available to anyone, ages 20 to 80," Coolidge said. "It's a step-by-step process, and it's not always easy, but if we can do it, we feel that anyone can do it."
Coolidge said the event received such overwhelming support that they are looking to expand the possibilities. An all-day workshop, a TED talk and even an outreach event to younger women have all been discussed.
More information can be found at www.jodacoolidge.com, www.lubeoflife.com and www.alisonnancye.com.