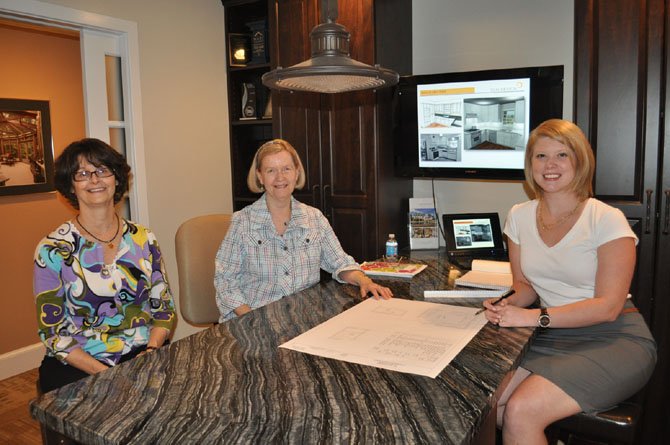 "My mother spent the last two years of her life in a nursing home," said Northern Virginia native Connie Sorrentino, who recently turned 70. "You never know what's ahead. I spent a couple of years looking at retirement homes, then decided that the immediate problem was adapting my current house so it's easier to use."
Sorrentino, who lives in Arlington, practices yoga and observes a strict vegetarian and fish diet, said she has "no stiffness" and is quite active in local church and civic groups.
"Still, since I've decided to stay put, I'm making changes that will make it easier for me to sustain myself happily for years to come," she said.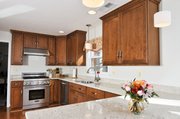 Along these lines, the retired economist has been working with Mindy Mitchell, certified aging-in-place specialist at Burke-based Sun Design Remodeling, planning out the future of a home in Arlington she's occupied for more than 30 years. Recently, the design-build firm remodeled several rooms in Sorrentino's four-bedroom ranch; she was pleased with the outcome, and gratified to learn that the firm's expertise includes re-designing homes to meet aging-in-place requirements.
"We're seeing many more seniors exploring ideas that will help them continue to live independently in their own homes," said Mitchell. "Sometimes we're called in when mobility issues have become inescapable. But it's always easier when you plan ahead."
Mitchell said that an aging-in-place design is far more economical and practical when it's rolled into an already planned remodeling project — which is the course Sorrentino is following in the current makeover of her kitchen, several bathrooms and other parts of the circa-1950s rambler.
"I'm remodeling several high-use spaces; it's a plan that makes it easier for me to do everything I need with minimal challenge," said Sorrentino.
Mitchell said that the changes can seem discrete to outsiders, but they "make all the difference in reducing the ergonomic exertions of daily life."
More: Sun Design Remodeling frequently sponsors workshops on Aging-In-Place solutions. Call 703-425-5588 or visit www.SunDesignInc.com.
In place of overhead kitchen shelves, for instance, Mitchell is recommending counter-high pull-out drawers for regularly-used items, reducing the need for out-of-reach overhead cabinetry. Small hard to grasp knobs will be replaced with cabinet pulls. Sharper, more concentrated lighting in key locations provides the visual support needed to move about confidently.
In two bathrooms, plans call for precisely located vertical and horizontal grab bars. The shower will have a lower curve for easier access. Traditional and hand-held shower faucets simplify bathing. The faucets themselves feature adjustable levers rather than knobs. The floor will be surfaced in non-slip tile.
"Working out the details is fascinating," Sorrentino said. "The best part, though, is interior design that perfectly integrates all these new features. I don't want the house to look 'senior-friendly'—just pretty."