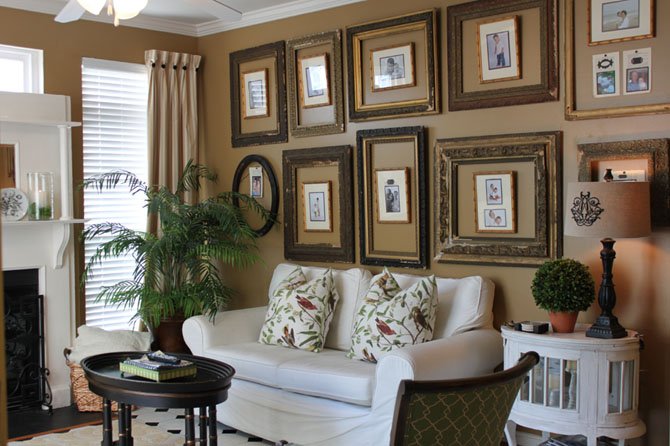 When Anne McCloud and her fiance, Mark Graham, moved into their Herndon home two years ago, with the exception of a large, deep red Chesterfield sofa, a present from Anne's parents, the furniture they had was left over from graduate school: a tattered antique chair in need of reupholstering and two side tables. The walls were bare except for a mirror that hung over the fireplace. Other than reupholstering the chair in a tapestry fabric with colors of gold and wine, their home remains unchanged today.
McCloud is finally ready to create a polished interior, however. She wants to purchase wall art that complements their existing sofa and chair. She wants their art collection to grow in harmony with their furniture purchases.
"We want to buy some original art," said McCloud. "We're even considering having a piece commissioned, but we're not sure how to coordinate the colors and we cannot afford to hire a professional interior designer. So we're doing this on our own."
"You have to create a balance. If you have a large piece of furniture against the bottom half of a wall, a small painting will look awkward hanging over it."

— Mia Belotti, an interior designer and owner of Maison et Jardin, Ltd.
WITH SO MANY CHOICES in art, fabrics and furnishings, it's easy to feel overwhelmed when it comes to do-it-yourself interior design. Building a collection of art that you love and combining it with furniture that that fits your style can be overwhelming for interior design novices.
Mia Belotti, an interior designer and owner of Maison et Jardin, Ltd. in Great Falls, said there are two ways to approach the design issue. "If you have an expensive piece of art, then you choose furniture around it. If you already have furniture, choose art that goes with it."
Scale and size are important. "You have to create a balance," said Belotti. "If you have a large piece of furniture against the bottom half of a wall, a small painting will look awkward hanging over it."
Designers agree that choosing art is personal. "I never tell clients what to like," said Sharon Kleinman, of Transitions by Sharon Kleinman in Potomac, Md. "People's homes should be about what they like and what speaks to them."
Kleinman says it is possible to create a harmonious room with two opposing styles such as antique and modern. The key, she says, is in details such as framing. "If you have a traditional interior with antique furniture," she said, "I would have no problem taking a Picasso and putting it in a very ornate frame."
Some homeowners are also perplexed when it comes to color coordination.
"I don't think art has to match furniture," said Kleinman. "You don't want it to clash, but it doesn't have to match. If I had a room with soft blues and yellows, I wouldn't throw a painting in that had harsh colors like red and black. You want colors to be complimentary. If the interior of the room is warm color, the colors in the painting should be warm. The same is true with cool colors. The more neutral the room, the bolder the art can be."
Kelley Proxmire of Kelley Interior Design in Bethesda, Md., suggests that in the case of McCloud, furniture in bold colors does not have to dictate bold art. "In fact, neutral art on bold walls or in a room with bold-colored furniture can have a great impact," she said.
However, she said, "It's wise to match a color in at least one of the more prominent paintings, as it adds to the peacefulness of the room. Not all the paintings have to match, but keeping one of the tones consistent makes the components of the room harmonious."
Chantilly-based designer Sallie Kjos of GreyHunt Interiors suggests that homeowners pay attention to the type of art that catches their attention. "If you have a passion for an artist, for example, Victoria Salvano, then base your decor around the colors that you are drawn to," she said. "For example, with her vibrant work, keep your main pieces such as the sofa, chairs and drapes simple and clean and add in pops of color such as teals, blues, fuchsias in your pillows, accessories, trimmings and throws to give punch and life to the room while tying in the art work."
Kjos also suggests grouping smaller pieces of art. "Go for a collage of different items or artwork," she said. "One of my favorites is taking old empty frames and hanging items inside, such as family pictures that are all framed the same that are smaller, a set of plates, candle sconces or whatever is special to you."