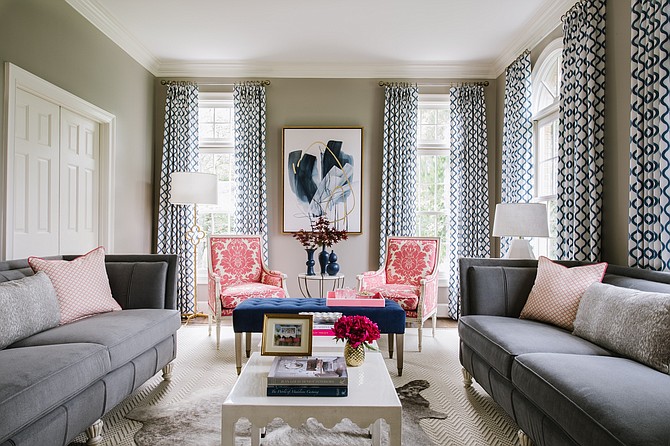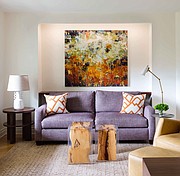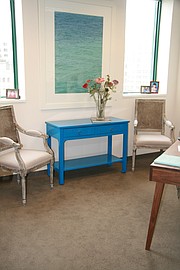 From adding a burst of boldly colored angular shapes to a sterile white wall, to using spheres in muted tones to create serenity in a bedroom, abstract art has the ability to set the tone or change the mood of a space. In spite of its versatility, melding it tastefully into a home's décor can be daunting. Local designers share their strategies for aesthetically appealing placement of this adaptable art form.
Abstract art can become the center of attention in a space, notes Pamela Harvey of Pamela Harvey Interiors of Herndon, Va. "One of my favorite ways to transform the look of a room is to add an over-sized piece of abstract art to create a dramatic focal point," she said. "My go-to frame is a simple floater frame to give the art a clean finished look."
Abstract art works well in pairs allowing the use of smaller scale pieces, advises Amanda Mertins of Patina Polished Living in Alexandria.
"Don't be afraid to hang abstract art in gallery style. Be mindful to use like frames and materials," she said. "The use of complementary colors to your space is a safe way to incorporate abstract art into your décor without allowing it to grab all the attention."
One of Mertins' favorite uses of abstract art is pairing it with what she describes as its decorative opposite: traditional décor. "Beautiful wood furniture, silver, crystal lighting and porcelain accessories are perfect as a backdrop for bold prints and abstract paintings," she said. "Mirrors are wonderful to use as abstract décor, but always pay attention to what will be reflected in the mirror."
Abstract art work is a versatile accessory and works well in modern as well as traditional room settings, suggests Harvey. "When choosing a piece I look for something that has some of the room's existing colors in it with an opportunity to introduce new colors into the space."
Harvey implemented this technique in the recent re-design of a client's living room. "We added a piece that had blue and white, but introduced a bold pink to create a dramatic focal point on the back wall."
Abstract art shouldn't be limited to neutral spaces, says Annie Elliott of Bossy Color, Interior Design by Annie Elliott. "If your walls are white and your furniture is gray, the effect will be pretty, but cold and museum-like, not homey," she said. "You should complement a painting's colors [and] the room should feel harmonious. If you put a red sofa under a red and blue painting, the effect may [appear similar too] a hotel lobby."
From a practical standpoint, Anne Walker of Anne Walker Design believes in mixing media to avoid creating a space that has an overly uniform aesthetic. "Oil paintings, both abstract and traditional, framed photography, sculpture, textiles, antique botanicals, framed mirrors, antique porcelain china – all of these art forms can co-exist happily in a single home," she said.
Versatility is one of the traits of abstract art that Mertins appreciates. "This style of art can be very bold and take charge of a room or be soft and fade into the background," she said. "If your room needs a focal point, then abstract art is the way to go."
"The use of black and white art will make a bold statement without adding color to a space," continued Mertins. "Monolithic art produces a solid look, splatter art is happy and upbeat while graceful line drawings impart a feeling romance and intrigue. Photographic art can be personal, bold and sometimes more affordable than painted pieces."
Works of art that one purchases spontaneously, such as during travels, is often both more meaningful and more likely to enhance a home's décor, says Walker. "When art is purchased for the entire home all at once, the result can often feel contrived," she said.
"Surround yourself with art, furnishings and objects that make you feel joyful, and consult a design professional if you need help editing or arranging your collection," continued Walker. "I've often helped clients sort through their existing art collections and place them in just the right spot," she said. "Moving a piece of art from the wrong location to the right location can not only transform a room, it can transform the work of art itself."