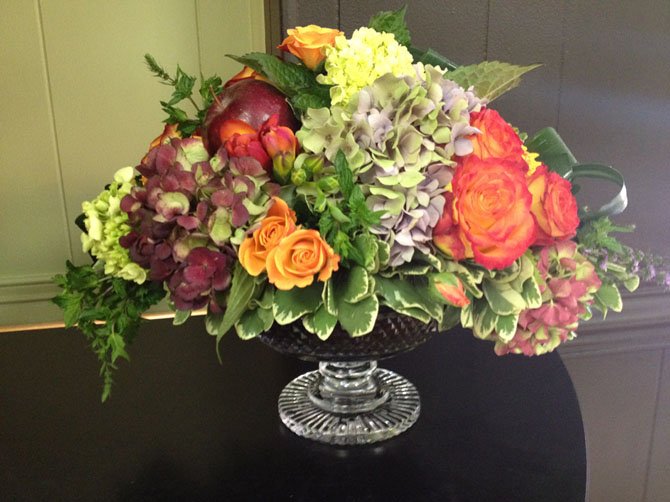 While a menu of turkey and gravy will satisfy the belly this Thanksgiving, a well-designed centerpiece that reflects the warm hues of fall will be a feast for the eyes.
From vivid floral arrangements that spring from gourds to tables piled with seasonal produce, local floral designers say that when it comes to creating Thanksgiving table décor as tantalizing as the meal itself, the options are vast.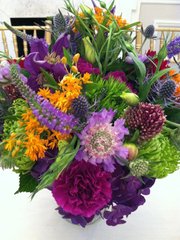 Charles Gang, owner of Helen Olivia Flowers in Old Town Alexandria, and his team of designers often create colorful combinations of flowers and fruit in rich hues. "As far as fall arrangements, we're [using] fruit like apples and pears, we're seeing mini pumpkins in arrangements," he said.
In fact, Gang suggests creating arrangements using full-sized pumpkins as vases. "We're doing a lot of rustic hydrangeas, a lot of roses in deep orange and germini in a variety of colors like orange and violets," he said.
Floral designer Laurie Diver, of Conklyn's Florist in Alexandria and Arlington, often uses glass cubes and bubble vases as a receptacle for her arrangements. "Flowers in orange, gold and maroon are great for fall," she said. "I also like to use hydrangeas that are green tipped with burgundy edges and lilies in rust, yellow and orange."
David Hicks, owner of Conklyn's, doesn't shy away from unconventional flowers. "We have a wholesale shop that is open to the public," he said. "Two or three times per week, we import flowers from South America like kangaroo paws [a tubular flower] that come in bronze and rust and cottage yarrow that come in bronze and yellow."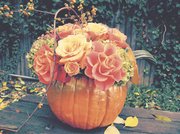 Another surprise for fall, says Diver, are tulips. "We usually don't see them again until spring, but now we have an assortment of parrot tulips in orange, yellow or a combination of both with tattered edges that look very artsy."
Great Falls-based designer Alison de Wit of Distinctive Floral Designs, who isn't afraid to add a harbinger of spring to her autumn arrangements either, said, "A lot a spring flowers are available from Dutch markets."
She also combines traditional flowers with modern varieties. "You can combine a traditional hydrangea with a chartreuse spider chrysanthemum for a bright and unusual floral combination."
Floral designer Rachael Rinaldi, of Reston Floral Design in Reston, combines dried oak leaves with chrysanthemums in orange, burgundy, yellow or magenta. "Every fall, mums in rich colors are popular."
Hicks has seen a recent spike in the number of consumers who want to create budget centerpieces at home. "You can take eight to 12 blooms of cymbidium orchids in green and orange and put the elongated stems in a glass cylinder with some curly willow to give it contrast," he said.
Hicks also suggests that those who want simple elegance "gather four hydrangeas and put them in a square glass container with rocks at the bottom and you have a simple and elegant centerpiece."