Whether one's taste in table settings is subtle or over-the-top, it is possible to give thanks in style. From centerpieces to table runners, local designers say the right combination of accessories can create a Thanksgiving table that guests will remember long after the holiday.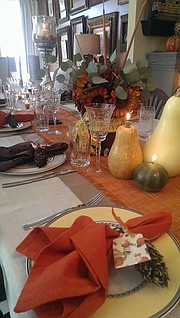 "Start with candles," said Susan Taylor of Design for You in Centreville. "They are simple, clean and classic and affordable. You can use traditional candelabras on your table and place small floral arrangements evenly spaced between each one. For a rustic or romantic look, place candles down the table on a bed of greenery, especially fragrant greenery like holly."
When using greenery, warns Taylor, make sure the flames cannot touch the greenery or anything that can start a fire.
Candles always set the mood on the table, said Sallie Kjos of Grey Hunt Interiors in Chantilly.
"Have a collection of different heights, possibly different colors for added interest," she said. "If you want to go with an elegant look, go for the burlap, white pumpkin, and use all of your metallics such as bronze, champagnes and golds."
Ideas for table décor can found almost anywhere, even in a supermarket, says Sharon Kleinman of Transitions by Sharon Kleinman in Potomac, Md. "While there, I get inspiration from their beautiful produce and flowers," she said. "The persimmons were such a lovely shade of orange I knew I wanted to use them in my table decor. I decided to cut the bottoms off, scoop out part of the inside and fill them with fall flowers for individual arrangements at each place setting. I also purchased some bright orange pyracantha branches figuring I could use then in my table arrangement. "
Options for runners and tablecloths run the gamut from rustic to elegant. "Use your tablecloth and a runner, doing a burlap table cloth is a very inexpensive way to get a fall color, but it doesn't mean you have to go rustic," said Kjos. "Any runner on top of the tablecloth adds texture. Consider getting two runners and running them the width of the table verses the length."
Accessories you already own can be updated easily. "In my stash of holiday decor I have three ceramic pumpkins that are really quite elegant and anchor my centerpiece. This year I purchased some beautiful napkins in the same rust and plum tones" said Kleinman. "To create an eye catching centerpiece, I used the largest pumpkin in the center and placed the two smaller pumpkins approximately 24 inches to the right and left of the center. In the space between the pumpkins and on each end I layered the dried berries, magnolia leaves, pyracantha and dried flowers. I tucked fresh flowers among the dried flowers and branches. I keep them fresh by using the plastic tubes the florist sends with long stem roses that I always save."
Kjos has a centerpiece idea that focuses on the meaning of the holiday. "For each center piece, wrap up a little box," she said. "Inside the box use fall colored craft paper and write down five things about that guest that you are thankful for. The box can be wrapped in bronze paper, gold, whatever you like that is fall looking and goes with your decor, then tie up with a ribbon or twine and add a leaf to the top with their name is metallic sharpie for a place setting."
Kleinman visited a local nursery to gather foliage. "I picked up some burlap ribbon to tie up my napkins, dried berries, fake magnolia leaves that looked real and some dried exotic flowers," she said. "My last purchase was four apple cinnamon scented candles encased in a plum glass."
The combination of scented candlelight, fresh flowers, dried flowers and berries, fresh produce and fine linens feels colorful, bountiful and elegant but understated, said Kleinman.
"The best part of creating a lovely table setting is that it shows family and friends that you care," she said. "For me preparing a beautiful table is just as important as preparing a delicious meal. It is my way of showing family and friends that I'm thankful for them."