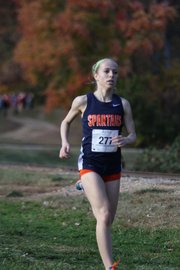 Caroline Alcorta started competing in cross country in 2011 as a sophomore at West Springfield and quickly became one of Virginia's top high school harriers. She finished eighth at the VHSL state meet as a sophomore and placed second as a junior in 2012.
While her first two seasons in cross country were successful, Alcorta ran in the shadow of Lake Braddock's Sophie Chase, a two-time state champion who now competes for Stanford University. While Alcorta wasn't able to catch Chase with championships on the line, the Lake Braddock star provided Alcorta with motivation.
With Chase having graduated, Alcorta, now a senior, is the one out in front of the pack. With no one to chase, Alcorta has to rely on her own training and mental toughness to push her through races. During the 6A North regional meet, however, she had some additional motivation.
COMPETING IN HER FINAL RACE at Burke Lake Park, Alcorta won the region championship on Nov. 6 with a personal-best time of 16 minutes, 31 seconds. It was the third-best girls' time in the history of the course.
"One of the nice things about Burke Lake is that you run it enough times that when you get to your very, very last one your senior year, sometimes the great runners will do something pretty special," West Springfield head coach Chris Pellegrini said. "I told her [before the race], 'You're on this list pretty high, but today is your rest-in-peace moment. Where are you going to sit forever?' So she went into the race very motivated."
Last year, Chase won the region title with a time of 16:42, which at the time placed her in a tie with Hayfield's Melissa Dewey (2004) for the third-best time in course history. Alcorta finished 11 seconds faster, just missing the second-fastest time of 16:30.7, set by Annandale's Aimee Harms in 1985. Langley's Erin Keogh set the course record with a time of 16:09.7 in 1985.
"It's senior year," Alcorta said. "I kind of wanted to make my mark [by] leaving it all on the course. This is my last time racing here … [so I wanted to make] it memorable."
Alcorta said not having anyone to chase has been different, yet rewarding.
"I kind of miss having someone that you know will push the pace out in front of you, but it's kind of nice knowing that you can do it by yourself," she said. "There's obviously a lot of competition in the field, already, too, so just the fear of getting caught … really helps you."
Pellegrini said coaches have worked for years with Alcorta on sticking to her own race strategy.
"I kind of miss having someone that you know will push the pace out in front of you, but it's kind of nice knowing that you can do it by yourself."

--- West Springfield senior Caroline Alcorta
"That was actually something that we worked on a lot for the last three years, which is being self-sufficient and running your race," Pellegrini said. "Win or lose, you've got to run your own race. … You've got to make them come get you and if they earn it, I'll shake their hand, too. … She's been running her own race and becoming very self-sufficient, very confident and being able to hold her own pace and it's something we've been waiting for as coaches, to see her develop into that."
AS A TEAM, West Springfield placed third with a score of 113, earning the Spartans a berth in the state meet. Oakton won the region title with a score of 66. Washington-Lee placed second (92), Lake Braddock finished fourth (118), Robinson was fifth (148) and Battlefield finished sixth (192). The top six teams advances to states. West Springfield senior Katie Kennedy finished 20th with a time of 18:21. Ana Suarez, a junior, finished 28th (18:44), sophomore Reagan Bustamante finished 32nd (18:53) and sophomore Abby Snyder was 38th (19:09).
Alcorta and Pellegrini praised Kennedy for competing despite an ankle injury.
"She's a real trooper," Alcorta said. "… I'm really proud of her. She really stepped up today. She could have not raced but she knew we might not make it to states."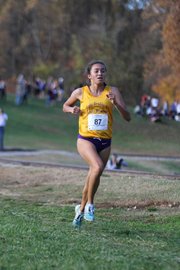 Pellegrini said Kennedy had to "hop" the last mile.
"I am not comfortable racing someone that's that hurt, but I give her a lot of credit for doing it for the team," Pellegrini said. "It was unglamorous … but without her, that's a 70-point swing."
Lake Braddock senior Hannah Christen finished second (17:19), followed by Oakton's Allie Klimkiewicz (17:21), Lake Braddock's Katy Kunc (17:35) and Robinson's Macey Schweikert (17:39).
Robinson's Lauren Berman finished 10th (17:55).
In boys' action, Robinson and Lake Braddock were among the six teams to qualify for states, finished fourth and fifth, respectively.
Chantilly won the event with a score of 100. Battlefield (107) placed second, followed by Osbourn Park (111), the Rams (136), the Bruins (138) and Oakton (142).
Lake Braddock junior Ryan Corbett placed third with a time of 15:09. West Springfield sophomore Owen Buck finished sixth with a time of 15:24, improving from 14th place during the final 400 meters.
"[Buck]," Pellegrini said, "ran out of his skull."
Oakton's John Stoney won the event with a time of 14:54. South County's Alec Jones finished seventh with a time of 15:25.
The VHSL Group 6A state meet will be held on Friday, Nov. 15 at Great Meadow. The girls' race is scheduled for 10:30 a.m. and the boys' race will start at 11:15 a.m.