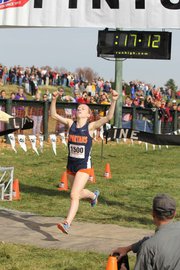 As a sophomore in 2011, West Springfield's Caroline Alcorta collapsed as she approached the finish line at Great Meadow during the VHSL state cross country meet.
The first-year harrier had started her kick too early during the course's brutal closing straightaway and her body gave out. After several runners passed Alcorta, she managed to cross the finish line in eighth place, earning AAA all-state honors.
Two years later, Alcorta again pushed herself during the state meet at Great Meadow, jumping out to a sizeable lead during the girls' 6A race. This time, however, the only thing that collapsed with Alcorta near the finish line was the meet record.
Alcorta won the VHSL 6A girls' state cross country championship on Nov. 15 with a meet-record time of 17 minutes, 13 seconds, breaking former Lake Braddock standout Sophie Chase's mark of 17:24, which she set last season.
"I was just hoping to win," Alcorta said. "I didn't expect to get the course record."
After her eighth-place finish sophomore year, Alcorta took second place as a junior behind Chase in 2012. Now a senior, Alcorta left her mark in VHSL history with a state title and meet record in the same week that she committed to run for the University of North Carolina.
"I was just hoping to win. I didn't expect to get the course record."

--- West Springfield senior Caroline Alcorta
"I felt really good today," Alcorta said. "It definitely hurt, but I felt a lot stronger than I had."
Lake Braddock senior Hannah Christen finished state runner-up with a time of 17:52, improving on her 2012 third-place time of 17:54.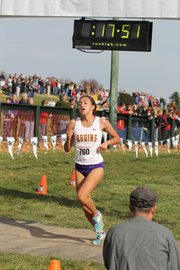 "It felt good," Christen said. "I felt strong the whole time. I hadn't felt that way this season yet, so it was nice."
Christen was Lake Braddock's top harrier this season. While she was successful in the past, her achievements were overshadowed by those of Chase, who finished second in the state as a sophomore in 2010 before winning back-to-back titles as a junior and senior.
"Hannah's been a great leader all year and finally gets her chance to shine," Lake Braddock head coach Michael Mangan said. "It's pretty hard to be the understudy with such a super teammate in front who's a three-time Foot Locker finalist. [If] she's in any other program, she's the star and gets a lot more attention. She patiently awaited her time and when it was her opportunity, she's really come through."
With the graduation of Chase, who now runs for Stanford University, and the loss of all-state harrier Katie Roche to injury prior to the Conference 7 meet near the end of October, Lake Braddock faced a sizeable challenge in regard to defending its 2012 team state championship. The Bruins didn't back down, however, and with runners sporting the initials "KR" on their hands in support of Roche, Lake Braddock finished third with a score of 112. Oakton won the team title with a score of 55 and Washington-Lee (100) finished second.
"Because of Katie being hurt, we were pretty much written off by everybody," Mangan said. "We like that. I'll always be the underdog."
Lake Braddock senior Katy Kunc placed third with a time of 17:59. Sophomore Sonya Butseva finished 23rd with a time of 18:56. Freshman Kate Murphy (20:01) was 57th and senior Kathryn Voetglin (20:21) finished 65th.
Despite their third-place finish, the Bruins were not recognized at the podium, as a change was made this year to recognize only the top two teams.
"I'm disappointed that the state decided to only recognize two teams this year when we've always recognized three," Mangan said. "I'll probably get myself in trouble right now saying that, but it's really not right. These girls busted their butts to get up on that podium. It's not the trophy; it's the recognition in front of your peers for what you've done. They earned that."
Robinson junior Lauren Berman finished 13th with a time of 18:29 and earned all-state honors.
In boys' action, Lake Braddock finished state runner-up with a score of 87. Chantilly repeated as state champion with a score of 85.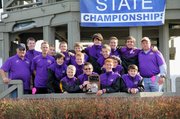 "It's really nice for the boys to get their moment in the sun because they've earned it --- they've worked their tails off," Mangan said. "… They have had to watch the girls win a lot of races and that's pretty hard to take."
Lake Braddock junior Alex Corbett finished state runner-up with a time of 15:35. Bruins senior Forrest Isenhour (16:12) finished 26th, senior Kevin Jones (16:13) was 28th, junior Kevin Monogue (16:16) was 30th and sophomore Ben Fogg (16:17) finished 31st.
Mangan was pleased that the Lake Braddock boys' and girls' teams each finished in the top three of their respective races.
"For us, we feel like that makes us the best combined program in the state," he said. "We'll take that. We might not have been No. 1 [in] either race, but we'll count No. 1 overall and we'll that that."
Robinson finished third with a score of 89, followed by Battlefield (89), Osbourn Park (98) and Oakton (133).
Oakton's John Stoney won the individual title with a time of 15:24. South County's Alec Jones (15:53) placed sixth and Robinson's Nathan Schulte (15:57) placed 10th.