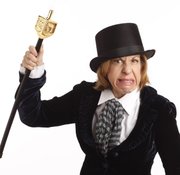 The Jewish Community Center of Northern Virginia continues its 2013-2014 Performing Arts Series with a visit from Broadway, television star and kvetching comedienne Jackie Hoffman. She has created and performs in Jackie Hoffman's A Chanukah Charol, where she is forced to examine her life when she is visited by the Ghosts of Chanukah Past, Present and Future, and even Molly Picon. What she finds on her quest for fame is that she is a dark, desperate diva who would give Scrooge a run for his money.
Jackie Hoffman's A Chanukah Charol is Hoffman's holiday-themed, pseudo-autobiographical, one-woman show inspired by Patrick Stewart's A Christmas Carol, co-written and directed by Michael Schiralli. Performed during the holidays in NYC in 2011 and 2012, the JCCNV performances will be her first performances "on the road." Time Out New York called Hoffman "the funniest woman in America," and the Village Voice hailed her as a mix of "Carol Burnett's rubber face, Sarah Silverman's outrage, Ethel Merman's vocal throttle, and Gladys Kravitz's world view."
Jackie Hoffman recently starred as Grandma in The Addams Family. Her other Broadway credits include Xanadu and Hairspray (for which she received the Theatre World Award). Jackie Hoffman's A Chanukah Charol will perform on Saturday, Dec. 7 at 8 p.m. and Sunday, Dec. 8 at 2 p.m. Tickets are $29, $24 for JCCNV members and for seniors (65+), and $19 for students and for groups of 10 or more. Performances will be held at the JCCNV, 8900 Little River Turnpike, Fairfax. Performances are most enjoyed by ages 13+.
For more information about the JCCNV Performing Arts Series, visit www.jccnvarts.org or call the JCCNV box office at 703-537-3000.