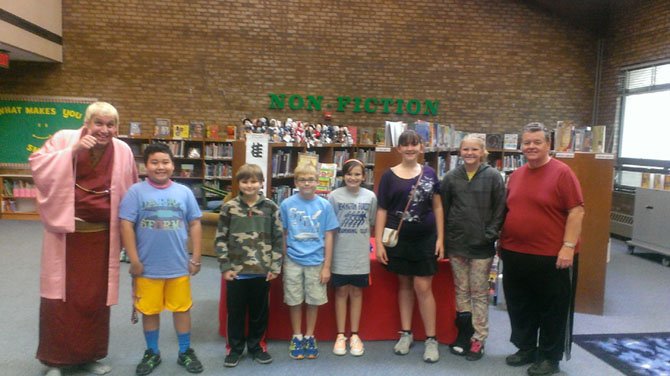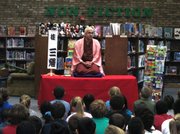 The students of Newington Forest Elementary school gathered around in their school library early Friday morning Sept. 27 in anticipation to see two cultures collide: American storyteller Gary Lloyd, and Japanese trained storyteller, Katsura Sunshine. The two were welcomed to the school to put on their own one-man story telling performance for the students and teachers.
Katsura Sunshine, a Canadian native, started off the show with his entertaining Japanese folktale called "The Zoo." Students laugh and cheer as they watch him bring these animal characters alive. By the end of the 30-minute performance Katsura was thanked by a room full of applause.
Following his act was the Virginia-born storyteller, Gary Lloyd. Instead of one long story, Lloyd shares three classic American folk tales for the children. He begins with the tale of Paul Bunyan and his "Big Blue Ox," followed by Davy Crockett, then finally ends with an old favorite, Pecos Bill.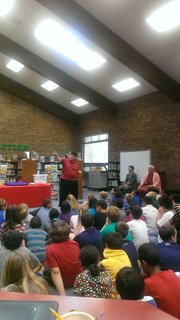 For his performance, Lloyd also became each character by changing hats and incorporating different props.
It is a talent within itself to hold the attention of young children and both Katsura Sunshine and Gary Lloyd prove to execute that talent effortlessly. The American style of storytelling allows the audience to use more of their imagination. With the Rakugo style the speaker puts in more effort to bring the story to life through much body movement and comedy.
"I've always loved Greek theatre and I realized that it was very similar to Kabuki theatre," Sunshine reflects as he discusses his inspiration to pursue this career. He spent three years training in Japan with a master of Rakugo—a traditional story telling form, in order to become the performer he is today. Lloyd claimed that while working as a public school librarian he preferred "telling the stories instead of reading them."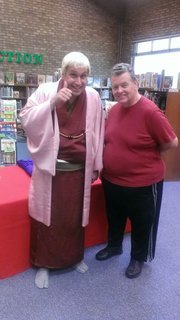 "It's important to know because it teaches us about history," said Leah Tudor. A few students such as Peter Tran and Megahn Zebrowski enjoyed the comedy and humor seen in both forms of storytelling. Most students were intrigued by the movement and animation of the Rakugo style while others were pleased by the classic American folk tales told by Gary Lloyd. Having recently completed their Global Technology Awareness Project, students were interested to learn how history, stories and entertainment were shared throughout the centuries before the influence of technology.
With the help of Gary Lloyd, Newington Forest Elementary was able to have the opportunity to get Katsura Sunshine to make an appearance as he made his last stop to Virginia on his 20-city US/Canadian tour.