The Mount Vernon RECenter is known for its ice skating rink, massive indoor swimming pool and fitness center with spa and sauna. It has 46 volunteers who help greet guests, clean up the fitness room, landscape the grounds and assist people with adapted swimming and ice-skating. Exactly half of them are retired senior citizens over 50 who want to stay active while giving back to the community.
"Volunteers are essential to the daily operation of the center. They're excellent," said volunteer manager Darryl Foster, 45. "The people who volunteer want to do it — so they are really dedicated people."
Sue Erbele, 57, of River Farms in Hybla Valley has given her time to the center for two years – registering new ice skaters, doing landscaping and cleaning exercise equipment.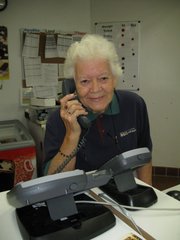 She will be honored on Nov. 22 with the Elly Doyle Park Service Award as Volunteer of the Year at the Waterford in Fair Oaks. She was also feted last month at Reston's Watermine Park with other volunteers.
Before she retired, Erbele was a human service worker in the welfare program with the Fairfax County Department of Family Services.
"I volunteered all my life and it's usually for people who are less fortunate than I am," she said.
Erbele likes to stay busy, and the rec center allows her to see friends from church and neighbors. She helps in a chair yoga class by setting up mats and chairs.
"When I do landscaping, I like to make things look nicer than before, and I like to be outside," said Erbele, who has two grown children: Ryan Shumate, 26; and daughter Erin Shumate, 24.
If they put in enough hours, volunteers receive free passes and free classes. "You feel good. It's a win-win situation," she said. "The other person's helped and they feel good."
Foster said, "Sue's very dedicated to the center. Her dedication, her willingness to do whatever to help the center, is what sets her apart."
Brittany Diggs, the head front desk cashier, agrees. "She likes to straighten outside, plant flowers, does mulching and trims bushes."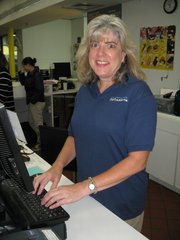 For more than a year, Karen Keefer, 54, of the Wellington community in Alexandria, has greeted people at the front desk. She gives tours, checks in customers and helps answers the phone. On the first day of swimming and ice-skating, which can be a "mad-house," she does registration, too.
What she likes most about volunteering is the low-pressure environment, and it gets her out of the house. "Most of the other people, the paid workers, are young kids," she said. "It's kind of fun working with them; they're young and they teach me a lot."
She formerly worked in computer programming and now dallies in the vintage and antique business, as well as volunteers for the Mount Vernon Council of Citizens Associations. She also dotes on her rescue dog named Hanai, which means "adopted" in Hawaiian.
Diggs calls Keefer "happy-going," very friendly and outgoing. Foster agrees, calling her very dedicated with a great personality that interacts well with the public.
For 12 years, Alice Pelletier, 82, and her husband Neil, of Waynewood in Alexandria, have volunteered four hours a week. Neil was a plant pathologist and enjoys landscaping. Alice was employed by IBM and answers phones and greets customers. The couple has six grown children.
Details
The Mount Vernon RECenter is at 2017 Belle View Blvd., Alexandria, VA 22307. To volunteer, contact Darryl Foster at 703-768-3224.
"I like people," said the smiling and social Alice. "I like to be doing something beautiful with my life."
She said, "Often times it's uplifting to encourage them to do better. Sometimes they come in and they're kind of depressed, and I kind of cheer them up. I enjoy working with people."
Foster says Alice Pelletier is an excellent volunteer and a conscientious worker. "It's one of the more difficult jobs because it's working with customers daily," he said of the front desk.