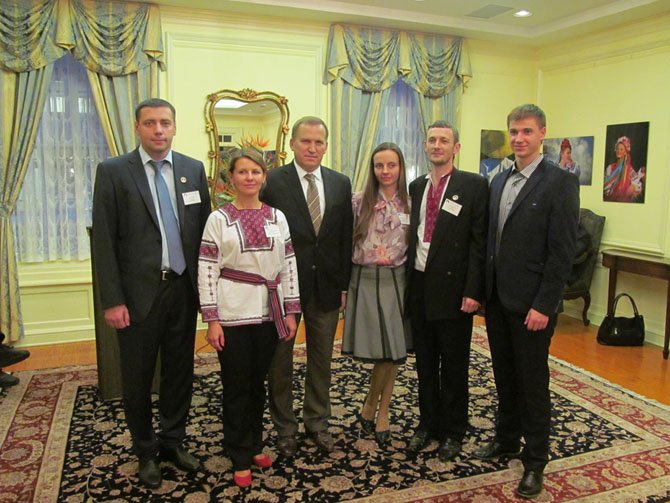 They arrived as strangers but left filled with optimism and ideas for how to improve their own home, half a world away.
A group of young men and women from Ivano-Frankivsk, a city in western Ukraine, spent a week and a half in Arlington as part of the Open World Delegation, an international exchange partnership headquartered in Washington, D.C., to visit with cultural and business leaders here. The goal is to see how other similar-sized communities support development while exploring a different city in another country.
And while the group enjoyed their time in Arlington and Washington, visiting groups as varied as the Arlington Agency on Aging and the Northern Virginia Technology Council, their hearts were firmly in their homeland and the opportunities they would take back.
"We'd like to keep visiting but we don't want to emigrate" to the U.S., said Andriy Farmuha, one of the delegates, through interpreter Peter Voitsekhovsky. "We want to change to make it more like the U.S. at home. We'd like to be on par with the U.S." in terms of the opportunities people have to work together to make their community better.
"We've realized people here are not very different from our country," added Mykola Havryliak. "We can work to accomplish the same environment in Ukraine, where people have more opportunities to create a better place to live."
This was not the first exchange trip between Arlington and Ivano-Frankivsk, which have been sister cities for several years, said Andrew Tsintsiruk, president of the Ivano-Frankivsk Committee with the Arlington Sister City Association and himself a native of Ukraine. The program is sponsored by Congress in partnership with the U.S.-Ukraine Foundation and has a special focus on the development of non-governmental organization. There are four or five program events each year between the two countries in addition to the exchange trip, which last year featured a handful of Arlington Public School students going to Ukraine for two weeks.
That trip culminated in a big party in Ivano-Frankivsk where the Americans were treated "like celebrities," Tsintsiruk said.
There was an equally warm reception for the group in Arlington this time around, as a reception at the Embassy of Ukraine drew more than 120 people from across Northern Virginia and Washington, D.C., he said.
Of course, an international exchange trip to a new culture brought a few surprises.
"One thing we saw that was surprising was so many people who do volunteer work, older people who work at NGOs," Havryliak said. "In our country, people at retirement age are far less active. Here, it's the other way around. Once they retire, they're more active, it seems. My host, who is retired, five days a week he has a different volunteer job with a different organization. That's impressive!"
Oleksandra "Leysa" Fedoruk, president of the Ivano-Frankivsk Sister City Association, who gave an interview with Voice of America last Thursday, said it was good for her and the other delegates to see how many Arlington residents are "active constituents. They are fulfilling their rights and they're involved with their life. Good for them."
In her own community, "people are not so very active," but she said she hoped that might change over time.
The group went back to Ukraine on Saturday but hoped to return in the future.
"Thank you to Arlington ... for offering us such hospitality," Fedoruk said.
She wasn't the only one with an eye to the future.
"This cross-cultural visit is an exchange of knowledge between Ivano-Frankivsk and Arlington, and particularly an acknowledgement of what Ukraine can bring to the world," said Malcolm Phillips, chair of the Arlington Sister City Association Board. "The Ivano-Frankivsk and Arlington Sister City partnership will grow even stronger, and through the various meetings, friendships and professional connections explored during this time, we will be excited to see what springs from the seeds planted in both cities."