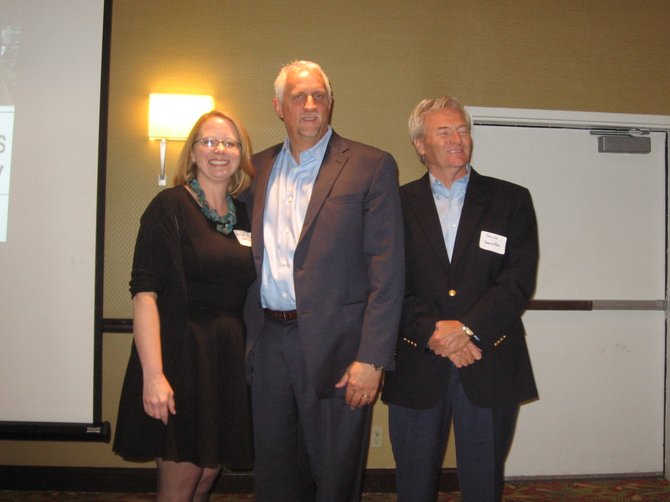 Mount Vernon — The Southeast Fairfax Development Corporation, a non-profit corporation financed by the Fairfax County Board of Supervisors, jump-started its fall season by inviting a panel of three business leaders who conducted what amounted to a workshop on how to turn underutilized commercial and mixed use property in the Richmond Highway corridor into viable self-sustaining community and government supported projects. Approximately 70 people attended the early morning summit.
Steve Bannister, managing partner, Capital Investment Advisors, discussed the importance of political and community interaction to mobilize support for rezoning, site plan approval, and project approval. He used as one example the steps taken by his firm to turn what he characterized as previous poor use of the Fast Eddies (restaurant, bar) property into a successful redevelopment project. Bannister mentioned the value and support he received from Supervisors Gerry Hyland and Jeff McKay, the county agencies, and several community groups to gain the necessary input and support to move forward on the project. His presentation demonstrated how to overcome barriers to achieve a self-sustaining residential and commercial development project.
Heather Arnold, director of research for Streetsense, provided attendees with her definition of "Vibrant Streets:" a retail environment that is treasured by its residents, customers, and the retailer whose daily actions ensure its enduring vitality. Her company's effort to develop this concept and come up with strategies to assist a variety of neighborhood types was a result of her company's work as a vibrant streets consultant to the District of Columbia government. She discussed how to develop a model for a vibrant retail sector, depending on the type of retail interests of the community, retailers, the local government, and other factors that would go into creating a model for a viable self-sustaining local retail community. Arnold concluded her presentation by discussing three myths of retail development to guard against when designing a redevelopment project:
Myth #1: You can never have too much retail.

Myth #2: Retail creates walkability.

Myth #3: A main street creates retail.
Edythe Kelleher, SFDC executive director, said, "The speakers did a great job relating the vibrant streets concept to the activity centers along Richmond Highway …. It was especially interesting to learn that each new residential unit supports only 10 square feet of retail, so it is not always appropriate to include retail in every development."
John Tschiderer, vice president of development, Federal Realty Investment Trust, discussed several developments which his firm had been instrumental in creating. He stressed the value of careful analysis of retail and community interests in order to design and build a sustainable neighborhood retail and residential community. He highlighted the positive aspects of the following projects which his firm was involved in from the inception to completion:
The Village of Shirlington. 18 years of investment and redevelopment; added over one million square feet of development within the same 16.4 acres. This included a huge expansion of residential housing.

Mount Vernon Plaza

Bethesda Row

Rockville Town Square

Santana Row.
The event was attended by developers, Realtors, architects, planners and community leaders. Attendees commented that this and other recent SFDC and local government efforts it left no doubt that the Route 1 Corridor redevelopment is now underway.
The six commercial districts (including retail, office, and residential units) along the Route 1 corridor envisioned and promoted by the SFDC are: North Gateway; Penn Daw; Groveton; Hybla Valley; Mount Zephyr, and Woodlawn. As described in their literature these six commercial districts will be linked and accessible by walkways, bike paths, and mass transit.
The first public meeting of the Route 1 Multimodal Alternatives Transportation Analysis study, facilitated by the Virginia Department of Rail and Public Transportation, and in partnership with Prince William county and Fairfax county will be held on Oct. 9, 6-8 p.m., at the South County Government Center, 8350 Richmond Highway. Other public meetings will be held in early spring 2014, and late spring 2014.
This public meeting will enable the community to learn about the ongoing work of this transportation study and offer comments to the state and local government planners.
The analysis will focus on the range of transportation solutions to address the present traffic congestion and future transportation needs in a 14-mile stretch of Richmond Highway from the I-95/I-495 Beltway south along Route 1 in Fairfax County to Route 123 at Woodbridge in Prince William County.
Multimodal is a shorthand means of expressing all the ways that people use when traveling for work, errands, or recreation. Mass transit (rail and bus), automobiles, bicycles, and pedestrian travel are all the means of travel that will be addressed in the transportation alternatives study.