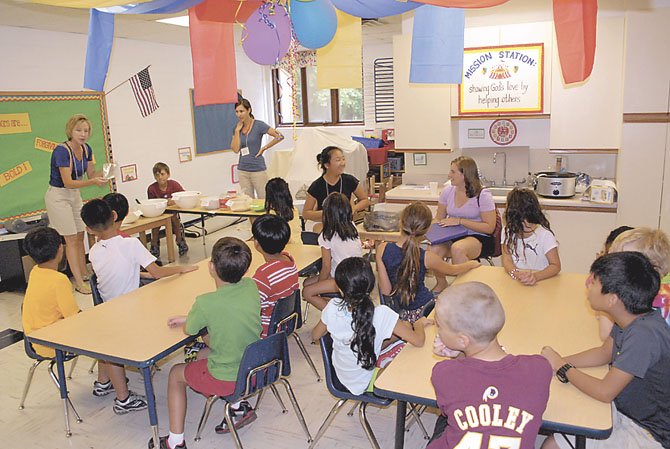 Fairfax — Christ Presbyterian Church is offering a free Special Needs Ministry Training Workshop Oct. 18-19, for Sunday School teachers, lay people, and volunteers who minister to children and youth with autism and other conditions. It features presentations from local ministry leaders, DVDs by experts, and training in classroom management. The workshops are at 12410 Lee Jackson Memorial Highway, Fairfax.
"The goal is to bring awareness to the unique opportunity people have in ministering to families of special needs," said Pastor Geoff McLean, 40. "We're looking to build a cadre of folks to support each other in this kind of ministry."
McLean said a lot of people come to church and they find it an unwelcoming place if they have special needs. And because most folks are going through their own individual struggles, he wants to bring them together to be resources for each other. "So if they have an issue, they can talk to others and find ways to connect," he said.
The Christian-based workshop is organized with Sue Ferguson, 40, of Manassas Park, a stay-at-home mom who volunteers at the church. She wants to give tools to lay Sunday School teachers — unpaid volunteers who have no professional training in autism, Asperger's Syndrome, ADHD and intellectual disabilities.
Ferguson said the Friday night portion will be a general assessment. "We have two speakers sharing a personal story of their children — one positive and one negative.'
Training will use DVDs on topics like autism, followed by a Q&A period, and two speakers. "We are hoping that the DVD will spark questions and they'll be able to ask a live person for tips," she said.
On Friday evening at 6:30 p.m., the program features two families speaking on their challenges and successes. Local expert Jackie Mills-Fernald of Access Ministry at McLean Bible Church will join a panel discussion at 7:30 p.m.; followed by a Q&A at 8:15 p.m. Dinner is included. The program ends at 9 p.m.
On Saturday morning at 9 a.m., there's a breakfast followed by a DVD by Amy Fenton Lee, one of the leading voices in the special needs field. It offers strategies to deal with children with special needs in a ministry environment. Snacks are included.
Topics include: "Surviving to Thriving: Successfully Including the Child with Special Needs" (Amy Fenton Lee, Orange); "Inclusion Tool Box: 52 Practical Ideas to Include Individuals with Disabilities (Barbara Newman, CLC Network); and "Autism: A Christian Response" (Newman). An afternoon session from 12:30 to 1:30 p.m. is for those who want to extend the discussion once the formal program has concluded.
"On Sunday morning, we hope to be a time of respite, caring, love," said McLean. "And this is intended to help us to do that." He added: "The church of all places should be welcoming, hospitable, and if our Sunday school and other programs aren't, we're failing."

Christ Presbyterian Church is a small congregation serving about 120 worshippers weekly. It has a budget of $350,000 to $400,000 with 30 part-time staff serving 195 families — mostly Caucasians and Blacks with a wide range of world views. It offers a preschool for 180 children and is a member of the Presbyterian Church USA. Its pastor, Geoff McLean is originally from Wayne, N.J., and received a master's of divinity at Louisville Seminary in 1998.
The church's 24-member choir is directed by Barbara Stefan and performs at its Christmas Cantata and Easter Cantata. The church ministers to AIDS orphans through the Jamii International Outreach in Nairobi, Keyna, by offering the meal-a-day program. Locally, the church works closely with WFCM's projects as its main ministry partner.
For more details and to register, email specialneeds@cpcfairfax.org or Susan.v.Ferguson@me.com. Or visit www.cpcfairfax.org.
More like this story