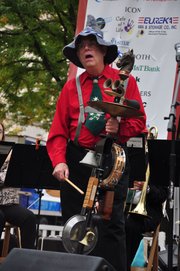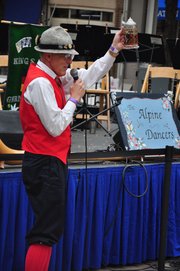 WHEN
Friday, Oct. 11, 3-11 p.m.
Saturday, Oct. 12, 11 a.m.-11 p.m. (Race begins at 8:30 a.m.)
Sunday, Oct. 13, Noon-8 p.m.
WHERE
Reston Town Center, 11900 Market Street, Reston
BEVERAGES
Beers on tap throughout event: Devil's Backbone Vienna Logger, Dominion Okoberfest and Widmer Hefeweizen
Beer on tap at select times: Bold Rock Hard Cider, Devil's Backbone Schwartz Bier, Fordham Brewing Company Spiced Harvest Ale, James River Brewing Company, Shock Top Pumpkin Wheat, Starr Hill Northern Lights and Three Brothers
Wine provided by: Market Cellars and The Wine Cabinet
RESTAURANTS
Buffalo Wing Factory, Clyde's of Reston, Hooked Seafood & Sushi Bar, Milwaukee Frozen Custard, The Melting Pot, Naked Pizza, Obi Sushi, Paolo's Ristorante, Paradise Ice Cream, The Counter and Vie de France
ENTERTAINMENT
Love Seed Mama Jump, 2U, White Ford Bronco, Kings Park German Band, Low'n'Brows German Band, Alpine Dancers
PINNACLE SPONSOR BMW Mini of Sterling
HOST SPONSOR Reston Town Center
VIP SPONSOR Whole Foods Market Reston
MEDIA SPONSOR ABC7/WJLA TV
To view the complete event schedule and sponsor line up visit http://www.Oktobe...">www.OktoberfestRe....
The beer and wine will be flowing at Oktoberfest Reston produced by the Greater Reston Chamber of Commerce, www.OktoberfestReston.com, the largest fall festival in Northern Virginia drawing crowds of up to 85,000 over three days. This event features the best in fall brews with traditional Oktoberfest fare from area restaurants.
Beginning on Friday, Oct. 11, at 3 p.m., restaurants and vendors will line the streets of the Reston Town Center. Live music will fill the air with traditional German tunes from the Low'n'Brows and Kings Park German Band as well as favorites from headliners Love Seed Mama Jump, 2U and White Ford Bronco. Children won't feel left out with the Oktoberfest Carnival open during event hours throughout the weekend and a special "All You Can Ride" wrist band time on Saturday from 10 a.m.-2 p.m. Oktoberfest Reston is offering two special Craft Brew Showcases at select times on Saturday and Sunday featuring seasonal and local beers. The Northern Virginia Police and Fire and Rescue Departments will face off on Saturday afternoon in the Guns 'n Hoses Chili Cook-Off, with the winner to be announced at 4 p.m. The Great Pumpkin 5k, Pumpkin Smash Mile and Kids Pumpkin Dash, produced by the Greater Washington Sports Alliance and benefiting the YMCA Fairfax County Reston, kicks off Saturday's events with an 8:30 a.m. 5k race start time. Oktoberfest Scrambled Legs Breakfast will help runners refuel with Shock Top Pumpkin Wheat Ale and breakfast items served up from specific Oktoberfest vendors.
Oktoberfest Reston event admission is free. Food tickets are $1 per ticket or $20 for 24 tickets. Carnival tickets are $1 per ticket or $20 for 24 tickets. All-you-can-ride carnival wristbands will be on sale for $20 ahead of the event and for $25 at the event; wristbands are good only for Saturday 10 a.m.-2 p.m. Advance tickets are on sale online now at www.OktoberfestReston.com or at the Greater Reston Chamber of Commerce, 1763 Fountain Drive, Reston.