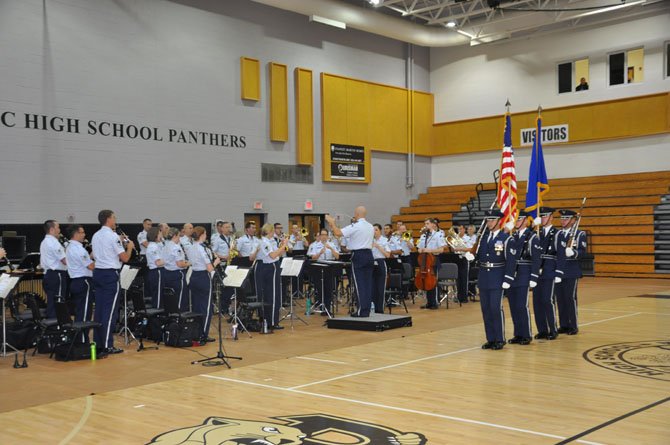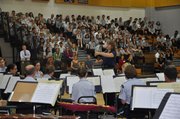 Not all assemblies are the same, and Paul VI Catholic High School in Fairfax recently hosted one for the record books. By 11 a.m. on Sept. 25, Air Force trucks and vans had converged to the school's back parking lot, and AF personnel were busy moving equipment in bags and anvil cases into the school. Meanwhile, PVI's Music Boosters set out a reception for the 75 arriving Air Force personnel. In the Student Activity Center, mats were laid out, chairs and stands placed, sound system checked and rechecked, and soon it was time. At 1:15, the Air Force Band from Bolling Air Force Base D.C. began an awe-inspiring concert for participating teachers and classes.
Shortly into the program, students stood at attention as the national colors were formally presented by a contingent of the USAF Honor Guard. After the National Anthem, and retiring the colors, the band lit into Jenkins' "American Overture," with the French horn section ripping into the music. Students were surprised when halfway through the program another contingent of the AF, the award-winning USAF Drill Team took the floor. Students clapped and gasped as the commanding team performed a silent succession of precisely timed movements using bayonet-affixed 11 lb. M-1 garands.
A special highlight of the performance was when Jan Siegfried, PVI's instrumental music director, was invited to guest-conduct the "Washington Post" march. "Having the Air Force here at PVI was a dream come true. It was like introducing family to each other," shared Siegfried. Siegfried had served 20 years in the AF Band, retiring in 2003, and is in her 9th year teaching at Paul VI.
The concert finished with a rendition of "Salute to the Armed Forces." Students were asked to stand as each service song was played if they had family or friends that had served. Much of the student body was observed standing during some or all of the pieces. God, patriotism and music made for a great combination this day.