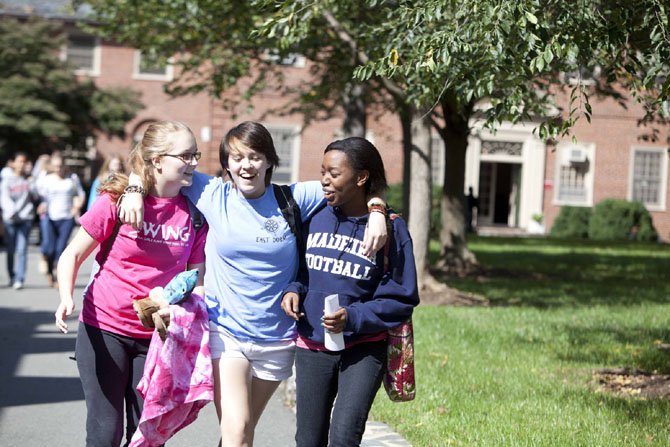 "Observing classes and teacher-student interactions will give families a feel for the culture of the school."
— Mimi Mulligan, assistant head and director of admission and enrollment, Norwood School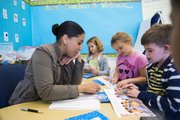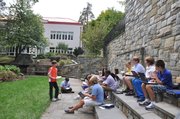 Marta Soltes was sitting in an Arlington coffee shop recently pouring through catalogs and application packets from some of the area's most elite independent schools. Her stack of brochures was almost as high as her extra-large latte.
"There are so many options," said Soltes, who is a mother of twins. "And the application fees are outrageously expensive. I can't apply to all of them."
As the independent school application process gets underway, many parents are struggling to find the best fit for their child. Author and education consultant Ann Dolin, president of Educational Connections Inc., in Fairfax, and Bethesda, Md., says when choosing a school, key factors to consider include the school's location, single-sex versus co-ed, the level of academic rigor, methods of instruction, athletics and a child's chance of acceptance. Dolin recommends school visits, tours and open houses as a way to start narrowing down your choices.
"You'll want to consider certain factors," said Dolin. "Is the school close by or logistically feasible? Are you looking for all-out rigor and accelerated academics or would your child benefit more from a balanced, less intensive approach? Are sports important to your child? If so, this factor may make a school more or less attractive. Is the school known to be highly competitive, meaning that only a small percentage of students gain acceptance each year? Is the school looking for very high test scores and top grades? These are the schools that might be hard to get into. Be sure your list contains some of these 'reach' schools, but also others that may provide a better chance of acceptance."


LOCAL ADMISSIONS DIRECTORS agree that attending open houses and scheduling school visits are effective ways to start the application process. "An admission open house is a great venue to get an overview of a school's environment, sense of community, and the approach to teaching and learning," said Julie Jameson, director of admission at St. Andrew's Episcopal School in Potomac, Md. "Opportunities to get to know the school are offered through tours, speaking with current students and parents, meeting faculty and administrators, and learning more about curriculum, activities and student life."
Charlotte Nelsen, director of admission and financial aid for The Potomac School in McLean, suggests visiting a school during the day when classes are in session. "Visiting campus gives families a chance to see classes in action, sense the level of student engagement and picture their child at the school," she said.
"Observing classes and teacher-student interactions will give families a feel for the culture of the school," said Mimi Mulligan, assistant head and director of admission and enrollment at Norwood School in Bethesda. "How is the learning environment set up? How do teacher and students interact? Are students working independently or collaboratively? Are they happy and engaged? Do the walls and the sounds in the hallway sing to you?"
Julie Lewis, director of admissions and financial aid at Alexandria Country Day School in Alexandria, said, "Being in the hallways and seeing how students and teachers interact with one another gives a prospective family a feel for the school and its culture that cannot be found on a website."
Richard S. Moss, director of admissions at The Height School in Potomac, Md., says that an open house offers families an opportunity to look into the "heart and soul of a school" and to get a sense of a school's true environment. "On a superficial level, a good school ought to present an organized and welcoming open house, but a discerning parent and student will look beyond the external trappings to discern what values and principles an institution holds dear and how it implements those principles," said Moss. "If the principles line up with those of family, and the school does a good job of implementing them, it could be a good fit."
Open houses, said Mulligan, offer a different experience than a school tour. "[They] are wonderful opportunities to really delve into curricular discussions with faculty," she said. "Because open houses typically happen during non-school hours, teachers and administrators are available for conversation. Current students and parents are also usually in attendance, so if hearing about the school experience from that perspective is important to you, then an open house would be a worthwhile activity."
Mulligan said she believes it's important to experience a school in more than one setting. It "allows for a deeper understanding of how a school's mission comes alive."
Ann Richardson Miller, director of admission and financial aid for The Madeira School, in McLean, also suggests that prospective families visit frequently and spend time on campus outside of scheduled tours and open houses. "Come often," she said. "We all have sporting events, announced on our website. You should stop by a game sometime. School plays and concerts are my favorite way to learn about a school. These events often have large numbers of parents and students from the school, and it is a wonderful way to see the culture of the school in one place."


DURING THE VISIT or open house, parents and prospective students should consider the school's environment and ask themselves several questions, said Katherine Carbo, director of Lower School admission at St. Stephen's & St. Agnes School in Alexandria: "How comfortable do I feel in this environment? Do the faculty appear passionate and enthusiastic about teaching? Are the students focused and engaged? What is the overall philosophy of the school? Is the approach traditional or progressive?"
Classroom size and structure are other factors to note. "Keep your eyes peeled for the number of children in the classroom, and try to get a feel for their daily schedule," she said. "Could you imagine your child working and playing with the students and teachers you see? Visiting a school provides parents with one snapshot of the community. Learning more about that community takes time."
Carbo also suggests visiting several schools. "Most of the information you collect through reading and conversations will be reliable," she said. "But the right match for your child may be vastly different than your neighbor's child or coworker's child. This is why touring different schools is important."
Start now by calling or emailing a school's admission office to request a tour, said Carbo. "When should you get started?" she asks. "That really depends on what program you are seeking out. Most admission seasons begin in October, and parents will tour in the fall or winter, a year before they hope their child will start school."
The most important guide, say experts, are a parent's instincts. "Each school has its own distinct feel," Carbo said. "It is up to you to visit and see what seems to be a good fit for your family."
Dolin said, "Parents' intuition is a good guide, but you have to balance it with the needs of your child."