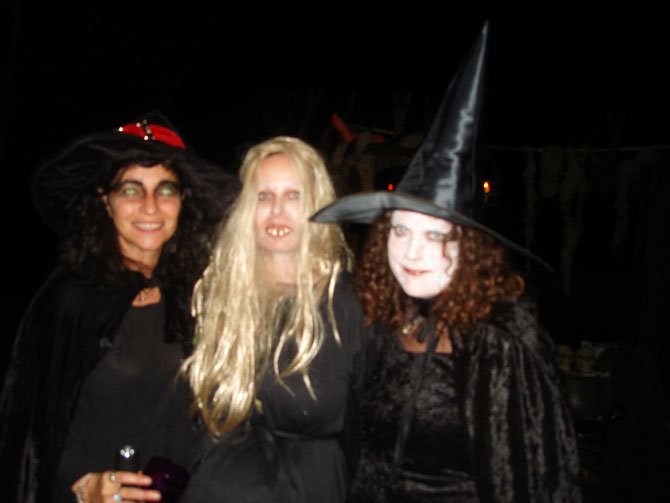 Surely, the vampires, witches, goblins and ghouls lying in wait for their victims along the Clifton Haunted Trail aren't real — or are they? One thing's for sure — they're deadly serious about scaring people.
And that's what they'll be doing Saturday, Oct. 26, from 7-10 p.m., in the Town of Clifton's Eight-Acre Park. (Rain date is Oct. 27). Tickets are $15, adults and $10, children under 12, starting at 6:30 p.m. at the trail entrance; there are no advance sales.
"This year's event will include several new, terrifying skits, including reenactments, scary-movie scenes and plenty of frightening lightning and spooky props," said Jeff Harper of the Haunted Trail Committee. "This is not an event you'll want to miss."
No flashlights are allowed in the park, and parents should accompany children along the trail. Since the fright level is so intense, it's not recommended for those under 8. Because this event is so popular, attendees might want to arrive early, as the trail tends to get crowded during the later hours.
Sturdy shoes are advised; snacks and beverages will be available. Free parking is available at Clifton Elementary, on the flood plain, and at the Clifton House Shops on Chapel Road, where hayrides will take trail-goers to and from the park. For more information, see www.cliftonhauntedtrail.com.
However, children not wanting to go on the trail, plus parents waiting for teens to emerge from it, will be able to watch Movies under the Stars on a large screen at the park's entrance. This year's movies are "Cloverfield" and "Poltergeist."
Meanwhile, those brave enough to enter Clifton's 14th annual Haunted Trail will encounter 20 spine-tingling scenarios — the best of the past, plus some spooky new ones. Bloody mayhem is afoot, and zombies, ghosts and other undead creatures are eager to pounce on those who dare to disturb them. After all, the trail's slogan is, "It's only 8 acres — what could possibly happen to you?"
"This year's trail is bigger and better than ever," said Harper. "We have new skits, plus professional, Halloween geeks — area residents whose year-'round hobby is Halloween. They're engineers who make props and have even made their own fog machine to put fog all over the bridge where people enter the trail. They're making the trail scarier and more dramatic."
Some 200 Clifton-area volunteers put on the Haunted Trail and act in the scenarios which include everything from vampires to witches, pirates, skeletons and dangerous men wielding chainsaws. Committee Chairman John Powell oversees the whole event, with help from Harper, Ester Pline and Steve Bittner.
Harper's in charge of the performers, Pline orchestrates who's doing what and Bittner heads up the electricity, making sure there are ample generators to provide power in the woods. Mainly Clifton residents, the actors create their own skits and costumes, get the props they need, rehearse and make their characters as realistic as possible.
This year, students from Centreville and Woodson high schools, plus Robinson Secondary, are doing scenarios, as well. And all will do their best to unleash the terrors of the night on innocent visitors.
"We have skits that'll scare you, startle you and creep you out," said Harper. "We also have a dozen roving monsters walking backward on the trail to terrify people. Last year, we were ranked by www.VirginiaHauntedHouses.com as one of the best haunted house/trail events in Northern Virginia. We even hold a training class to teach the actors in the skits how to scare people."
There's a bit of comic relief, however, in Harper's dancing-skeletons scenario. "I started it three years ago and we're doing it again, this year," he said. "The Woodson cheerleaders are joining in and we'll dance around to music."
Some skits will involve fog to give off an ominous vibe; others will strike fear into the hearts of trail-goers. Jacquie Lambertson and Trish Robertson will be among eight or nine, pointy-hatted women in the witches' coven, and Boris Populoh will be lurking under a bridge.
Taylor Williams will be in a scenario with crazed, chainsaw-wielding demons, and John Kinter will put on "his usual, over-the-top, gory skit," said Harper. Patrick and Ester Pline will portray voodoo zombies, and Fred Ansick will lead a ghoulish crew in a graveyard scene.
Eric Hencken and Rick Layfield will be scary clowns, and Erin Tengesdal and Sydney Sawyer will bare their fangs as vampires. Rick Peterson, Geri Yantis and Carter Wyant are portraying the denizens of Scarecrow Alley — a dangerous place to visit — and Steve Goetzinger will lead a mangy mess of menacing moss men.
Karen Gentry will ensnare visitors in a scary spider skit; but, said Harper, many other participants are keeping the details of their Haunted Trail deeds under wraps until the big night.

The Town of Clifton sponsors the Haunted Trail, using the proceeds for town improvements, including beautification. Another major sponsor this year is Kevin Hutto with Signature Financial Partners.
Proceeds from sales of hot apple cider, baked goods, soda, candy and popcorn will benefit the National Alliance on Mental Illness. It advocates for access to services, treatment and lifesaving medical research for the millions of Americans affected by mental illness.
In addition, Clifton's newest restaurant, Villagio's — sponsoring the hayride — will be selling pizza, and 2013 Clifton Haunted Trail T-shirts may be purchased at the concessions stand. And, said Harper, "They feature a really spooky haunted trail with a skull on it."
With professional sound and light, this year, the event has really been kicked up a notch or two, he added. "We usually get 3,000 people going through the trail, and we're trying to beat that," said Harper. "It's going to be thrilling and exciting. If you like Halloween and like to be scared, you won't be disappointed."