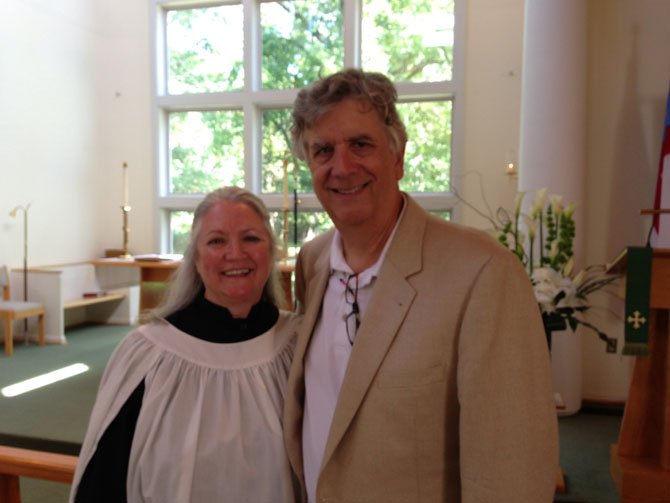 St. Francis Episcopal Church in Great Falls has welcomed Jeanne and Larry Vote as new directors of music for the church. Both Jeanne and Larry have extensive backgrounds in music, as performers, conductors, musical directors and educators.
Jeanne Vote most recently served as minister of music and organist at Middleham/St. Peter's Parish in Lusby, Md. She has also served as director of academic advising and ADA advocate at St. Mary's College of Maryland and as a classroom and music teacher for several public and private schools. An accomplished organist, pianist and harpsichordist, Jeanne's performance experience includes 10 years with the Maryland Bach Aria Group and several years as harpsichordist and chamber organist for the Alba Music Festival in Italy. She holds a B.A. in music education from Central Washington University, with certifications in K-12 music and K-6 classroom education.
Larry Vote is a professor of music and special assistant to the president of St. Mary's College of Maryland, where he has served as an educator and senior administrator since 1981. He previously served as director of liturgy and music at St. Mary's University Chapel at the University of Michigan, as a voice instructor at Pacific Lutheran University, and as a choral music instructor for the Tacoma Public Schools in Washington. Larry has been honored with the Norton Dodge Award for Creative and Scholarly Achievement and has twice been nominated for Outstanding Musical Director in the Helen Hays Awards. He holds a B.A. in music and music education from Central Washington University, where he has since received the Distinguished Alumni Award. Larry also holds an M.M. degree in vocal performance from the University of Michigan, and he has studied at Westminster Choir College in Princeton, N.J. and the Academy of Old Music in Amsterdam.
St. Francis Episcopal Church has three choirs: the St. Francis Choir, consisting of adults and high school students; the Joyful Noyz, for students aged 8-14; and the Grace Notes, for students aged 3-7. In addition to providing music at the Sunday services, the church frequently offers special performances. Recent highlights have included productions of "Children of Eden," "Joseph and the Amazing Technicolor Dreamcoat," "Godspell Junior" and "Noye's Fludde." Special choir performances have included Bach's "Magnificat," Faure's "Requiem," and Jenkins "The Armed Man: A Mass for Peace" as well as several Evensongs throughout the year. St. Francis also hosts the annual performance of "Lift Every Voice," an ecumenical choir festival; frequent family music nights for performers of all ages; and special Sunday services featuring bluegrass music.
For more information on St. Francis Episcopal Church and its music programs, visit the church online at www.stfrancisgreatfalls.org or on Facebook at www.facebook.com/stfrancisgf, or call the church at 703-759-2082.