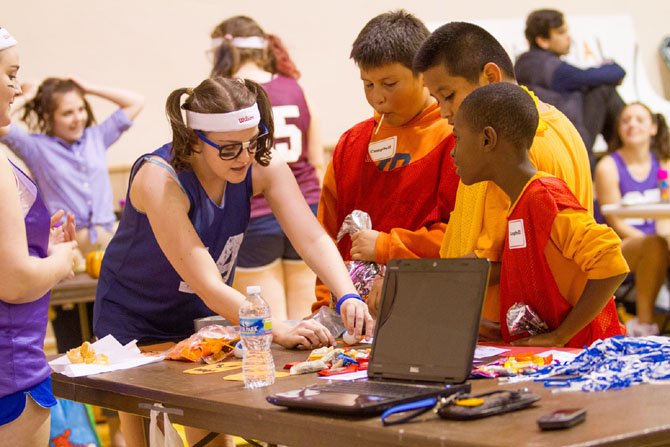 Arlington — "Each year, Marymount University opens its doors to disadvantaged children in the area to provide a safe and fun place to celebrate Halloween."

—Ashley Wells, community outreach coordinator, Office of Campus Ministry, Marymount University
Local college students are working to ensure that some underserved area school children have a festive Halloween this year. Students at Marymount University, in Arlington, are turning their resident halls into themed wonderlands that run the gamut from Disney princesses to superheroes.
The celebration is part of Marymount's 19th annual Halloweenfest, scheduled for Friday, Oct. 25, 3:30-7 p.m. "Each year, Marymount University opens its doors to disadvantaged children in the area to provide a safe and fun place to celebrate Halloween," said Ashley Wells, community outreach coordinator at the school's Office of Campus Ministry.
Donate a Costume or Candy
Donations can be dropped off in the Campus Ministry office located in The Lodge, 2807 N. Glebe Rd., Arlington, VA 22207.
During Halloweenfest, children receive free Halloween costumes and take tours through the resident halls where they trick or treat for candy donated by students, faculty, staff and community members. After trick or treating, they spend time participating in activities on the basketball court of the university's Rose Benté Lee Center.
"The gym is completely decorated and children have a blast as they visit over 35 tables with different activities … like face painting, crafts and games," said Wells. "A dinner … is provided for each guest."
The Office of Campus Ministry collaborates with the Office of Student Activities and the Office of Campus and Residential Services to put on the event. "We invite families and children from local homeless shelters and after-school programs in the northern Virginia area," said Wells. "We invite these groups to offer them a … place to celebrate a holiday for free."
Laurie Callahan, director of public relations for Marymount said, "Most of the activities will be between 4 and 5:30 p.m., [including] trick or treating in the residence halls, games and crafts in the Lee Center. The event ends with a pizza dinner. The entire Marymount community gets involved. There's a contest for the best decorated residence hall, and students, faculty and staff all volunteer at the event."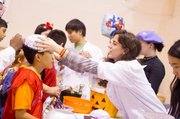 The children are invited from Virginia facilities that include the Katherine K. Hanley Family Shelter in Fairfax, the Patrick Henry Family Shelter in Falls Church, Carpenter's Shelter in Alexandria, and Greenbrier Learning Center and the Lubber Run Community Center in Arlington, as well as the Arlington-Alexandria Coalition for the Homeless.
"We give preference to children who many not have anywhere else to go for trick or treating on Halloween," said Mallon. "The children love hanging out with cool college kids."
According to Wells, "Marymount is very committed to serving the community and Halloweenfest is one of the many ways we give back to those in need. It takes hundreds of volunteers to make Halloweenfest a success. It is an opportunity for student clubs, athletic teams and departments to collaborate and work as a team to offer a day of fun to the community."
The reaction from the children makes the hard work worthwhile. "Last year, a young boy from a local family shelter screamed with joy as he found a superhero costume his size in the costume bin," said Wells. "The Lee Center is always filled with loud laughter and excited chatter."
Mallon agrees, saying Halloweenfest energizes the campus. "The spirit on campus is beautiful," she said. "There are very few events on campus when the entire community comes together in the spirit of service. Whenever kids are around, you're reminded about little things in life and the joys in life, and the college kids forget about their homework and studies for a while and just have fun with the children."
Wells said that the university could use donations from the community. "We are in great need of candy and child-sized costumes," she said.