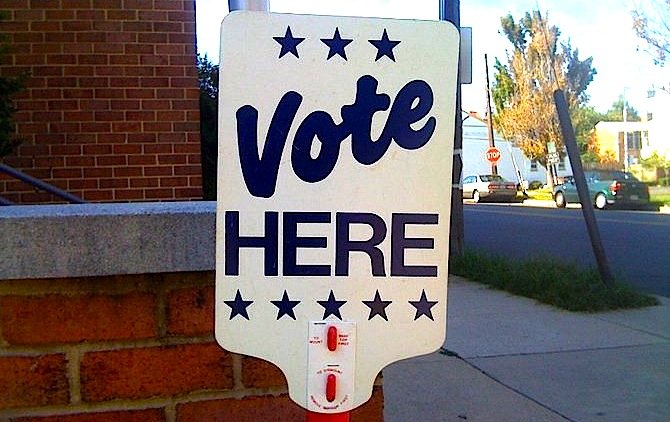 Race for Governor
Terry McAullife's Top Alexandria Donors
$10,000 from Thomas Becherer, president of Delta Bridge
$10,000 from U.S. Sen. Mark Warner
$6,190 of in-kind contributions from Forward Together political action committee for catering
$6,027 of in-kind contributions from lobbyist John Raffaelli for event expenses
$6,000 from homemaker Cynthia Conner
Ken Cuccinelli's Top Alexandria Donors
$15,000 from WilmerHale attorney Reginald James Brown
$12,500 from Campaign for Working Families political action committee
$10,000 from Ourisman Automotive dealer Michael Bennett
$6,000 from consultant Collister Johnson Jr.
$5,000 from Winston & Strawn attorney Thomas Matthew Buchanan
Race for Lieutenant Governor
Ralph Northam's Top Alexandria Donors
$5,000 from U.S. Sen. Mark Warner
$3,000 from Sally Murray, retired
$1,850 from Rafat Mahmood of Mahmood Investment Corp
$1,727 from investment banker Robert Henry Dugger III of Hanover Investment Group
$1,500 from Stefanie Sion Erkiletian of Erkiletian Construction
E.W. Jackson's Top Alexandria Donors
$1,000 from Good Fund political action committee
$1,000 from State Central Republican Committee member Anne LeHuray
$1,000 from Douglas Turner, retired
$550 of in-kind contributions from Grace-Marie Turner for event expenses
$500 from Alexandria Commonwealth Republican Women's Club treasurer Mari Patti
Race for Attorney General
Mark Herring's Top Alexandria Donors
$5,000 from U.S. Sen. Mark Warner

$5,000 from Bingham McCutchen attorney Mark Williams

$3,319 from Lieblich & Grimes attorney Carolyn Mary Grimes

$2,000 from Capitol Counsel lobbyist John Raffaelli

$1,000 from McQuade & Hite attorney Martha McQuade
Mark Obenshain's Top Alexandria Donors
$5,500 from Good Fund political action committee

$2,500 from Craig Shirley & Associates advertising executive Diana Banister

$1,010 of in-kind contributions from Redmon Peyton & Braswell for event expenses

$1,000 from Black Manafort & Stone lobbyist Charles Black Jr.

$1,000 from Barbour Griffith & Rogers lobbyist George Griffith Jr.
Democrats have the wind at their backs heading into Election Day next week, as Republican gubernatorial candidates Ken Cuccinelli struggles to overcome a deficit in the polls. This week, Quinnipiac University released a poll that had Democrat Terry McAuliffe with 45 percent support compared to Cuccinelli, who had 41 percent. Libertarian Robert Sarvis is at 9 percent. That built on a series of polls that have the Democrats in a solid lead heading into the final days of the campaign, although the race has tightened in the last week.
"This is one of the most robust field operations that I have ever seen," said Alexandria Democratic Committee Chairman Dak Hardwick. "It will be the model for statewide races from here on out."
One recent weekend saw McAullife supporters knock on 9,000 doors in Alexandria alone, an indication that Democrats in Alexandria have created an effort that is even more intense than the two presidential campaigns for Barack Obama. Some Democrats feel that the momentum in their favor could cause them to pick up four to six seats in the House of Delegates in addition. Republicans, on the other hand, say they are feeling troubled by their candidate's lack of success. Nevertheless, party leaders say, they are pressing ahead.
"Sometimes it's better to be the underdog," said Alexandria Republican City Committee Tom Fulton. "It makes you work harder."
POLITICAL ANALYSTS say Cuccinelli is struggling for any number of reasons. One is timing. Cuccinelli is running at a time when incumbent Republican Bob McDonnell has been mired in an ongoing scandal involving undisclosed gifts from a wealthy Virginia businessman seeking to challenge a tax bill. Another reason Cuccinelli is struggling may be about the slate of issues on his platform. One of his central issues, opposing the Medicaid expansion as part of the Patient Protection and Affordable Care Act, does not cut across party traditional party lines.
"Some traditionally constituency groups, including for instance hospitals and doctors, really want it," said Kyle Kondick, analyst with the University of Virginia Center for Politics. "It's essentially good for the bottom line for hospitals and then by extension doctors."
Because the issue has yet to be resolved, the next governor is expected to play a major role in whether or not Medicaid expansion moves forward for 400,000 of the most vulnerable Virginians, those who live in poverty and the disabled. Taxpayers in Virginia will be paying for Medicaid expansion regardless of whether or not the commonwealth decides to take advantage of the program, an argument that McAuliffe has used on the campaign trail.
"We are going to bring back to Virginia, over the course of the next seven years, $21 billion of our money that we are paying in," McAuliffe said during the Fairfax County Chamber of Commerce debate. "Why would we not bring that back?"
Cuccinelli, on the other hand, says it would be irresponsible to expand Medicaid in the long term. Although the federal government has promised to pay for 100 percent of the program until 2016, Republicans argue, nobody knows what will happen after that. The law says the Virginia would be required to pick up 10 percent of the cost. But critics argue that number could be changed, saddling the commonwealth with a potentially crippling burden for generations to come.
"I am not willing to risk Virginia's budget when the federal government is already taking the position, many of them are taking the position, that they can't afford it even if they wanted to," said Cuccinelli in the Fairfax County debate. "The hole in our budget, when this is fully implemented now, is $200 million a year."
THE DEBATE over Medicaid expansion is emblematic of the difference between the two major party candidates for governor. Cuccinelli has called for a $1.4 billion tax cut, although the details of how that would be financed remain unclear. McAuliffe has proposed increased spending for teacher salaries, pre-Kindergarden education and community colleges. Libertarian candidate Sarvis has been more consistent about how his platform would be financed, largely because it seeks to reduce the size and scale of the government. Recent polling has seen the Libertarian with about 10 percent of likely voters saying they'll support him.
"With the race this close, the final decision by the roughly one in 10 voters who are supporting Libertarian Robert Sarvis has become even more critical," said Peter Brown, assistant director of the Quinnipiac University Polling. "It is difficult to see Cuccinelli winning if he can't run at least even or slightly ahead among independents. Here, too, Sarvis' voters matter greatly since the libertarian is getting 16 percent of independents, but only 9 percent overall."
The race has seen massive amounts of money attracted to the campaign, much of it from out of state because this is the only competitive governor's race in the country this year. McAuliffe has raised $25 million, including $157,000 from Alexandria. Cuccinelli has raised $15 million, including $114,000 from Alexandria. Much of that money will be spent on television advertising in the final few days leading up to Election Day. But some say it's unclear how much influence that will have on the outcome.
"An awful lot of people by mid-October have already decided which candidate they prefer," said Stephen Farnsworth, political science professor with the University of Mary Washington. "So the number of undecided voters out there shrinks with each day."
DOWN THE BALLOT, voters will also select candidates for lieutenant governor and attorney general. The race for lieutenant governor received a great deal of attention this year because of the Republican candidate, E.W. Jackson. He's compared Planned Parenthood to the Ku Klux Klan and opposed yoga because he believes it opens the mind to satanic possession. During a debate in Arlington last month, Jackson tried to personalize the debate about mental illness.
"Look, I don't want to scare you," said Jackson. "But I've got some mentally ill people in my family and they need help. They need treatment."
Jackson said it was a mistake to abandon the model of institutionalizing people with mental illness, pointing to recent mass shootings as evidence. That prompted Democratic candidate Ralph Northam, a pediatric neurologist, to shoot back.
"How sad, and I'm sorry that you have people in your family that are mentally ill and how sad that you would go visit them in an institution," said Northam. "We can do better than that here in the commonwealth."
PERHAPS THE MOST dramatic race of the evening will be the race for attorney general. Because the Democrats have such a lead in the race for governor and lieutenant governor, party leaders are hopeful that they can sweep all three statewide races. But Democrats have not won a race for attorney general since 1985, when Mary Sue Terry was elected. The race features state Sen. Mark Obenshain (R-26) and state Sen. Mark Herring (D-33).
"The GOP candidate for Attorney General, Mark Obenshain, may not give fiery, rhetorical speeches like you hear from Rev. Jackson, but he's just as dangerous," said Herring in a written statement the night he won the Democratic primary. "That's not the Virginia we want. We are sick of the abuse of authority and this fall we will end it."
On the campaign trail, Obenshain has been critical of Herring for declining to say how he would perform in office on a number of important issues. For example, Herring has declined to say whether he would defend the strict new hospital contraction standards that now regulate abortion clinics. He also says he does not know whether or not he would defend the state's constitutional amendment banning same-sex marriage.
"Senator Obenshain and Senator Herring both voted for Virginia's marriage amendment, both clearly at the time believing that it was constitutional," said Paul Logan, communications director for the Obenshain campaign. "Senator Obenshain has said consistently that as attorney general, he will defend Virginia's laws — including this one — against any challenges, whether he agrees with the policy behind the laws or not."