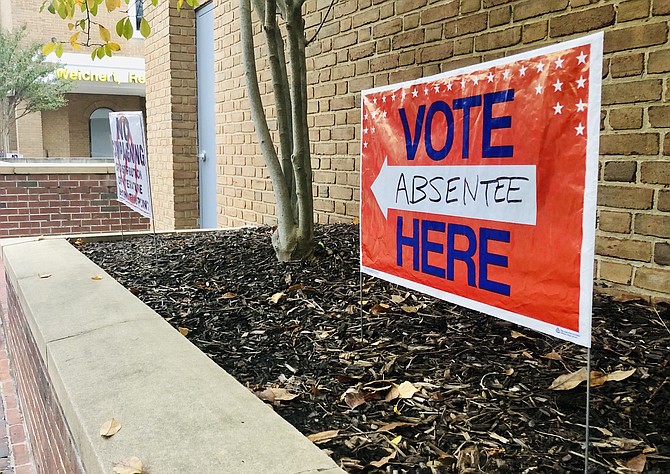 The June 8 primary will determine the direction of the Democratic Party in Virginia at a critical time, when the commonwealth is emerging from the pandemic and trying to recast itself as something other than a party in opposition to former President Donald Trump. Opposition to the former president helped Democrats claim the trifecta — all three statewide offices, the House of Delegates and the state Senate. Now they'll be facing a Republican ticket that has racial diversity, gender diversity and geographic diversity.
"We have the momentum, energy, and grassroots organization to send good, solid Republicans to Richmond," said Rich Anderson, chairman of the Republican Party of Virginia. "And we're going to fight harder than ever to ensure we do just that."
Democrats head into Election Day likely to nominate white males from Northern Virginia as governor and attorney general, while the election for lieutenant governor remains wide open. Voters could end up selecting a Democratic ticket that is three white males from Northern Virginia. That's one of the reasons why Gov. Ralph Northam attempted to tip the scales by endorsing Del. Hala Ayala (D-51) for Lieutenant Governor, a Democrat from Prince William County who identifies as an Afro-Latina-Lebanese-Irish woman. Campaign finance records show she's struggled to raise as much money as Del. Sam Rasoul (D-11) or Del. Mark Levine (D-45).
"Establishment Democrats clearly think that Hala Ayala is going to be the better candidate in the general election," said Quentin Kidd, a political science professor at Christopher Newport University. "But that doesn't mean that she would be, and that doesn't mean that she'll win the Democratic primary."
AT THE TOP of the ticket is the race for governor. Former Gov. Terry McAuliffe has an outsized lead in the polls and the fundraising, although it's extremely rare for a former governor to decide to seek a non-consecutive term. It hasn't been done since 1973, when former Gov. Mills Godwin was elected to a second non-consecutive term after a four-year absence from the Executive Mansion. In his first term, Godwin was a Democrat. But eight years later, he switched parties and became a Republican during a time when both parties were experiencing an identity crisis.
"I was moved to run [again] because I love this state," Godwin said in 1973 during a campaign speech in Southwest Virginia. "And I don't want the liberal left to take over the state and lead us down the path of ruin, and I don't think you do either."
Now, almost half a century later, the Virginia Democrats are facing a different kind of identity crisis. Do they want to return McAuliffe to power at a time when Democrats control the General Assembly, or give the nomination to a new generation? Supporters of Sen. Jennifer McClellan (D-9) point to her long record of service in the House and Senate, noting that she's been in Virginia politics much longer than any other candidate including McAuliffe. Her campaign issued a fact-check after Del. Jennifer Carroll Foy (D-2), who served one full term in the House before resigning to run for governor, repeatedly called herself "one of the most effective legislators in Virginia history."
"Jenn McClellan is the most experienced and effective candidate for governor. Full stop," said Del. Kathy Tran (D-42). "As a delegate, I've seen the difference between legislators who lead when the going gets tough and those who don't. Jenn McClellan is a leader who lifts up all Virginians."
THE RACE FOR lieutenant governor is the race that will determine the missing third of the statewide Democratic ticket. Sam Rasoul has raised and spent more money than any other candidate, a notable achievement considering he refuses to take money from special interest PACs or lobbyists. During a televised debate on WJLA last week, anchor Dave Lucas asked if Rasoul believed he could represent Virginians of all faiths. The televised question caused a firestorm because Rasoul is Muslim, and the question employed anti-Muslim tropes.
"Sadly, this isn't what Virginians are wanting to hear about," said Rasoul. "They're wanting to hear about how we're going to improve access to their health care, about broadband issues, how we are going to safely get kids back in school."
WJLA eventually apologized, calling the question "inappropriate and disrespectful." Meanwhile, Rasoul picked up new endorsements and gained a ton of free publicity. But he wasn't the only candidate to seize on a moment from the WJLA debate. When the candidates were asked if critical race theory should be taught in Virginia classrooms, former Fairfax NAACP president Sean Perryman seized the moment to explain that the law-school concept wasn't being taught in K-12 classrooms.
"Critical race theory is not even being taught in our schools," said Perryman. "It's a Republican dog whistle where anything they disagree with is critical race theory."
ATTORNEY GENERAL Mark Herring is the only statewide incumbent seeking reelection. He's being challenged by Del. Jay Jones (D-89). Herring was the town attorney in Lovettsville and served on the Loudoun County Board of Supervisors before being elected to the state Senate in a 2006 special election after Attorney General Bob McDonnell appointed Sen. Bill Mims (R-33) chief deputy attorney general.
Herring was elected attorney general in 2013, and he's now seeking a third term in office. During his time as attorney general, he created a new Office of Civil Rights as well as a new conviction integrity unit and a new worker protection unit while also reorganizing the consumer protection section. He opposed Virginia's ban on gay marriage, fought against Trump's Muslim ban, and overturend Republican gerrymandering in the United States Supreme Court.
"I've transformed the job into a progressive powerhouse," said Herring. "I have proven that I can win even the biggest fights."
Jones was first elected in 2017, part of the first Democratic wave that began the transformation of the House of Delegates. Since that time, he's been seen as a rising star in the party. Jones says it's time to hand the office to the next generation, and as an African-American man he says he would be able to bring his lived experience into conversations about criminal justice reform and equity. During a televised debate, he avoided answering questions about a bill he introduced that would have allowed predatory lenders to charge 350 percent interest — a point of distinction that provides contrast with Herring, who worked with lawmakers to pass the Fairness in Lending Act. Jones never withdrew his bill which died in committee, although he ended up voting for the bill that Herring supported.
"The attorney general knows that he and I supported the exact same bill," said Jones. "I was happy to work with Delegate Bagby, the chair of the Legislative Black Caucus, who has endorsed my campaign."
On the Ballot
Governor
Terry McAuliffe

Jennifer McClellan

Jennifer Carroll Foy

Lee Carter

Justin Fairfax
Lieutenant Governor
Hala Ayala

Sam Rasoul

Andria McClellan

Sean Perryman

Mark Levine

Xavier Warren
Attorney General
More Election Coverage
http://www.connectionnewspapers.com/news/2021/may/20/convention-done-primary-ahead/
http://www.connectionnewspapers.com/news/2021/apr/15/running-second-command/