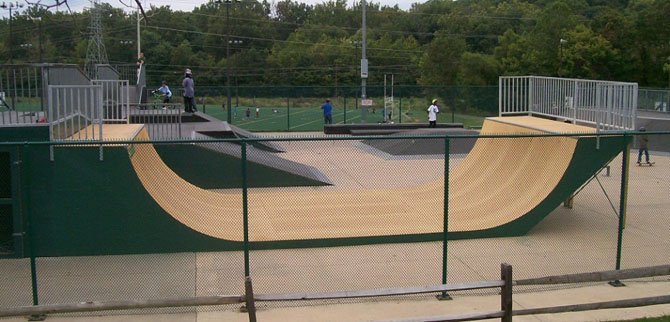 Braddock is very much a district of neighborhoods, a rarity in busy and booming Fairfax. Stretching from Annandale to the far edge of Fairfax by the Fairfax County Government Center, we are located in the center of Fairfax County. Braddock District contains key roads for the county such as Route 50, Route 29, Little River Turnpike, Braddock Road, the Fairfax County Parkway, Old Keene Mill, Rolling Road and 495. We are proud to have two institutes of higher learning, George Mason University and Northern Virginia Community College, which attract students from all over the world. Here's a short list of some must-do, must-see places, events and opportunities for newcomers (and old-timers) alike.
Popular Eateries
Getting Around—The Virginia Railway Express Station
The Virginia Railway Express (VRE) is a commuter rail service that operates Monday through Friday, from the Northern Virginia suburbs to Washington D.C. The VRE Station is a popular mode of transportation for many commuters. We have one location in the District at 10399 Premier Court, Burke, Virginia 22015. VRE does not operate service on weekends or federal holidays. For additional information, go to their website at www.vre.org.
How We Can Help You—The Braddock District Staff
Our office is located at 9002 Burke Lake Road in Burke. Contact us at braddock@fairfaxcounty.gov or by calling 703-425-9003. We maintain office hours of 9 a.m. to 5 p.m. Monday through Friday.
Kiel Stone, chief of staff: Media Contacts, Boards & Commissions, Fairfax County Budget, Transportation Policy and Business Issues.

Rosemary Ryan, senior staff assistant for Legislative Services: Land Use, Stormwater Management, Trash & Recycling, Senior Services, Environmental Issues and Facilities Management.

Ann Sharp, senior staff assistant for Constituent Services: Braddock District Council (BDC), HOA's and Civic Associations, George Mason University, Northern Virginia Community College, Zoning Complaints, Health Code Violations, Road Maintenance, Traffic Calming, Parking Districts, Utilities, Crime and County History.

Lindsey Smith, senior staff assistant for Administration: Scheduling, Office Management, Emergency Response, Braddock Neighborhood News, Information Technology, Park Issues, Animal Control, Website, Arts and Braddock Nights.

Charlie Szold, communications director: Media Relations, Social Media, The Braddock Beacon, Cook Advisory, Braddock Website, Letters of Recognition.

Rhiannon Duck, legislative aide: Human Services, Housing, Homelessness, Agigin/50+ issues, Tax issues.
Kilroys in the Ravensworth Shopping Center, Springfield

Great Harvest Bread Company in Burke Town Center, Burke

Josies Ice Cream & Frozen Yogurt in Burke Town Center, Burke

Brions Grill in University Mall, Fairfax

Swiss Bakery in Ravensworth Shopping Center, Springfield
Braddock Hall in the Braddock District Office
Located at 9002 Burke Lake Road in Burke, Braddock Hall offers area residents, not-for-profits, and community and educational groups the opportunity to use its 40-seat conference room at no cost to the user. Individuals or groups may reserve the room by calling our Office, 703-425-9300 and then submitting the application form (found along with rules of use at www.fairfaxcounty.gov/braddock/hall.htm). Braddock Hall is typically scheduled on a first come, first served basis. Braddock Hall can accommodate up to 40 people at tables and up to 80 people in a forum setting. The room contains tables and chairs, a podium as well as a projection screen and is equipped with cable access. Free wireless Internet connection is available, but no computer or media equipment is available to groups or individuals using Braddock Hall.
Parks and Recreation in Braddock—Cyclists, Skateboarders, Pets & People
Residents of the Braddock District are fortunate to have some of the most beautiful parkland and trails in Fairfax County. Lake Accotink Park, located in the southeastern part of Braddock, is one of three county parks that has a large accessible lake as well as picnic areas, concessions, a carousel, miniature golf and boats and bicycles to rent. The Accotink Trail runs throughout the park and is accessible by many points. Royal Lake Park, in the Kings Park area of Braddock, is another lakefront park with a beautiful trail that runs around the perimeter.
If you're a bicyclist, we have many opportunities for you and your family to get out and enjoy some fun rides. Besides the Accotink and Royal Lake trails, the Pohick Stream Valley Trail is part of the larger, 40-mile-long Cross County Trail that runs from north to south across Fairfax County. This trail was just recently extended to allow access between the Rolling Road and Burke Centre VRE stations.
Go to the Park Authority website to search for many other places to get out and enjoy nature in Braddock.
Want to Learn Something New?
Opportunities abound for all ages and interests.
George Mason University, Virginia's largest public college campus, is located in the Braddock District, six miles west of the Beltway off Braddock Road and Route 123, and has multiple programs available to the public of all ages. Here is a sample:
All Ages
Phone: 703-993-9558

Web: physics.gmu.edu/~hgeller/observing.html
The observatory at the Fairfax Campus building Research 1 offers a number of informal night sky observing sessions throughout the academic year, and is open to the public. There is a 16" diameter Dobsonian telescope in the observatory atop the pier; a 12 inch Schmidt-Cassegrain telescope used on the patio; and a 6" refractor originally built by Mason students in 1975. Observing sessions will be canceled if the sky is more than half overcast one hour before the session is scheduled to begin, or if it is too windy (>35mph) to open the observatory dome. Please check the website for the observing schedule and/or cancellation information. Observing sessions last approximately 1.5 hours weather permitting.
Phone: 703-993-9889
Mason's Potomac Arts Academy, part of the College of Visual and Performing Arts, offers the highest caliber of artistic instruction in an accessible and nurturing environment for community members of all ages, skill levels and socioeconomic backgrounds. Music, theater, visual arts, computer gaming and other classes and workshops are available.
Youth
Summer Camps and Programs

Phone: 703-993-1005
Web: summercamps.gmu.edu
A wide variety of summer camps and programs are offered to youth in the areas of art, technology, academics, sports, recreation and radio.
George Mason Institute of Forensics

Phone: 703-993-4119
Web: www.gmuforensics.org/gmif/index.htm
Hosted in the summer, the Institute of Forensics is open to any area high school student who desires to learn more about forensics.
High School Debate Tournament and Institute

Phone: 703-993-1093

The George Mason University Debate Union sponsors the following:
The High School Debate Tournament
The tournament, hosted in January, is open to all regularly enrolled high school students throughout the United States. The tournament includes five divisions of debate: novice, junior varsity and varsity policy debate, and Lincoln Douglas and Public Forum debate.
The Patriot Classic High School Debate Institute
Phone: 703-993-1093

Hosted in the summer, the institute is open to any area high school student who desires to learn more about debating.
Northern Virginia Writing Project Student Summer Institute

Phone: 703-993-1168
Web: www.nvwp.org (click on "Young Writers")

An enrichment program designed for students in grades five through 12 who have a serious interest in the creative writing process. Applications become available in March.
Adults
Center for Global Education
Phone: 703-993-2154; Email: cge@gmu.edu
Web: globaled.gmu.edu
The Center for Global Education (CGE) is the university's study-abroad office and provides a wide array of opportunities for Mason students and the general public. CGE services include advising, issuing International Student ID Cards, a travel and study-abroad resource library, as well as study-abroad information sessions. The center's various educational opportunities are open to students and the general public for credit and audit.
Short-term Study Tours. CGE's short-term programs are the most popular and are offered during the spring, summer, and winter academic breaks. Study tours are led by Mason faculty and cover a variety of topics, including business, ecology, politics, geography, theater, history, culture and trade in more than 30 countries. Short-term programs also include intensive language programs.

Office of International Programs and Services
Phone: 703-993-2970; Email: oips@gmu.edu
Web: oips.gmu.edu
International students, faculty and staff are a vital part of the Mason community, representing approximately 135 countries. The Office of International Programs and Services provides a variety of services, resources and events to this segment of our population, including working with local community groups to facilitate connections between international students and local families and enabling international students to visit local public schools for cultural learning activities. Please call if you are interested in participating.
Seniors
Osher Lifelong Learning Institute
Phone: 703-503-3384
Web: www.olli.gmu.edu
The Osher Lifelong Learning Institute (OLLI), a nonprofit organization affiliated with Mason, offers a variety of daytime courses, special events and other activities for older adults. There are no exams or college credit, and no college degree is required. Members pay annual dues. Programs are offered at Tallwood House, adjacent to Mason's Fairfax Campus; Lake Anne in Reston, Virginia; and the Mason in Loudoun site.

Stellar performances, concerts, sports events and more at The Patriot Center.

The Patriot Center for the Performing Arts and the Center for the Arts provides a steady stream of performances available to the public throughout the year. The Patriot Center is a 10,000-seat arena that hosts Mason basketball games, concerts and family shows. Bruce Springsteen, Keith Urban, Bob Dylan, Ricardo Arjona, Enrique Iglesias, the Harlem Globetrotters and Disney on Ice are some of the performers appearing at the arena over the past 26 years.
For information about the Patriot Center call 703-993-3000
Tickets can be purchased through the box office or any Ticketmaster outlet. They can also be purchased through Phonecharge at 1-800-745-3000. Phonecharge is open daily from 10 a.m. to 9 p.m. Tickets may also be purchased online at www.ticketmaster.com.
Additional Phone Numbers:
Accessible Seating 703-993-3035
Group Sales 202-661-5061
Mason Season Tickets 703-993-3270
Friends of the Center for the Arts
Phone: 703-993-4188
Web: cfa.gmu.edu/friends
The Friends of the Center for the Arts offers the opportunity to support the Great Performances at Mason professional artist series and provides a number of volunteer opportunities not available to others, including hosting a meet-and-greet lobby table at an event, ushering at a performance, or hosting a performance discussion series in your home.
Northern Virginia Community College
Begun in 1964, Northern Virginia Community College main campus is located in Braddock District off Little River Turnpike and Wakefield Chapel Road. It offers a quality and convenient educational experience at an affordable price. NOVA is the largest educational institution in Virginia and the second-largest community college in the United States, comprising of more than 75,000 students and 2,600 faculty and staff members. NOVA is also one of the most internationally diverse colleges in the United States, with a student body consisting of individuals from more than 180 countries.
NOVA encourages senior citizens to enroll in its credit and non-credit classes. Qualified senior citizens are entitled to register and pay no tuition on a space-available basis for certain types of courses. Participation requires that the student have (1) reached the age of 60 and (2) had legal domicile in Virginia for one year. A senior citizen is entitled to enroll and pay no tuition on a space-available basis for various courses, including credit and non-credit courses. For more information, go to http://www.nvcc.edu.
Mark Your Calendars Now—Popular Braddock Events & Festivals:
Braddock Nights Concert Series
This series of free musical performances held at Lake Accotink Park and Royal Lake Park throughout the summer presents a wide array of performances from classical to bluegrass and everything in between. The atmosphere is informal and you're encouraged to bring a picnic dinner, blankets and lawn chairs and relax with friends and family to celebrate the end of the workweek. Concerts begin at 7:30 p.m. More information online at http://www.fairfaxcounty.gov/parks/performances/. Volunteers are always welcome! If you have an interest in music or just enjoy being with people, we'd love to have your help. For more information, please contact my office at 703-425-9300.
Live music concerts at the Plaza Stage at Fairfax Corner on Thursday nights 6:30-8:30 p.m. in June, July and August. For schedule check www.FairfaxCorner.com. Fairfax Corner is located on Monument Drive.
Oak Hill Day—Sept. 29, noon to 4 p.m. at Oak Hill House on Braeburn Drive. Celebrate our local history and historians at Oak Hill Day. Come enjoy the unique opportunity to tour the grounds and first floor of the house and celebrate the beautiful 18th Century Georgian-style home. Call 703-425-9300 for more information.

Burke Centre Festival, Sept. 8 & 9—The 35th Annual Burke Centre Festival Conservancy, 6060 Burke Centre Parkway. Admission is free. For additional information see http://www.burkecentreweb.com/sub_category_list.asp?category=37&title=Annual+Festival http://www.burkecentreweb.com/sub_category_list.asp?category=37&title=Annual+Festival and the Year in the Arts section of the Newcomers Guide.

Taste of Braddock—First Wednesday in December, the Braddock Supervisor hosts an Open House for all Braddock District residents. Food is provided by area restaurants.

Mason Day—George Mason University's longest standing tradition, now includes carnival rides, food and local entertainment. Held the last week in April on the Mason Campus, it is open to the public. Mason faculty and students may attend free. There is a fee for all others. Check www.gmu.edu for more information.