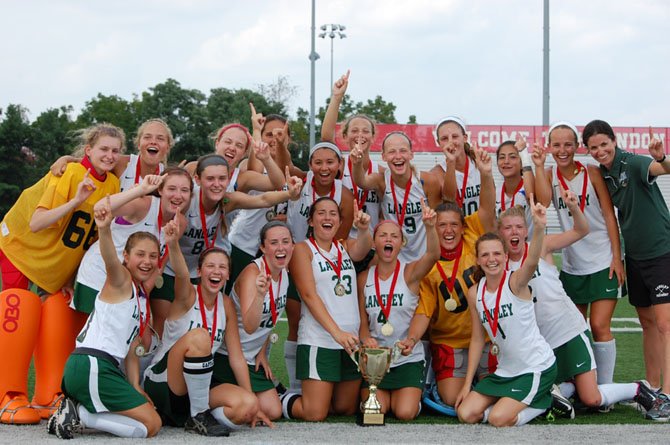 When the Langley field hockey team started practices at the beginning of August, coach Jennifer Robb, returning for her 13th season, felt good about what she was seeing on the practice field.
Langley has nine returning varsity players, including seven seniors, and a number of strong new offensive talents that played for the junior varsity team last year.
Little did she realize that Langley would start the season so strong, winning their first league game and then taking the Herndon Invitational Field Hockey Tournament championship trophy this past Labor Day weekend. And Langley did it in impressive fashion, outscoring their first four regular season opponents by a margin of 15-0, and then beating powerhouse Madison in a tight 3-1 contest to win the tournament. This was the first time that Langley has won the Herndon Invitational since it began in 1996; its best showing was a runner-up finish in 1999.
"I am so proud of the way the girls played throughout the entire tournament," Robb said. "They played as a team with great passing and a level of aggressiveness that allowed them to control the field of play. Not only did they play great defense but they finished strong and scored a lot of goals. What a great way to begin the season!"
In addition to winning the tournament, seniors Erin Klein and Lizzie Rollman and sophomore Halle Duenkel were named to the alltournament team for their outstanding play.
Langley is anchored by an experienced defensive corps, led by senior captains Amanda Lund and Julia Pierce, as well as senior Klein. Their goalie, Brittony Trumbull, had a great tournament, stopping all but one shot. Their starting offense includes all returning players in addition to Duenkel, Morgan Kuligowski and Kaylea von Seggern, all sophomores who made an immediate contribution in the tournament by scoring 11 of the 15 goals, led by Duenkel's seven.
The other four goals in the tournament were scored by Rollman (3 goals, 4 assists) and Maggie Farnsworth. The other returning offensive starters include juniors Delaney Burkart and Nichole Hottle, and senior Rollman.
Langley's next game is against Oakton on Monday, Sept. 9.