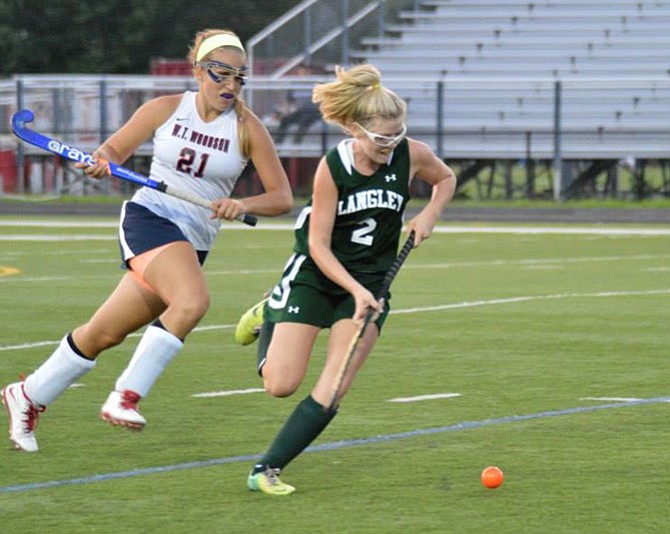 Langley field hockey coach Jennifer Robb expects defense to be the team's strength in 2015.
What remains to be seen is how the Saxons will generate offense.
Senior forward Halle Duenkel, Langley's leading scorer last season with 19 goals, suffered a torn ACL in May while playing lacrosse and won't be cleared to run until September. While Robb said she's hopeful Duenkel, who is committed to play lacrosse at JMU, can return by the regional tournament in late October, the 16th-year Langley head coach said it's "unlikely" Duenkel will play this season.
"Halle provided a lot of our offensive punch last year and having her on the sideline this year as opposed to on the field makes a big difference for us," Robb said, "but I know that we've got kids out there that are going to put it in the back [of the cage]. ... It's really going to be a question of whether we can make up for her goals. I've got a good defense ­­­ several of them are returning ­­­ my midfield is mostly seniors, so we are strong across all parts."
Senior Morgan Kuligowski, Langley's second-leading scorer last season, is one player who will be asked to pick up the scoring slack.
"She has a powerful drive, she's our hitter on corners, she just hasn't had to be the one that the ball had to go to," Robb said. "Now she's going to have to step into that role. She is one of the strongest players on the team, she has the hardest hit. She's also a lacrosse player ­­­ she knows how to find the back of the net."
Junior midfielder Jackie Kotoriy, and senior defenders Kaylea von Seggern and MacKenzie Regan are also expected to be standouts, Robb said.
Senior Sammy Russell and junior Marina Carlucci are strong defensive players. Sophomore goalkeeper Caroline Britt made her first career start in last season's 6A North region tournament.
Langley finished 9-10 last year, earning a regional berth by defeating rival McLean 2-0 in the opening round of the Conference 6 tournament. The Saxons lost to eventual region champion Fairfax 1-0 in the conference semifinals, and fell 2-0 to a strong Herndon team in the opening round of regionals.
Langley has had competitive teams in the past, including a 19-2 season in 2007, but hasn't won a conference/district championship since 2000, and hasn't captured a region title since 1980.
Langley opened the season with a 2-1 victory over Herndon on Tuesday. The Saxons will host Lake Braddock at 7:30 p.m. on Aug. 31.
"We showed last year that we are capable of playing with anyone," Robb said. "We played tough against some of the most challenging people in the region. This year, we're going to get back to that regional tournament and I think we can do some damage. I think a lot of it is going to be those players stepping up offensively, because defensively, I have no doubt we can hold up."