How do we mitigate the devastating effects of layoffs on employees, employers and their communities? Is there a "win-win-win" solution?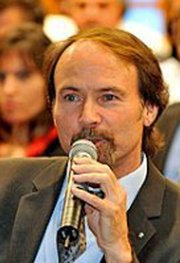 There is most definitely such a solution and it is called "Shared Work". Borrowed from a program called "Kurzarbeit" in Germany, a country considered one of the world's perennial industrial economies who knows a thing or two about surviving business cycles, this concept can decisively help Virginia companies, both large and small, weather temporary downturns by keeping their skilled workforce intact and on the job.
I know. Before coming to Virginia, I was employed by and operated my own businesses in Germany from 1980 through 2008.
From Fortune 500 companies like Texas Instruments, my first employer, to global giants like Mercedes, Bosch and others, I have personally experienced the effectiveness of these programs. And they work. A survey conducted by the state of Bavaria's Chamber of Commerce in July 2009, the depth of the Great Recession, revealed that 60 percent of respondents were able to avoid permanent layoffs, another 16 percent were able to come away with only minimal layoffs so that well over three quarters or 76 percent were able to keep all or most of their workforce through "Shared Work."
How? By reducing the days worked per week from 5 to 4, as an example, the companies are able to reduce a sizable portion of their labor costs, in this case 20 percent, maintain their workforce and additionally avoid costly rehiring and retraining expense when business picks up. More importantly, communities keep their breadwinners employed, which in turn continue paying taxes and consuming local goods and services. This keeps the "doors open" which in turn keeps families together.
While the employee will see a reduction in gross salary or wages, through the clever use of unemployment benefits which the employer has been contributing towards previously, take-home wage reduction would be not as pronounced. And that extra day would be a welcome respite to those families where both spouses are working full-time and could restore some work-life balance in the interim; or the employer could decide to use the extra day for retraining and skill improvement.
How do we proceed? In the U.S., 26 states have already adopted such "Shared Work" policy. Our commonwealth has not, to date, but the General Assembly should consider this proven public-private solution. Virginia's labor market, like many others, is still languishing. "Shared Work" can prevent layoffs, maintain the well being of employees and their communities and keep businesses competitive over the long run.
This is an intelligent, tested policy that can truly provide a "win-win-win" for all Virginians.