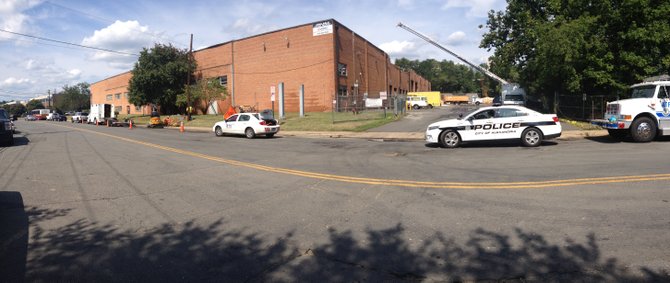 Alexandria Fire Chief Adam Thiel stopped short of calling it "arson." But the chief was clear that city officials believe that the person of interest identified by the investigation into last week's six-alarm fire on the West End started the fire on purpose. No arrests have been made yet, but Thiel says the case has been handed over to prosecutors, who will ultimately determine if the charge of arson applies.
"This fire was incendiary in nature," Thiel said in a brief press conference Tuesday night. "We have ruled out any accidental causes."
The massive fire on South Pickett Street erupted shortly before noon on Labor Day, prompting a response from firefighters across the region. Thiel described it as the largest fire since the Pentagon was in flames on Sept. 11, 2001. The warehouse was leased to a business known as D.C. Foam, and investigators pegged damage at $6 million. Four firefighters received medical attention for over-exertion. Now prosecutors are trying to figure out their next move.
"We just got the file on the investigation, so it's going to take some time for us to review it," said Commonwealth's Attorney Randy Sengel. "It will be a while before we sort through it and make any kind of determination."
THE CHARGE of arson assumes some amount of malicious intent, Sengel said. So prosecutors must now look at the evidence in the case and determine what degree of intent they suspect the person of interest had in mind when the fire began. Sengel said the analysis would be similar to determining whether or not a wounding was malicious.
"The difference is degree of intent or what evidence of intent there was, which is something we have to determine from the evidence," said Sengel. "Fortunately this is not something we see with great frequency here."
During Tuesday night's City Council meeting, members praised the Alexandria Fire Department and the team of regional responders who helped battle the six-alarm blaze. Councilwoman Del Pepper pointed out that firefighters were challenged by a water-main break that morning, which sent firefighters scrambling for alternative sources of water.
"We've had a lot of water-main breaks lately," said Pepper. "This seems almost like an epidemic."
CITY MANAGER Rashad Young said city officials recently met with Virginia American Water about the issue. According to Young, water officials said they would like to be on a 100-year replacement cycle. But instead they are on a 300-year replacement cycle.
"So that's a tad behind where they would like to be," said Young.