Chantilly — A fundraiser being held by a local pizza chain won't cure Tara Sankner's cancer — but it'll certainly help her parents pay for her medical bills. Called "Let's Take Care of Tara," it began Sept. 3 and will run through Sept. 30 at all Paisano's and Bella Pizza locations.
This is National Childhood Cancer Awareness month, and Paisano's owner and founder, Fouad Qreitem — who has children, himself — wants to do all he can to help this local family.
"I would love to see Tara get into remission," he said. "I met Tara and her mother, Tammy, and they didn't ask for anything. But I could tell they were a family struggling and in need."
Tara, 8, is now a third-grader at Lees Corner Elementary. Her dad Craig is a letter carrier with the U.S. Post Office in Oak Hill and her mom is a medical biller at Inova Fair Oaks Hospital. And in February, their only child was diagnosed with an astrocytoma, a treatable but inoperable form of brain cancer.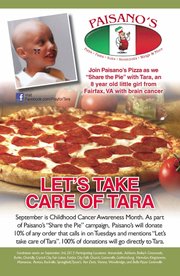 "It would be a parent's worst nightmare," said Qreitem. "I have two daughters, 8 and 12, and cannot imagine my family being faced with this situation. So I want to help Tara and her family."
Every Tuesday in September, callers ordering food from Paisano's or Bella Pizza and mentioning "Let's Take Care of Tara" will have 10 percent of their order donated directly to Tara's family to help pay for her treatment and growing medical expenses. And the more people participating, the more money will be raised.
Locally, Paisano's is at 4078 Airline Parkway in Chantilly and 12715 Shoppes Lane in Fair Lakes; Bella Pizza (part of the Paisano's chain) is at 5740 Pickwick Road in Centreville. Phone numbers are at www.pizzapaisanos.com.
A successful businessman, Qreitem said, "We are where we are because of the people in the community, and we believe it's our civic duty to give back to the community." During the campaign, Paisano's will also accept cash or checks payable to Tara Sankner, any day of the week, to directly pass on to her parents.
"I hope everybody chips in and does their part to help her," said Qreitem. "When Tara has chemo, she's sick afterward, and Tammy has to take off a week or two at a time from work, unpaid, to take care of her. So on top of her child having cancer, she's also dealing with the financial burden — and the last thing this family should have to worry about at this time is money."
Grateful for Qreitem's generosity, Tammy Sankner said, "'Thank you' just doesn't seem enough for everything he's doing. We are blessed and are really looking forward to working with him. It makes us feel good that there are people who care."
Tara began another round of chemotherapy on Wednesday and then will have 36 weeks more. "She had a six-week break after the second round," said her mom. "But when she started the third round, she was really sick, so we switched up her cycle. So now it's four weeks of infusion, a two-week break and four weeks of infusion. But she won't have anymore oral chemo, which wasn't doing anything to help her."
Then in mid-October, she'll have another MRI to see how things are doing. Meanwhile, Tara had a fun summer. "In July, we went to Tennessee for my parents' 50th wedding anniversary and saw some relatives I hadn't seen since 1996," said Sankner. "Some of them hadn't seen Tara, so that was really nice."
In August, Tara attended Camp Fantastic at the 4H center in Front Royal through the Special Love organization and had a great time with other children battling cancer like she is. And she continues to pitch for the Vienna Girls Softball League.
She began third grade last week and, said her mom, "So far, so good. She's kind of bummed, though, because she hasn't had homework, yet. But we'll see how she does this week, when she starts getting it."
Meanwhile, Qreitem hopes lots of people participate in the "Let's Take Care of Tara" fundraiser. "It's all about Tara," he said. "We'll see how the campaign goes and, if we get a good response in September, we'll definitely continue on with it. I know this family is hurting, and I just want to help them."
Online donations to Tara may also be made; go to www.airbanking.com/tools/; where it says to pick a charity, click and scroll down to Pray for Tara. Or send checks payable to Tara Sankner to her at 13114 Willoughby Point Drive, Fairfax, VA 22033.