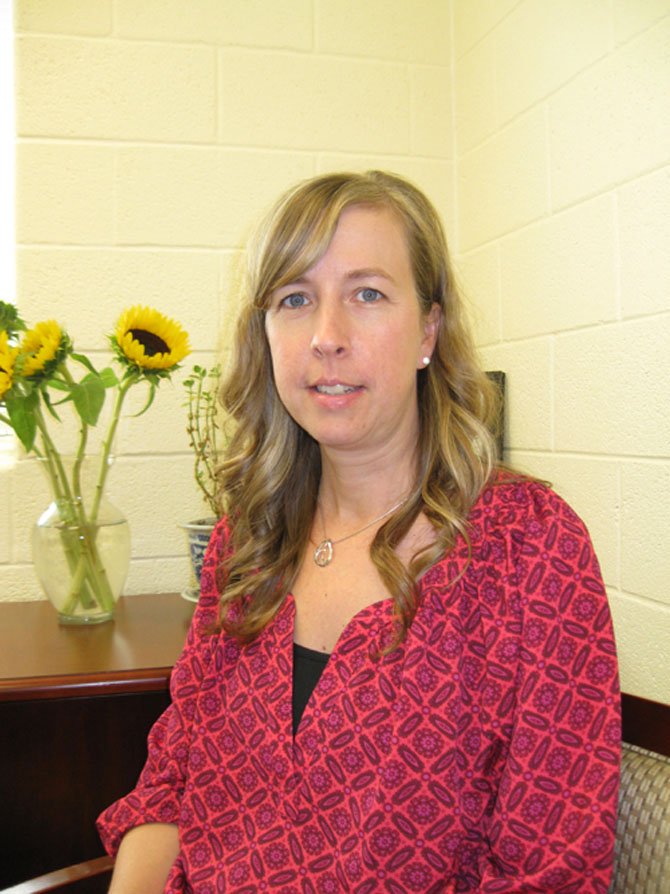 On July 1, Penny Gros, 43, of Burke was named the new principal of Glasgow Middle School, an ethnically diverse school in Alexandria. It's the best fit for the Spanish-speaking doctoral candidate in her 19th year in education.
"This school is a perfect fit for my background, experience and passions," she said.
As a true melting pot, Glasgow Middle has 1551 students enrolled who were born in 65 different countries and speak 57 languages — Urdu, Spanish, Arabic, Vietnamese, among others.
The school demographics are: 46 percent Hispanic, 24 percent White, 15 percent Asian, 11 percent Black, 31 percent ESOL. There are 16 percent of students in the Level 4/Advanced Academics program and 10 percent in the AVID program. And 75 percent of the students are on the free/reduced lunch program. In terms of student counts, Glasgow has 579 in sixth grade, 480 in seventh grade and 492 in eighth grade.
For goals, Gros hopes to build strong relationships and help shape Glasgow into a great school for learning. "I want to create an environment where teachers are supported to do the work in the classroom," she said. "And where students are pushed to excel every single day."
THE CHALLENGE is the diversity of the students in terms of ethnicity and academics. To that end, Glasgow has 275 students in the Advanced Academic Center with Level 4 services, which means some kids travel from other schools. Additionally, 40 percent of the enrollment is ESOL students learning English for the first time. Glasgow also offers an IB advanced program, with French, Arabic and Spanish languages, that flow onto Stuart High School.
As an AVID school named as a National Demonstration Site, Glasgow offers a college-readiness program designed to increase school-wide learning.
"One of my goals is to make sure the community is aware of all of the wonderful things going on at Glasgow," said Gros. "And improving the reputation."
Betsy Fenske, retired assistant superintendent for Cluster V Schools who worked with Gros for five years when she was principal of Key Middle School, calls her a hands-on leader who rolls up her sleeves, gets in the trenches and fosters staff collaboration.
"She's the best there is," said Fenske of Gros's data-driven decision making. "She turned that school (Key Middle) around. I personally attribute that to Penny's leadership."
"Beyond all of her professional attributes, she is a wonderful person and a joy to be around," said Danny Meier, retired principal at Robinson Secondary. "It was a blessing to have her with us at Robinson for a few years, and then she went onto Key (Middle School) and did a tremendous job there."
Glasgow partners with Rotary International, Baileys Crossroad Club, whose Interact Clubs supplied a huge donation of school supplies for the students this fall.
"I think we have a strong and supportive PTA," said Gros. "But I think the challenge we have in middle school is to get more parents involved – finding ways to involve our language-minority parents."
She loves the middle-school age because of the kids' brutal honesty, calling them truth-tellers. "You can't work in a middle school if you don't have a sense of humor," she said. "If you don't find ways to joke around with your colleagues while you're doing serious work, it's hard to last a 30-year career."
As principal, she sees the importance of setting the right tone for the entire building. "I also think it's important to be in hallways, cafeteria, and to observe what's going on," she said. "And to really get to know them."
Gros graduated from Marshall High School in Vienna and earned degrees in Spanish and English from UVA with a master's in education, leadership and policy studies from Virginia Tech. She is working on her doctorate at Virginia Tech.
SHE STARTED her career in 1994 as a second-grade bilingual teacher in Los Angeles's "Teach for America" program. She moved to Houston for two years then moved to D.C. where she taught junior high Spanish. She transferred to Ravensworth Elementary and taught first-grade Spanish immersion. It was onto Hayfield Secondary where she taught Spanish to eighth-graders. She took the LEAD Fairfax administrative intern program at Herndon High and then became assistant principal there. She moved onto Robinson Secondary where she was assistant principal and then moved to Key Middle School where she was principal. She then moved to Chicago for a couple of years and worked on her doctorate online through Virginia Tech, and just moved back here for the Glasgow position.
Gros is married to husband Chris and the couple has three children ages 14, 12 and 9.