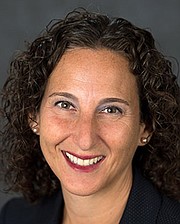 Aimee Holleb, 42, of Arlington, who has 21 years in education, was named principal of Key Middle School, effective July 1. She had been acting principal since September, replacing Chris Larrick, who became principal of Bryant Alternative School.
She will be leading Key Middle School, which has 800 students and a staff of 130, including custodians and a food services team. Key Middle is part of the Lee Pyramid, which has six feeder elementary schools and feeds into Lee High School.
The ethnic breakdown of Key students from 2016-17 stats includes: white, 17.29 percent; Hispanic, 44.99 percent; Black, 14.91 percent; Asian, 20.18 percent; and Other, 2.63 percent. The Special Education students make up 17.79 percent and students on free or reduced meals is 60.53 percent.
"We celebrate our diversity and it's one of the things that makes Key such an amazing place because we represent the world and we have so many cultures and languages that all of us become globally connected as we learn from one another. It's a huge point of pride that we celebrate our diversity," said Holleb.
She added: "We have a fabulous special education program and we serve all types of students with varying abilities. We are especially proud of our students who are nonverbal and the progress they make in a very rigorous curriculum."
HOLLEB is proud that Key became an IB and MYP (an authorized Middle Years Program). "So, what this means is as the students are in (grades) 7-8 here and ninth at Lee High School, we are working to develop the attributes of the IB learner profile. We are redesigning our lessons from a place of higher-level inquiry and global connections and it's a very exciting time for us because we are moving from focusing on standardized test scores to focusing on real-world meaning and true understanding of why does this matter -- meaning why does the curriculum matter to the kids and to our global community," she said.
Key Middle has a business partnership with Capital One and also received the state's 21st Century Grants. "Through that, we have partnerships with Edu-Futuro, Arena Stage, and Step Afrika! This allows for unique experiences with our students through our after-school program and with parent engagement opportunities," she said.
What she loves about her job is "Our kids have big hopes and dreams and goals for themselves and I love their energy and excitement about their lives and their possibilities for their futures. So, I feel very lucky to be part of fortifying them and supporting them as learners in this world and helping them become good citizens," she said.
According to Key School Counselor Amy Samudre: "The first day that Dr. Holleb walked into our building students noticed. They said to me, 'Our new principal so happy! Are adults supposed to be this happy?' Dr. Holleb's joy and passion to invest in Key Middle School is contagious. I can't wait to see how her philosophy of being kind, dreaming-big, and working hard spreads throughout the building," she said.
Added Tracey Kyle, Spanish teacher and Department Chair of World Languages, "Dr. Holleb came in determined to learn about our school and the people in it. She's always in the halls, walking around observing and greeting everyone. But overall what's been great about her is that she knows we need some changes and she's listening to the faculty, asking for our feedback. She's visited multiple classrooms multiple times during the year. She has an open-door policy to come speak with her about anything. She's an excellent communicator, advising us about school issues immediately and efficiently and she provides positive feedback when needed."
Holleb grew up in Springfield and attended West Springfield Elementary, Irving Middle and West Springfield High. She went to undergrad at the University of Delaware, where she studied elementary and special education. She graduated in January 1997 and started working for FCPS as a special-ed teacher at Herndon Middle and then Franklin Middle. She then went to UVA to get master's degree in school administration. Then she became assistant principal at Lanier Middle and principal of Twain Middle and a Cluster Director where she supported schools in the Robinson, Lake Braddock, and West Springfield Pyramids. She began pursuing her doctorate at Virginia Tech in Leadership and Policy Studies. She became director of the Office of Facilities Planning Services for FCPS and finished her doctorate degree. She then began teaching education leadership at Virginia Tech in Falls Church for people getting their master's in school administration. In September, she was named acting principal at Key and is currently a teacher at UVA for people getting their administrative degrees.
SHE TWEETS three times a day (@PrincipalKeyMS on Twitter) and said: "Currently what I'm using with my staff is that Key is the place to be, so this is my vision of how do we make sure our students, staff, and community truly believe Key is the place to be and what does that mean? How do we define that and make sure we are responsive so that everybody is growing and learning at Key Middle School?" she said.
Her mom lives in Springfield and is excited to start coming to school events. She has nephews in California who are in middle and high school and they help keep her honest about what kids need from their principals, she said.