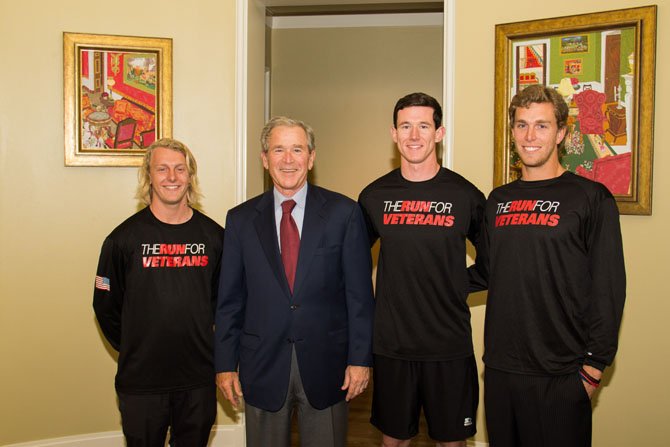 Alexandria — When Brendan O'Toole was in high school, he and his friends repeatedly watched "Forrest Gump," with O'Toole joking that one day he was going to recreate the film character's run across the country. For most young men, the conversation would end there but for O'Toole, a 2007 graduate of T.C. Williams, it was just the beginning.
"It was always a joke between me and my friends," said O'Toole, who joined the Marines following graduation. He served from 2008-2012, when he founded the nonprofit Run for Veterans as a way to help returning veterans cope with health issues and the reintegration into civilian life. "It was during my last deployment to Afghanistan that I realized that this could be a way for me to help raise money and awareness for the support our veterans need. So I called my high school friends and said 'Let's do this.'"
O'Toole launched what will ultimately be a 3,600-mile journey on Veterans Day, 2012, in Oceanside, Calif. Eighteen pairs of running shoes later, the former Marine sergeant makes his return to Alexandria this weekend before continuing on his run, which will end in Portland, Maine later this fall.
"I hope this helps gets people's attention and that they will spread the word. Every dollar helps."

— T.C. graduate and former Marine Sergeant Brendan O'Toole
"I'm excited to be coming through Alexandria," O'Toole said. "It's our hometown and there are many good friends here who have helped with this project."
One of those friends is John Taylor, O'Toole's childhood friend and son of Jack Taylor.
"John always said that if I ever did this, he would make sure I had a truck for the journey," said O'Toole, who expects to be running through the Old Town Farmer's Market Sept. 21. "I'm not sure his dad ever knew about that promise but Mr. Taylor didn't hesitate to help out once the plans were in place.
Jack Taylor's Alexandria Toyota donated a truck to serve as part of the support team for O'Toole, who is traveling with a crew of four.
"We have a four-man team on the road, and we were donated trailers, so we have everything we need on site," said O'Toole, who averages 15 miles per day and hopes to raise $2 million before completing his 21-state journey.
On the road with O'Toole is fellow classmate Joey Dwyer and his brother Tim.
"'Forrest Gump' really was a favorite of all of ours," said Joey Dwyer, a film director and founder of JWD Productions. "So when Brendan pitched his project, I saw an opportunity to chronicle something that would help educate the public on the issues confronting our returning veterans."
O'Toole, 25, has had a few setbacks during his run, including an ankle injury suffered in West Texas that left him on crutches for six weeks.
"That was a good opportunity for us to reorganize," said O'Toole, who was also bitten by a Rottweiler in Texas and in a car accident in South Carolina.
The son of Joan and Denis O'Toole, Brendan O'Toole and his crew will be the guests of honor at a Run for Veterans fundraiser to be held Oct. 4 at Jack Taylor's Alexandria Toyota showroom. All donations from the event as well as the run will be disbursed to three nonprofit groups focused on providing mental, physical and social well-being programs for veterans and their families: Give an Hour (mental health), Team Red White and Blue (physical health) and the USO (social).
"I am pretty tired right now and my body is getting a little beat up," said O'Toole, who has raised nearly $300,000. "But I've still got some fuel in the tank and it's just now hitting us what we have accomplished. I hope this helps gets people's attention and that they will spread the word. Every dollar helps."
To learn more about The Run For Veterans and the Oct. 4 fundraiser, visit www.therunforveterans.org.