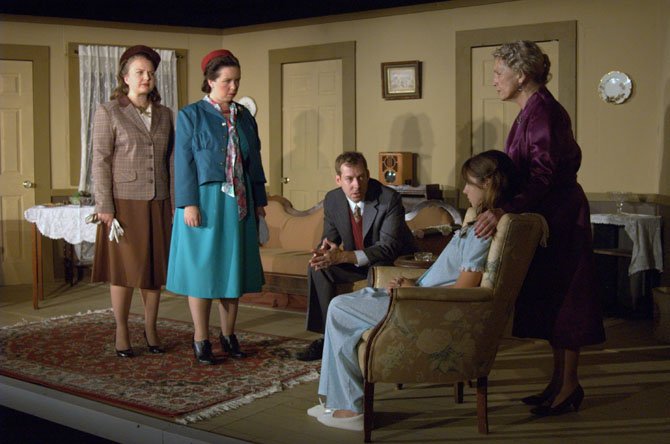 Alexandria — In 1809, a girls' boarding school opened in Edinburgh, Scotland, closing a few months later amid rumors involving two of its teachers. The decades-long lawsuit that followed was the inspiration for playwright Lillian Hellman, who more than a century later penned the critically acclaimed "The Children's Hour," now playing at Port City Playhouse.
Making its Broadway debut in 1934, Hellman's play takes place in then present day Massachusetts, where two women, Karen Wright and Martha Dobie, run a boarding school for girls. Their lives are shattered and the school shuttered when a troublesome student, Mary Tilford, starts a rumor about the headmistresses as a way to avoid being disciplined.
Michelle McBeth as Karen and Chelsey Magli as Martha anchor a cast filled with some of the finest young high school thespians in the region. With a riveting emotional intensity, the two skillfully navigate a script that highlights the extreme homophobia that was rampant in the early 20th century.
As Karen, McBeth is the more thoughtful of the two, with a poignant tenderness directed toward Martha and Joe, her fiancé. Magli is the determined but conflicted Martha, who ultimately confronts her own feelings for Karen with a bittersweet forbidden confession of love. Together, they are superb in their performance as friends facing unfounded and unrepentant harassment.
Carole Steele as Mrs. Amelia Tilford, Mary's grandmother; Robin Ann Carter as Mrs. Lily Mortar, Martha's aunt; and Ric Andersen as Karen's fiancé Joe round out the capable and commanding adult cast.
But it's the students that take center stage in this production, led by Hayfield High School junior Katelyn Wattendorf as the villainous Mary. Wattendorf is brilliant in her portrayal of the young student who will stop at nothing in her quest to manipulate everyone around her, including blackmailing fellow classmate Rosalie, played by Jenni Patton.
Other area students appearing onstage include Burgundy Farm Country Day School eighth grader Cassie Cope as Helen, Robinson Secondary School freshman Cate Davis as Catherine, West Potomac High School freshman Paige Edwards as Leslie, Robert E. Lee High School sophomore Ellie Milewski as Evelyn, Washington-Lee junior Brandi Moore as Lois, West Potomac senior Cynthia Mullins as Peggy, and T.C. Williams' Morgan Vaughn as Janet.
"This is an incredibly talented group of high schoolers," said director Mark McCarver. "They absorb so much and have so much energy. And they are happy to come to work each day. They really are great to work with."
With producer Carol Strachan at his side, McCarver has assembled an award-winning technical crew, including costume design by Kit Sibley and Jean Schlichting, sets by Raedum de Alba, lighting by Nancy Owens and sound by David Correia.
Superlatives are not enough: anyone fortunate enough to see the spellbinding Port City Playhouse production of "The Children's Hour" will not easily forget the haunting performances of such a stellar cast.
"The Children's Hour" plays through Sept. 28 at Port City Playhouse, 1819 N. Quaker Lane, Alexandria. For tickets or more information, visit www.PortCityPlayhouse.org.