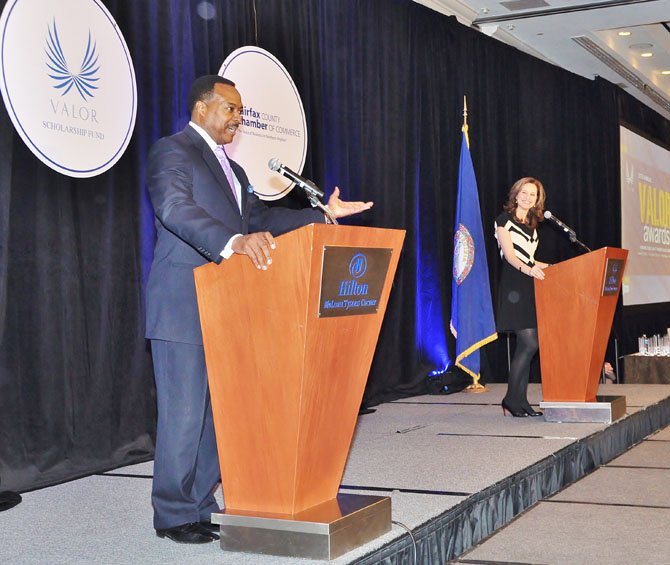 The 36th annual Valor Awards, honoring public safety heroes, was presented by the Fairfax County Chamber of Commerce at a luncheon at the Hilton McLean Tysons Corner on Monday, March 31.
Mark Moore from John Marshall Bank and the chairman of the Fairfax County Chamber and Doug Brammer, government affairs manager for Verizon and chair of the Valor Scholarship Fund welcomed the audience. The Fairfax County Public Safety Honor Guard performed the Presentation of Colors. Fairfax County Police Department Lieutenant Timothy W. Field sang the National Anthem. Emcees ABC7/WJLA-TV evening anchors Leon Harris and Alison Starling announced award winners for Lifesaving, Certificates of Valor, Bronze Medals, Silver and rarely-given Gold.
The Fairfax County department chiefs who handed out the awards were Police Chief Ed Roessler; Fire and Rescue Chief Richard Bowers, Jr.; Sheriff Stacie Kincaid; Town of Vienna Police Chief Jim Morris; Fairfax County Board of Supervisors Chairman Sharon Bulova, and U.S. Rep. Gerry Connolly.
Lifesaving Awards were given in recognition of actions above and beyond the call of duty. Fairfax County Police Department recipients included Officer Robert K. Hughes and First Class Officers Joseph E. Clerkin (ret.), John J. Donohue, Erit Hanidias, Ryan L. Fisher, Ernest S. Jones, Jr., Christopher M. Lincoln, Peter T. Liu and Frederick M. Rappina. Sergeant Daniel B. Spital, Technicians Rickie L. Atkins and Vernon Johnson and Lieutenant Scott F. Primrose. Sheriff's Office honorees included Private First Class Jonathan Alvarado, Nicholas Andariese and Joe Jones as well as Master Deputy Sheriff David Plazyk.
Certificates of Valor were bestowed upon Police Department First Class Officers Adam P. Ankers, Sara R. Polowy, Beth L. Gardner, Daniel S. Goldman, Michael A. Lentz, Mark E. Tenally as well as Sergeant Camile S. Neville, Second Lieutenant Dwayne F. Machosky, Technician Thomas R. Barnes, Captain II David K. Gruendel and Captain I Marc. L. Straubinger. Fairfax County Sheriff's Office recipients included Private First Class Nicolas Barb, Daryl Shifflett and Sergeant Shawna Wood.
The Bronze Medal of Valor was presented to Fairfax County Police Officers Robert C. Hines, Scott H. Reever, Shannon L. Sams, Daniel W. Romanoff and Second Lieutenant Trafton C. Parr.
Fairfax County Fire and Rescue crews 410 and 418 responded to a high-rise building on Nov. 8, 2013 and rescued a barely conscious woman before the hose line was ready to extinguish the fire engulfing the building. For their heroic efforts, Captain I Patrick Sheehan, Technicians Kevin R. Dabney, Jorge H. Ochaita, Scott E. Herbert and Jeffery T. Pfeifer, Lieutenant Michael S. Taylor, Firefighter Andres F. Martinez and Volunteer Firefighter Brian Pelletier were honored with the Bronze Medal of Valor.
For their efforts in rescuing a crew member from a crash site in the Republic of Kyrgyzstan, Firefighter and Medic Sally Dickinson, USAR Canine Handler Elizabeth Kreitler and Battalion Chief Michael C. Schaff were also honored with the Bronze Medal of Valor. Canines were also honored for that mission: Fielder and Garo, who was on hand to receive the medal around his neck from Fire and Rescue Chief Richard Bowers Jr.
Master Deputy Sheriff Heather Lama from the Fairfax County Sheriff's Office was awarded the Bronze Medal of Valor for her response to a high-risk domestic dispute in Chantilly. Lieutenant Antonio D. Trammell received the Silver Medal of Valor for his quick response to an inflamed car accident in Prince George's County, Md.
The Gold Medal of Valor, which has not been handed out for years, was presented to First Class Police Officers Keith J. Baker and Edward L. Carpenter for displaying uncommon valor in the face of an extremely violent incident involving two armed assailants.
Fairfax County Fire and Rescue Department Engine 413, Rescue 401 and Tower Ladder 430 responded to a fire that broke out in a liquefied propane gas refilling and storage yard in a densely populated area of Merrifield area. Fire and Rescue crew members who prevented this disaster and were honored included Battalion Chief James J. Walsh, Captain II Ronnie A. Rodriguez, Master Technicians Annette Corwin, Douglas L. Miller, Ronald G. Bauserman and Daniel M. Sova, Technician Jarrod A. Schmidt, Firefighters Todd E. Clist, Joshua M. Morrison and Donald W. Rohr and Lieutenants Carmen Alessi and Daniel J. Kwiatkowski.
Connolly noted in his message to those honored: "Their efforts, made on behalf of the citizens of Fairfax County, are selfless acts worthy of our highest praise and respect."