Snaps could be heard during the performance at The Athenaeum Friday night, March 28, but that's not a bad thing. As the lead poet for the evening, Shelly Bell, explained, snapping is the customary form for applauding at a poetry reading. And there were plenty of them Friday night.
To commemorate Women's History Month in March, the Northern Virginia Fine Arts Association featured an evening of women-performed arts including poetry, dance performances, visual arts, and music. Shelly Bell, a local poet, introduced each act, which began with her own work and engaged the audience in an empowering chant "regret nothing, write everything."
Throughout the evening, Cierra Tenhue painted a 24 x 36 visual piece by interpreting the "energy" in the room. One could see the dandelions from Mary Bowman's poetry, and strokes of various performance inspirations interspersed throughout the painting. The visual artwork developed as the performances took place and the final product was titled "Emergence." As the event organizer, Bell was "orchestrating the energy in the room."
"It's all about accessibility and visibility," Bell said. The performance night was part of Support Women Artists Now (SWAN) Day, a worldwide movement. The current executive director of the Northern Virginia Fine Arts Association, Catherine Aselford, brought her experience with the DC SWAN Day event to The Athenaeum and is hoping to see it become a bigger event here in Alexandria.
"This is SWAN Day in microcosm," Aselford said. What she'd like to see is a Women in Film event and potential partnerships with community organizations.
"We hope it will be all weekend," Bell said.
Aselford emphasized she'd like to see "all the things we do in the month of March be about women."
Photo Gallery
SWAN: Support Women Artists Now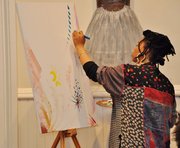 Click Photo for Flash