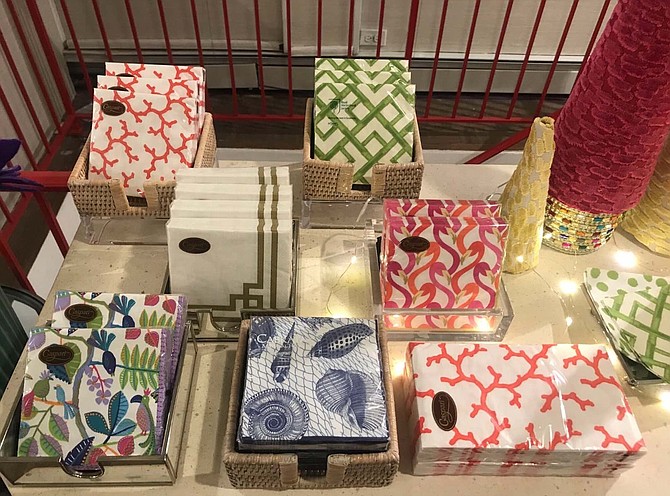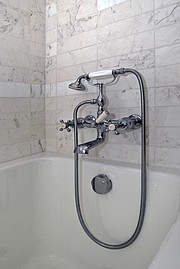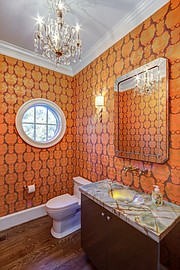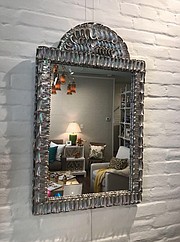 Amid the tree trimming, wreath hanging and stocking stuffing in an effort to deck the halls in anticipation of holiday guests, there's one space that can be forgotten: the humble bathroom. While not as festive as hanging garland, a few simple tweaks can transform a bathroom from glum to guest ready.
"Hands-down, the easiest way to spruce up a bathroom with little or no expense is to de-clutter," said Anne M. Walker of Anne Walker Design. "You'll be amazed how beautiful your bathroom looks if you clear away all of the items sitting on the countertop and around the room."
To help with that effort, Walker suggests investing in organizational items such as Lucite or bamboo trays and drawer inserts, so that personal items can be kept out of sight.
For those with a budget and time to allow for it, Walker suggests a fresh coat of paint or new wallpaper. "That can make a huge visual impact in a bathroom," she said. "Since the space is so small, and it's a room where you don't spend long periods of time, you can have fun with interesting colors and patterns."
Also think about painting just one wall as an accent or the ceiling," said Todd Martz of Home on Cameron in Alexandria. "[Add a new] mirror, such as a decorative or colorfully framed mirror or one that runs from floor to ceiling, for a fresh look."
He also suggests updating a bathroom's lighting to make the space feel bright and airy.
Another practical tip that Walker offers is a good, old-fashioned scrub-down. "Clean like you've never cleaned before, she said. "Use a surface cleaner with bleach, like Krud Kutter, which is my personal favorite, a strong brush, and your elbow grease to remove dust, grime and dirt from tile grout, caulk, and corners of the room."
Among the more mundane tasks is to visually inspect the bathroom's grout to check for cracks and stubborn, unsightly mold. Re-grouting might be necessary, says Chuck Khiel, vice president of Fred Home Improvement. "When making a repair, it is very important to remove all of the cracked grout in the joint so that the full edge of the tile is exposed," he said. "The new grout can then bond to the full thickness of the tile edge. Simply smearing a thin layer of new grout over old grout will not work."
Once the room is sparkling clean and totally decluttered, Walker suggests adding display on a countertop or in a shower niche. "A vase full of bamboo, pretty soaps in a rattan basket or a Lucite tray filled with beautiful guest towels are just a few suggestions for fresh objects that will lend an air of tranquility to your bathroom."
For guests who might cringe at the thought of shared guests towels, Martz suggests adding a tray of disposable hand towels. He also encourages engaging one's sense of smell by, "adding some scented candles like those by Rigaud's Cypres and Cythere."
Another simple fix is to buy fresh new bath linens, says Walker. "No matter how hard you try, towels and shower curtains get dingy over time," she said. "There are so many places to buy lovely linens, and many of them are very low cost."
With the right accessories, even the most modest spaces can be made to feel like a spa, suggests Walker, recalling a bathroom in which she added added a Turkish towel, striped shower curtain which became transformative. "Even though the bathroom, itself, is modest, the beautiful shower curtain makes it feel like a resort," she said. "By adding just a couple of colorful accessories on the countertop, it pulls the whole room together.
Installing new fixtures such as a shower head can quickly transform a bathroom from outdated to updated. "There are many types of shower heads on the market these days," said "Some offer a variety of water streams and different features, [and] most manufacturers make it so that changing a shower head is fairly simple."