Senior citizens have increasingly been the victims of recent fraud and scams. Virginia Attorney General Mark Herring taught seniors how they can avoid these crimes at Greenspring's Fraud Prevention Expo on April 11 in Springfield.
Herring advised seniors to be suspicious of any cold calls or direct mail solicitations, as these are often fraudulent. The attorney general's office has a consumer protection division, which can help seniors or anyone who has a concern or dispute with a business or service.
"For Virginians who are 60 and older, you all are often specifically targeted for fraud. We're here to serve as a clearinghouse," Herring said.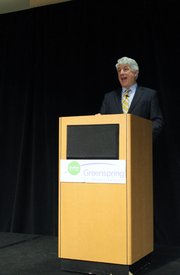 A NEW LAW went into effect in Virginia in July that protects consumers from individuals trying to take advantage of them. Virginia's laws were among the weakest in the nation, Herring said. He mentioned a couple specific cases in which a group called "woodchuckers" targeted homeowners by telling them they needed to have a tree limb removed or someone would get hurt, and would overcharge for the service.
In another bizarre scam, individuals targeted homeowners by telling them there were reports of snakes in their basement. They would then pretend to look in the basement, and show them a bag of snakes that they had actually brought with them. The homeowners were then charged a large amount of money for the "removal" of the snakes.
Herring encouraged the seniors to call the Virginia consumer hotline at 1-800-552-9963 if they ever have any questions as to the authenticity of an organization or service.
For example, if someone receives a call from a charity asking for money, they should be sure to call the hotline before donating to ensure the organization is legitimate.
The attorney general's office also investigates Medicaid fraud. This includes possible cases of elder abuse and taxpayer fraud protection.
Herring encouraged seniors who think an individual is being abused to call for medical attention for emergencies and Adult Protective Services for non-emergencies.
Unfortunately, many people abuse and exploit older citizens with health problems, Herring says. Family members may even take advantage of their relatives.
In some cases, Herring said, family member or others close to a senior may withhold medication until that senior goes to the ATM with them and gives them money.
In another case, a home health worker financially exploited an individual after only working with the senior for about a year.
Identity theft has also been a problem. Herring said that seniors should avoid unnecessarily writing their social security numbers on documents, and to rip up papers that have any personal information.
Pamela Glasner, producer of "Last Will and Embezzlement," which features Mickey Rooney, who was financially abused, shared her story with the seniors at the fraud expo. Glasner's father was exploited by a younger man who befriended her father in the later years of his life.
Glasner's father had Alzheimer's. An unrelated stranger came into the nursing home and was able to get Glasner's father to sign a paper that gave him power of attorney and access to his money. There was nothing anyone could do.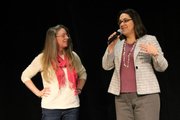 UNFORTUNATELY, those who exploit the elderly often go unpunished, Glasner said. Seniors with dementia and depression can be easily affected by strangers who work their way into their lives.
"If that little thing inside your gut says that something is wrong, then you're probably right, something probably is wrong," Glasner said.
On March 31, the Fairfax County Police Department issued a news release warning residents not to fall for a massive tax scam that had been made to several hundred residents in the county.
"These telephone scammers are described as demanding, aggressive, threatening, and easily angered when callers don't immediately agree to their demands of 'overdue tax balances.' Some complainants have described the suspect's as having a heavy accent. Typically, callers demand between $4,000-$6,000 in immediate payment of unpaid tax bills. These scams are sophisticated and involve false names, numbers and 'IRS' badge numbers," the release said.
Attorney Jennifer Tomac said that seniors should establish a support system with trusted people to prevent signing anything that could cause problems.

"One of the things that you can do is to have a support system around you, in which you don't agree to sign anything until you run it by your support system," Tomac said.