Arlington mother Holly Karapetkova reserves time for reading in the schedules of her two young children. It has become such an important part of their daily routine that it is a treasured family activity. It is also vital to her children's development says Karapetkova.
"Reading is an extremely complex mental activity that engages a child's — or adult's — brain much more intensively than television or video games," said Karapetkova, Ph.D., Associate Professor of Literature at Marymount University in Arlington. "When you read, you employ higher-order cognitive skills. You learn to imagine things that you have not yourself experienced."
Book Suggestions
Third and Fourth Grade:
"Escape from Mr. Lemoncello's Library" by Chris Grabenstein
"Ophelia and the Marvelous Boy" by Karen Foxlee
"Capture the Flag" by Kate Messner
Fifth and Sixth Grade:
"Doll Bones" by Holly Black
"Under the Egg" by Laura Marx Fitzgerald
"Rump: The True Story of Rumpelstiltskin" by Liesl Shurtliff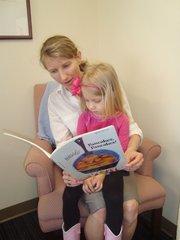 CHILD DEVELOPMENT and literature experts say that reading helps children develop imagination skills and an ability to learn and think in new ways. It also boosts emotional development.
"You learn to empathize with others, and so you are able to grow emotionally as well," said Karapetkova. "Critical thinking, imagination, and empathy are all qualities that are essential to our nature as human beings, and essential to our success in the world."
Fred Bemak, Ed.D., Professor and Academic Program Coordinator, College of Education and Human Development at George Mason University, says that even a few minutes each day can have a significant influence. "Reading to a child 20 minutes a days will increase their ability to read and think above grade level," he said. "That is just a matter of sitting with a child and reading with them, but it has a such profound influence."
A lack of reading time also makes an impact on children. "When a child doesn't have access to books or when a parent doesn't have knowledge about reading to a child, that is where we see an achievement gap," said Bemak.
Mary Catherine Coleman, Lower School Librarian and JK-12 Library Department Chair at St. Stephen's & St. Agnes School in Alexandria, said reading offers children a broad view of the world. "I think, and research shows, reading helps to develop children's thinking because it helps to develop a background knowledge about the world," she said. "Reading also helps children to see the world from a different perspective, helping children develop an understanding, empathy and compassion for others and the world. It challenges children to look at events, people and things in a different way."
"When it comes to imagination, books challenge children to create a movie in their minds," said Coleman. "They need to imagine a world, characters and experiences that they are not familiar with."
"Reading challenges children to move beyond what they see in front of them," said Coleman. "It also teaches children how to be storytellers, how to share experiences and fosters creativity."
Karapetkova said that reading is more open-ended than other media and challenges a child's cognitive abilities. "When you read, even when they are pictures, your brain has to do a great deal of work to process information and piece the story together," she says. "In a movie or video game, everything is predetermined and spelled out for you, and there's a lot less room left to the imagination to make leaps and discover things on its own."
Karapetkova has experienced this in her own life. "I have found with my older child that one book often leads to another," she said. "We might read something that piques his interest and sends him back to the library for more information, and the information he can find in the library is seemingly endless."
The same is not true with television or video games. "When he watches a film or plays a video game, he never says to me, 'I want to find out more about organisms deep under the sea because that's where Spongebob lives,'" said Karapetkova. "But when he reads a book, he asks questions and his curiosity and imagination open up."
Michael Moynihan, Upper School Head, The Heights School in Potomac, Md., believes in eschewing some electronic media and promoting "a renewed culture of reading…[and] conversation".
SO WHICH BOOKS do experts recommend? "Really, anything you and your children enjoy reading together will do the trick," said Karapetkova. "My children are several years apart. My daughter is 4 and my son is 9, and I have been amazed by how much each enjoys the books I pick out together for the other. I'll sit down with my daughter to read 'Brown Bear, Brown Bear' or another picture book and my son will stop whatever he is doing to join us."
"And my daughter also enjoys listening to what my son and I are reading aloud together," said Karapetkova. "We've been reading a variety of books this year, including things like Harry Potter and C.S. Lewis, and she listens and grasps part of what is happening. So their interest in each other's books reminds me that children can be drawn to and learn from a great range of books."