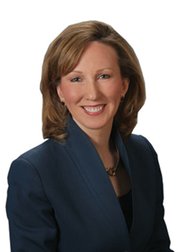 "We firmly believe Barbara Comstock will be the next Congresswoman."
—10th District GOP Chairman John Whitbeck Jr.
Del. Barbara Comstock (R-34) is the 10th Congressional District Republican pick for Congressman Frank Wolf's open seat.
The current delegate reined in more than 7,000 votes at the party canvass on Saturday.
"It is an honor and a privilege to win my party's nomination for Virginia's 10th Congressional District and follow in the footsteps of my mentor, Congressman Frank Wolf," she said in a press release.
A call to her office remained unanswered Sunday.
"Barbara Comstock is a tremendous person who is going to be one of the finest Congressional candidates," said 10th District GOP Chairman John Whitbeck Jr.
He was very happy with how the canvass went, saying it was the first time the district opted to run it themselves rather than have the state Board of Elections take care of a primary. He noted the canvass costs nothing for taxpayers rather than the "hundreds of thousands of dollars" it would have cost to hold a primary.
"We had an incredible turnout of voters," he said.
More than 13,000 voters came to the 10 polls scattered throughout the district. According to a press release, the voting breakdown was Barbara Comstock (7,337), Robert "Bob" Marshall (3,829), Howard Lind (1,108), Stephen Hollingshead (816), Robert Wasinger (301) and Marc Savitt (218).
"I sent an email to Barbara and offered my support for her," said Mr. Savitt. "We all have to get together to support her. The voters have decided. We are united and need to retain Frank Wolf's seat."
He said it is "up in the air" whether he will run for another office seat.
Now with both the Democratic and Republican primaries over, the race between Fairfax County Supervisor John Foust (D- Dranesville) and state Delegate Comstock has begun.
"The election in November will be about my plans to get the economy growing again, creating jobs, and repealing and replacing Obamacare," Comstock said in the statement. "Congress is in desperate need of problem solvers and I intend to use my common sense principles to better the lives of my constituents when I am elected in November."
Whitbeck said if Comstock is elected to the office, the seat will likely remain hers for a long time to come.
"We firmly believe Barbara Comstock will be the next Congresswoman," said Whitbeck.